Cindy's story is one of an Edmonton born chef, who tackled her worst nightmare with courage, ingenuity, and passion. Rather than feeling sentenced to a life of eating bland and boring food, Cindy was inspired to create GAPS-friendly recipes that she could fall in love with.
---
Eight years ago Cindy Prowse, Chef at Filistix, sat at a quaint restaurant savouring each bite of the chef's special that day: wild elk. Devouring those delicious morsels of elk marked the end of her gastro world as she knew it. You may think that this is your ordinary tale of food poisoning, which we have all suffered from at one point. But Cindy was not so lucky. Not only did Cindy get food poisoning, it wreaked such havoc on her digestive system that she was left with a condition called "leaky gut".
Leaky gut caused Cindy to develop more food intolerances, on top of being lactose intolerant. She was following a celiac diet for 7 years, but 4 years ago, she developed a severe egg intolerance. This forced Cindy to look further for ways to heal herself. Luckily, Cindy discovered The Gut and Psychology Syndrome (GAPS) diet. Removing grains, sugars, and processed foods from her diet would help mend her damaged digestive system.
Cindy's story is one of an Edmonton born chef who tackled her worst nightmare with courage, ingenuity, and passion. Rather than feeling sentenced to a life of eating bland and boring food, Cindy was inspired to create GAPS-friendly recipes that she could fall in love with.
What experiences led to your food career?
I loved Food Studies in high school and I had the same inspiring teacher for all three years. I won Food Student of the Year in grade 12 as well as monthly awards in earlier years. My teacher believed in my ability in the kitchen and coached me through two Skills Canada Competitions. As a field trip, she took the whole class for a tour of the Culinary Arts program at NAIT. Seeing all the soon to be chefs in their whites was exciting to me and I decided that day I would become a Chef.
How long have you been in the industry for and what training or education do you have?
I started my hospitality career as an after school job 18 years ago working as a hostess at a pizza joint and since then have worked as a server, kitchen manager, Chef and sales representative for a foodservice distribution company.  I graduated from the NAIT Culinary Arts program in 2001.
How do you find your foodspiration to be creative with your food choices?
I am definitely a foodie and love trying new things.  Having these restrictions has forced me to think outside the box and come up with creative substitutions.  It's almost like every meal is a challenge.  I spend a lot of time reading blogs about diets similar to mine and love drawing inspiration from their ideas and spinning them into something delicious.  It has also caused me to geek out on refining cooking methods; it's amazing how good simple food can be.
When you're not busy at Filistix, what and where are you eating?
I love eating out, it's up there with my other favourite past times. My intolerances and the restrictions of this diet have made it challenging to go out to eat.
I do best with restaurants that serve more entree type dishes and my absolute favourite is the Turkish restaurant Sofra. Their Pasa Kebab is so good, I have a hard time ordering anything else. It's a grilled lamb loin with grilled tiger prawns served with what they call a "rich herbal sauce"; it's very thick with chopped tomatoes, garlic and herbs. I thought it would be easy to recreate, but there is a layer of flavour in there I haven't been able to pinpoint. I have even asked the Chef/Owner what his secret is and he replied "it is a secret for a reason!" Everything I have been able to try there has been great! I am excited to go with my girlfriends this weekend to check out their new Cellar at Sofra, which has its own small plate menu, wine list and traditional low Turkish seating.
What is your idea of comfort food?
The GAPS diet encourages the use of honey to sweeten foods. Desserts sweetened with honey or fruit, such as dates, are my comfort food. I love chocolate avocado pudding which if you haven't tried, would fool you into believing it's the usual chocolate pudding! I love making that and adding extra coconut oil so it firms up in the fridge like icing and I put it on top of coconut flour pancakes and it mysteriously tastes exactly like a chocolate long john donut!
There is also a great recipe from a blogger I love, which she calls "The Healthiest Cookies Ever" but they do not taste like the old paradigm of "healthy food". Even my husband, who is my polar opposite in more ways than just our diet, says they are his new favourite cookie. She lists the recipe as Paleo (similar to SCD and GAPS) and Vegan but I make mine with a real egg in place of the flax egg just because I can now. I have gone so far as to make my own chocolate chips sweetened with honey but most of the time I eat them without any of the additions. The texture of the dates gives it some variety in texture.
You can find the recipe here: http://detoxinista.com/2014/07/the-healthiest-cookies-ever-paleo-vegan
What is your favourite dish to make at home? Are you willing to share any recipes?
I love making lots of different dishes to eat all together to give myself some variety. This includes vegetable dishes like caramelized carrots, cauliflower stuffing, butternut squash fries, broccoli with lemon and pine nuts, and herb salad with a honey apple cider vinaigrette. I pair it with whatever protein I feel like, such as broiled garlic salmon with garlic aioli and cucumber relish or brined and roasted chicken thighs.  I would like to share a great recipe I have come up with which is pretty unique and versatile – my lentil flatbread. You can make it as is, or add herbs and spices to change it up. They can be used in place of a bun for a burger,as small crackers with soup or as a hors d'oeuvres base. I have even used less butter and a lower temperature to keep it soft and then use it as a wrap.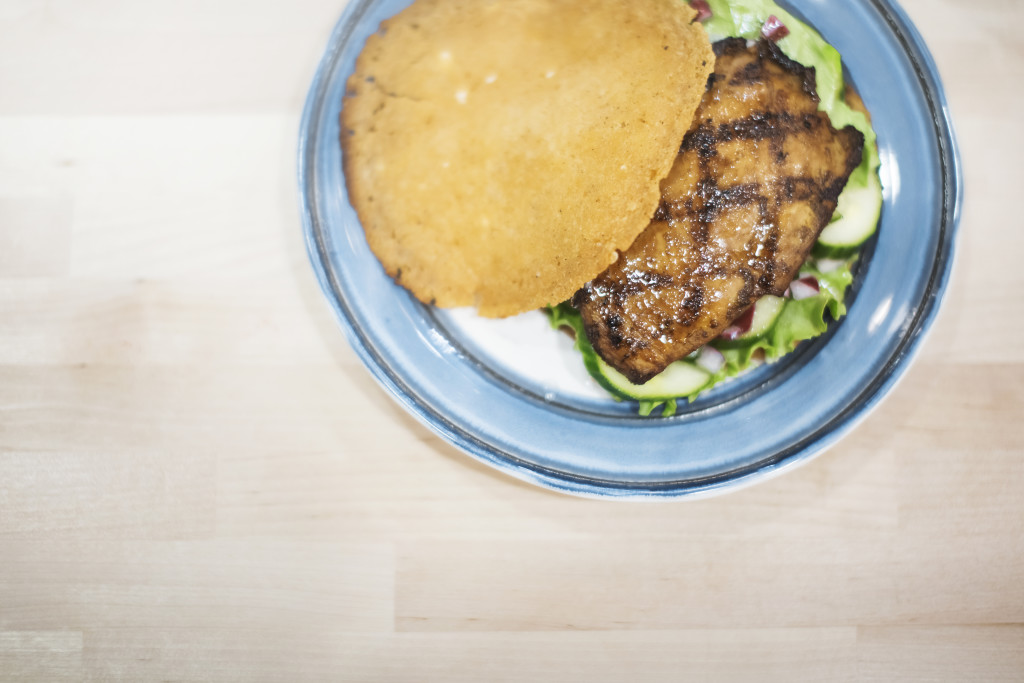 Cindy's Lentil Flatbread
1 cup Red lentils soaked

1 ¼ cup Water or as needed

1  tsp Smoked sea salt (or normal sea salt)

½ tsp Fresh ground pepper

1 tsp Vinegar, can use white, apple cider or white wine vinegar

Ghee for frying (recipe below)
Soak the lentils for 7 hours in lukewarm salted water at room temperature.  This reduces the phytic acid which inhibits digestive enzymes and blocks mineral absorption.
Blend all ingredients except for the ghee in a food processor until smooth.  It should be the consistency of a pourable pancake batter.
Heat a tablespoon of ghee in a frying pan (non-stick works best) over medium heat.  For a burger bun pour about ¼ or 1/3 of a cup of the lentil batter in a circle about the size of your burger patties.  (It works best if you actually make a circle starting from the outside in). Fry until browned and crispy on the edges, flip over.  Make two per burger to use as a healthy bun!  Or use a smaller amount to make crackers.
You can add different spices and herbs to this batter for many different uses.
---
Ghee
Ghee is clarified butter with the water boiled out. It is great for high heat cooking and sautéing.  It has a high smoke point so it won't burn and break down creating harmful free radicals like other oils do.  It is also natural and not highly processed with chemicals like canola oil etc.
1 lb Butter (preferably unsalted organic)
Heat the butter over medium heat until boiling.
Turn down the heat and simmer until all the water is boiled out. (It will stop bubbling)
Strain out the milk solids on the bottom and store at room temperature for up to 6 months.  It is now like an oil and as long as you don't contaminate it with a dirty utensil you can keep it at room temperature.  It is also lactose free.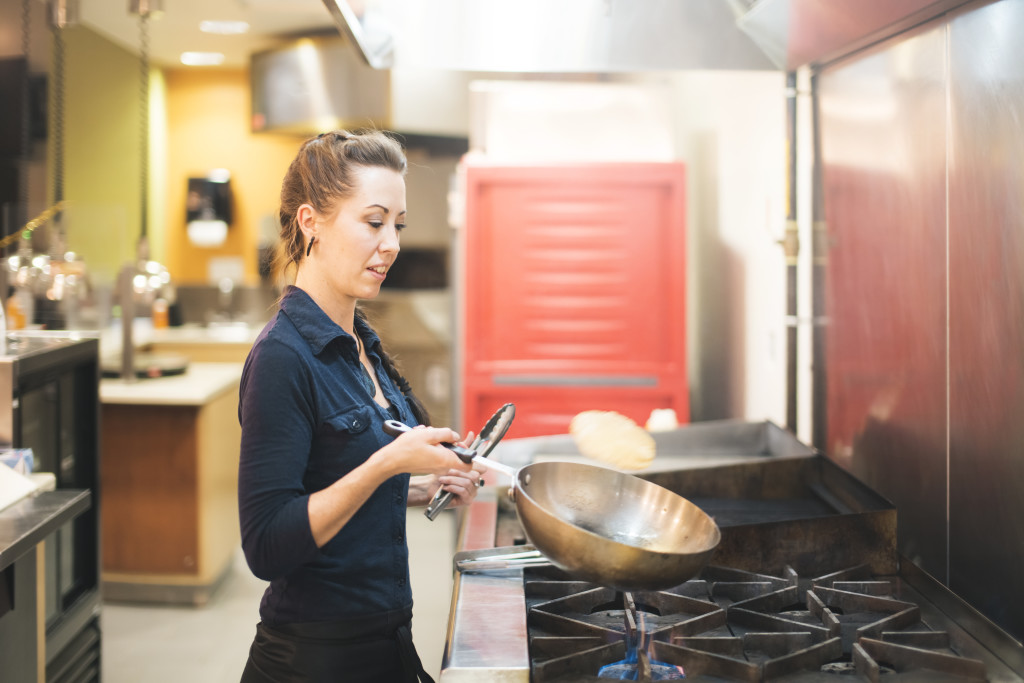 Find Cindy at Filistix
Edmonton Clinic Health Academy Location
Facebook: Cindy Prowse
Email: cindyprowse@hotmail.com
Photography: Nicholas Yee
By Stephanie Mejia and Sam Sush