The Nowhere Fast brand started in 2009 after Wes O'Driscoll and his friend decided to screen print a few t-shirts to sell as promotional merchandise for a magazine he was curating. When the shirts became a hit, eventually eclipsing the magazine itself in sales, Wes decided to direct his attention to the fashion industry full-time. Since then, the Nowhere Fast brand has outgrown home-production, and moved into its own studio (which will soon feature a coffee bar!) where Wes can connect with Nowhere Fast customers directly and discuss the brand, his process, or just to hang out. We met up with Wes to talk about starting Nowhere Fast, his vision for the brand's future, and why he prefers film over digital photography.
You're originally from Kitchener, Ontario – what brought you here and why have you decided to call Edmonton home?
I've been in Edmonton since I was 12, so for 18 years. At that time it wasn't really up to me, my dad was offered a tenure position in the English Department at the University of Alberta, so Edmonton is where we ended up…
We learned during our interview that at age 17 you were diagnosed with a rare disease called Friedreich's Ataxia. The doctors told you that you that you would be in a wheelchair by age 18. Now at age 30, with no wheelchair in sight, you are more motivated than ever. What was it like to have learned about this life altering diagnosis at 17 and how did it impact your life?
The diagnosis definitely came at a weird point in my life. I was at an age where I was still growing up, and wasn't really in the right mindset to process it properly. It didn't really hit me as hard as it could have. I didn't take it too seriously, I didn't really stress or worry about it. As I got older, the reality of the situation set in and I was able to focus on it more. It's not something I can control, and people deal with much worse… I'm in no pain, I never will be, and my mental ability won't ever be affected by the degeneration. So I just do what I can, day to day… I have huge support and help from my inner circle — friends, family, my girlfriend— they all make everything a lot easier for me
The best thing you can do is use the fear and stress to fuel those ideas and ambitions. It'll leave you with a better story to tell in the end, if anything.
In 2009 you started a clothing brand called Nowhere Fast. What sparked the idea of the brand and how did it all come together?
Nowhere Fast was established in the winter of 2009, but in it's inception it had nothing to do with clothing. It started out as a black and white photography publication. A zine I was curating as a way to get my (and my friends') film photography out to a wider audience. I was enrolled in some arts courses, and I hated it. I wanted to drop out, but I knew that I had to have something on the go if I was to drop out —I was too old to quit school and work retail or something. I was in school for photography, but it wasn't at all like I thought it would be. It was actually getting in the way of my personal growth as a photographer and designer, so as soon as I decided on something I could focus on instead of being in class, I left.
I put out 5 issues of that zine; then a friend and I screen printed a few t-shirts in my kitchen to act as merch for the zine. Advertising basically, like a band t-shirt would. The shirts sold out almost immediately. In higher numbers, and to more places around the world than the zines ever did. I had always been into fashion, and I am a huge fan of watching how branding and marketing works. So I thought: "Why not try this out? It'll either work, or at least be an interesting learning experience."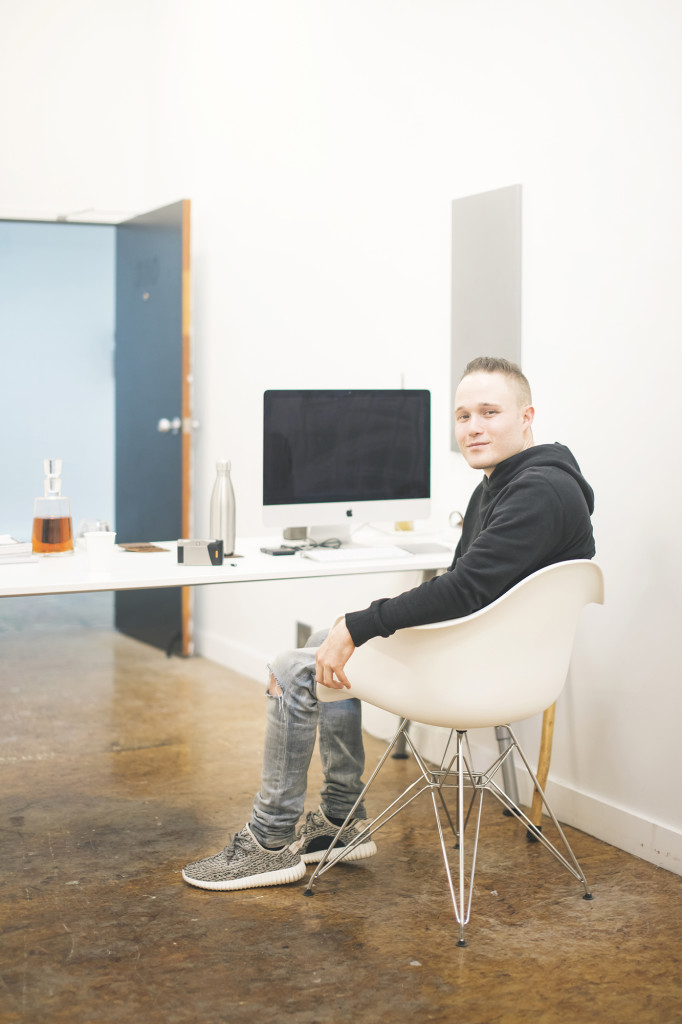 What is your vision and concept for Nowhere Fast?
Simplicity and timelessness. I'm trying to exist somewhere between a company known for it's branding and logos, and a company known for it's quality and attention to detail. I want to continue to work with simple text based graphics, but also move into cut and sewn items that focus more on fit, fabrics, and functionality.
I try to make each piece something you can wear now, could have been worn 10 years ago, and could be worn 10 years from now, without it ever seaming out of style. The materials are definitely meant to last, but the style and vibe of Nowhere Fast is meant to last too. I pull things out of my closet from 5-10 years ago, and I am like "what were we thinking? people dressed like this?"
I don't want people thinking that when they pull a NF shirt out of their closet in 10 years.
When you were getting started with Nowhere Fast, what was the biggest hurdle that you had to face and how did you overcome it?
A million things got in my way —not that I'm complaining, it's just a fact.
If I had to name just one, it would definitely be finding manufacturers in Canada to produce the items I wanted to make, at the quality I wanted to make them. When I first started, I had no idea what I was doing. And when I decided to take this seriously, and make a private label clothing line, as opposed to printing on factory blanks. It took a while to find people to help me with all that. I had no one to point me in the right direction, so I was on my own when it came to sourcing factories and materials. Even when I thought I had found someone to work with, the quality wasn't there, or they didn't have access to the materials I was interested in. That would set me back to square one, it taught me a lot, but that side of things took a while to come together.
What is the proudest moment you have had since starting the Nowhere Fast brand?
I don't know if there's been one defining moment for me… I'm essentially proud of it all. It slowly gained momentum, and spread organically. But these days I see people I look up to wearing my designs —the owners of stores I grew up shopping at. I'll go to the bar, and see a handful of strangers wearing Nowhere Fast. The fact that I built something from nothing, and now people I've never met want to wear it out, I'm pretty proud of that…
Dive in. You're going to make mistakes anyway, it's inevitable. It's a rite of passage.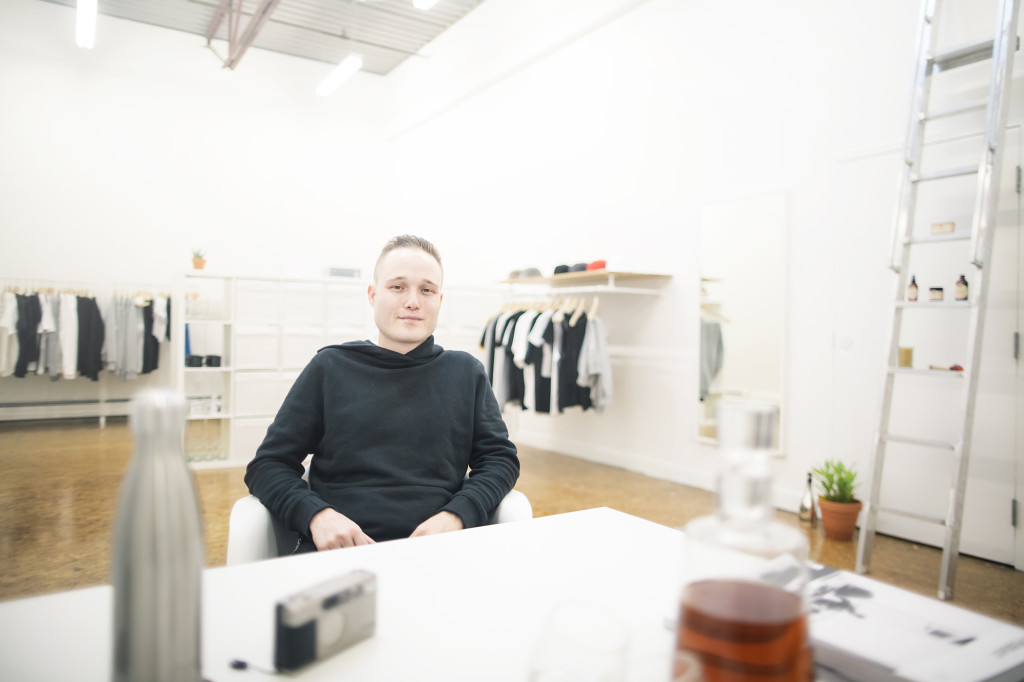 Every Nowhere Fast item is made in Canada. What is the reason you decided to manufacture only in Canada?
I'm fuelling my own economy, first of all. It's also easier for me to monitor my production when I'm this close to it. Most of my production is split between BC, and Quebec, and I already feel like that's too big of a distance between me and my factories. I hate the thought of being even further apart, any more borders to cross would be an even worse situation for me and my brand. I'm pretty calculated, almost a control freak… So keeping things as close to home as I can has always worked well for me.
We have been told your T-shirts are one of the most comfortable shirts around — How do you choose the materials, fit and cut of each of your pieces?
Trial and error basically. I try to think about what I look for in clothing as a consumer… what works and what doesn't. I like my wardrobe to last, and I want Nowhere Fast to last in other people's wardrobes, so I work with materials that have longevity. I look for fabrics that will maintain shape and texture after being washed. I try and think about where I live, and the weather I endure… As for fit, they vary from item to item. I decide on cut and fit when designing the individual piece. There's no real formula, it just depends on how I think a certain item should be worn, and how the fabric should sit and fall on the person wearing it.
Where do you seek your everyday inspiration in your business and personal life?
It's such a cheesy answer, but it's honest and true. I'm a very inspired person when I want to be, so I can draw inspiration from almost anything. It really depends on what's happening around me. I can be inspired by crowds, or being alone. I can be very serious, or feed off fun and goofing around. I'm a huge fan of the youth, the younger generations enjoying what I did when I was their age. Skateboarding, graffiti, street photography, late nights… All the stuff I'm too old for now, but I love seeing someone else do it. I definitely feed off that.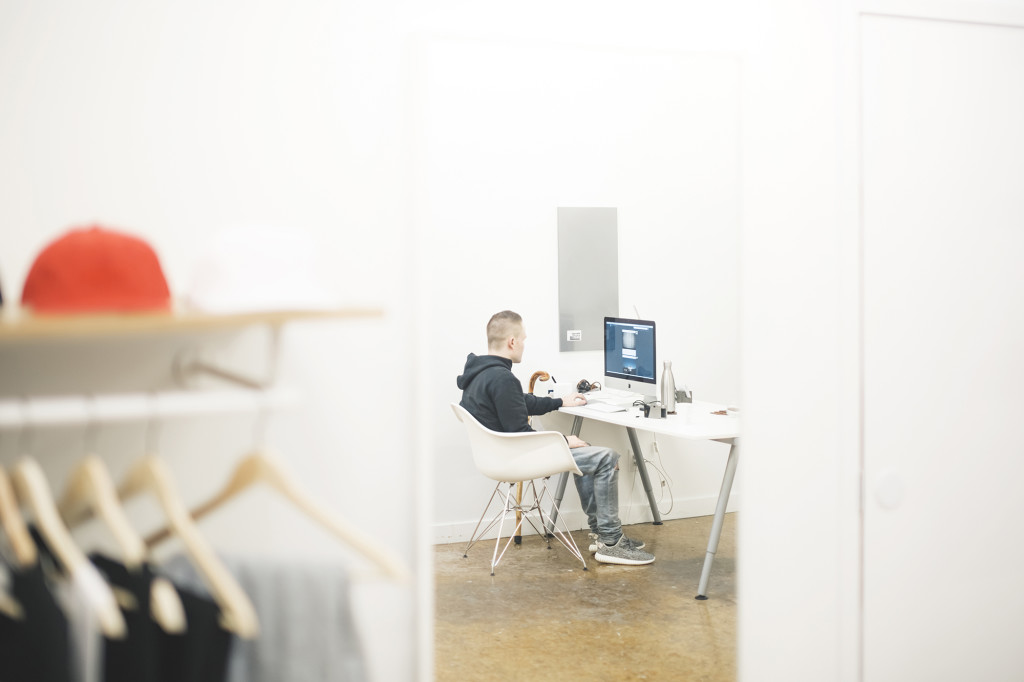 Has there been a person of influence or a mentor that has helped you with your business?
Daniel Chmielewski. He and his brother founded HAVEN. He's helped me in every way possible. I've had help from a lot of people, in a lot of different forms. But if I had to choose one person to give some shine to, it would hands down be to him.
What other brands are you currently inspired by? What are your favourite everyday go-to pieces of clothing?
As part of my job, I'm always researching brands… feeling out the competition so to speak. I'm constantly finding out about new brands, so what inspires me does change quite frequently. I'm into all types of clothing too, I wear a hat, t shirt, jeans, and sneakers to work everyday, because that's what I'm comfortable in… But if I go out at night, to an event or a meeting, I'll wear something more grown up. I might wear Ultra Boosts to work, then Common Projects out for dinner. I'll wear a Dime tee, and hat to work, and then do my hair and cover up with a Raf Simons crew neck at dinner. That's the cool thing about fashion, it can really be whatever you want, whenever you want. You can make it work for you, and it can be really circumstantial. Different occasions call for different outfits. I could definitely wear Ultra Boosts and box logo tees everyday of my life if I had to though.
You have a very unique retail store and studio. Where do you see the future of the Nowhere Fast Brand and your studio?
The idea behind the studio, aside from the obvious one of having an outlet to sell my brand locally, is to interact with customers on a more personal level than most retailers do, and be able to explain the brand and process behind all that I'm trying to do. I'm always looking for other brands, accessories, and publications that compliment Nowhere Fast to put on the shelves in here as well. As a buyer, I look for things that I think should be available in Edmonton, but aren't yet. A lot of the items are ones I use personally, or things I read at home. I get sort of selfish when it comes to what I pick up and carry in this space, because as the only owner and operator of the studio, I don't have to make any compromises, and it all comes down to my personal taste and preference.
It's pretty cool to be able to work that way, but if you and I aren't on the same page, you'll probably hate my shop. Which can alienate customers for sure… As for the future of the studio, and brand in general, I just wanna do more of the same. More releases, a bit more quantity of each release. More buying for the studio, as it grows and more people coming through and shopping, it will open doors for what I'm able to bring in. I'd love to bring in everything I can think of, but I'm not rich, and I need people to shop in order to keep a reciprocal retail experience. I'm working on getting some sort of self serve coffee bar in the studio. I want people spending money up here, don't get me wrong, but I want people to feel comfortable up here, I want people to come through and hang out too.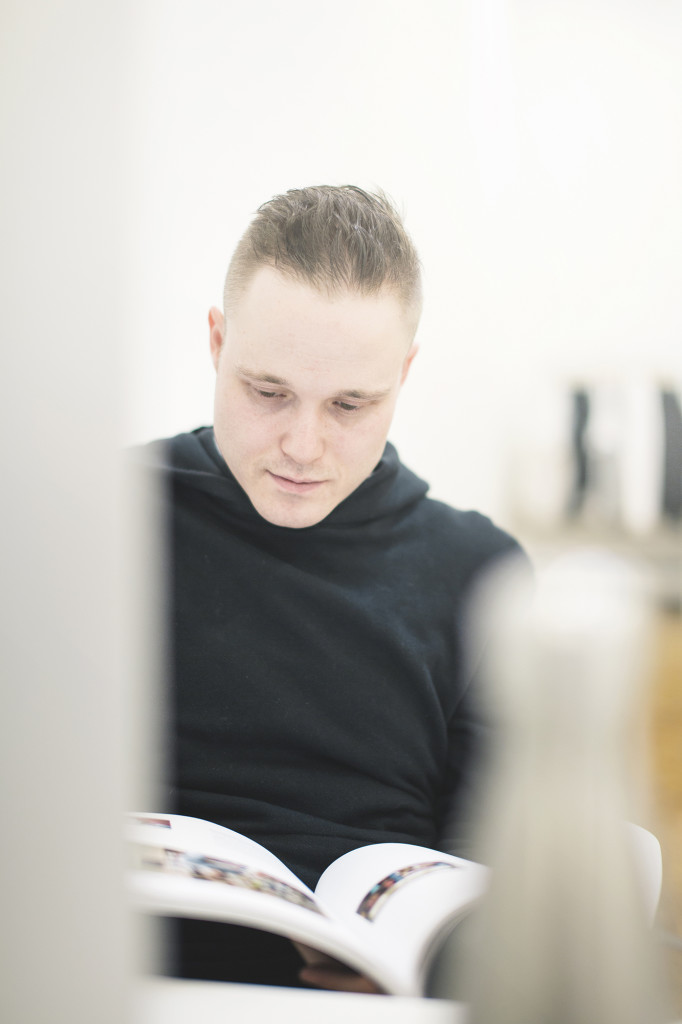 What would you say to our readers who are looking to start their own business or clothing label but are afraid to take the leap?
Dive in. You're going to make mistakes anyway, it's inevitable. It's a rite of passage. It's pretty fun to learn as you go. People sit around forever and talk about "ideas" they have, and what they're "going to do"… The best thing you can do is use the fear and stress to fuel those ideas and ambitions. It'll leave you with a better story to tell in the end, if anything.
You keep a film camera on your desk and use it to capture a photo daily in your studio. Could you tell us more about the story behind this?
I try my best to take film photos of everyone that comes to the studio. I choose film because it's what I know best, I came up shooting film photos. I admittedly don't know that much about digital photography, I only use a digital camera for media shots for my brand or the studio. I like having hard copies of things, I like to be able to hand someone a shoebox of photos to go through, as opposed to an iPad to pinch and scroll through. Digital photos are easily deleted, and phones and external hard drives get lost. I've never once lost a box of photos, they're all safe in a closet, or under a bed.
If you could bring anything from around the world to Edmonton, what would it be?
I don't have a good enough answer for this one. Too many things… Definitely things I've been introduced to while travelling. Anything that's new to Edmonton, that we need, but don't have yet. They make some crazy snacks overseas, candy and chocolate. Very necessary…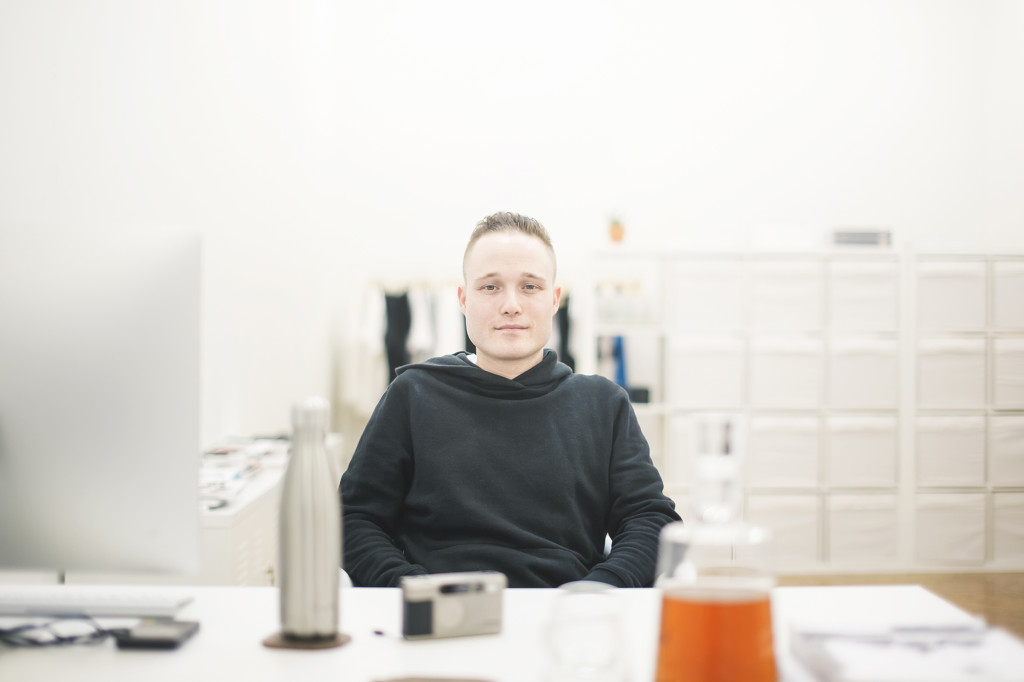 Sometimes the flowers arrange themselves…
What does ideal first 60 minutes of your day look like? What do you do as part of your daily routine or would like to do in an ideal world?
Pretty boring actually. Wake up, look at my phone. Check in on manufacturing, orders for the studio, any online sales that may have happened over night. Shower, for a while, I like hanging out in the shower. Eat breakfast, have coffee with my girlfriend. Make sure my cat has food and water, then head into work. After work I keep it simple, usually eat dinner with my girlfriend when she gets home from work. Either go out for a drink, or drink some scotch and watch a movie at home.
Is there a book that you would recommend that inspired, influenced or helped you in your life?
I don't read too many books. I mean I've read plenty of books, but I don't have the right attention span for it… I lose interest too quickly. I'm more of a fan of photography / art books, blogs and magazines. Editorials and interviews are always good for some inspiration. You're asking the wrong guy.
If you had to pick a favourite place in Edmonton to take a breather, let loose, or to soak up the city, where would it be? And why?
Anywhere public, I'm a huge fan of people watching. Taking note of what people are wearing, how they're acting, what they're eating and drinking… just witnessing human interaction in general is a hobby of mine. I don't really have a favourite spot, for me it's more about who I'm with and what we're doing, rather than where I am.
Do you have a favourite place for coffee in town or to grab a bite to eat?
I'm a huge fan of Lock Stock for coffee. My good friend Jesse runs it, he's the best.
So what is next for Wes? Do you have any new projects in the works or something you are excited about?
Just a lot more of the same. I think I've found a good lane to be in, I have no major complaints. I like how everything is going at this point, so I just want to focus on perfecting and honing this craft. I'm in no rush, but I would like to grow both the brand and the studio a lot more. As I said before, more items, more of each item. I'd like to bring more brands, accessories, and publications into the studio. Work on exposing Edmonton to some new stuff. Get the coffee nook going on at the studio. I have an immense amount of work and self-educating ahead of me, but I'm really looking forward to it.
If you had to leave a personal mantra or words of personal advice  for our audience, what would they be?
Sometimes the flowers arrange themselves…
Online:  Nowhere Fast
Facebook: Nowhere Fast
Instagram: nowherefastbrand