A few years ago —when streaming news online was still a somewhat novel idea— reporter Tom Gazzola was offered a position with the Edmonton Oilers as a digital media anchor for the team. This season marks his 6th anniversary in that role —a career accomplishment that many were skeptical about when he decided to trade his traditional media gig for a digital opportunity. We met up with Tom just before the NHL season kick off, and got his take on sports, broadcasting, and the best culinary experience he's had on the road with our favourite team, the Edmonton Oilers.
Hey, Tom! Let's start this interview out by having you tell us a little about yourself…
More than anything else, I'm a just a kid from the north-side who grew up playing sports. It was always hockey during the winters, with baseball and soccer in the summer. I'm the eldest of three brothers with an Italian dad and Polish mom. Stubbornness runs in my family, and raised voices were always quite common around the household growing up.
You grew up in Edmonton playing hockey. What were some of your best moments as a player?

I loved out of town tournaments when I was younger, those always seemed to be the most fun. The experience of going on a bus trip to a city or town and staying in a hotel was great. The best memory of mine would have to be winning the Founders Cup. It's the Capital Junior Hockey League's championship. Winning it with my friends, guys I grew up playing club hockey with, is what made it special. Some of my best friends are from that team.
What advice would you give to young hockey players and hockey parents?
Remember that hockey is supposed to be fun. I hate seeing kids being forced to play hockey 12 months a year and you can tell that they're not even enjoying it. It's supposed to be a joy to play, and some parents push too hard. I remember some of the best players I played with growing up had quit after bantam hockey. Even though they always played top level hockey, they were just done with the sport so they quit at 15.
What inspired you to enter into media/broadcasting?

Honestly, I had no clue what I wanted to do after finishing high school. I gave some thought to becoming a social worker like my dad… maybe a fireman. I would always watch the guys on TSN and Sportsnet and wonder how fun it would be to get paid to watch games, and that was really the start of it when I was young.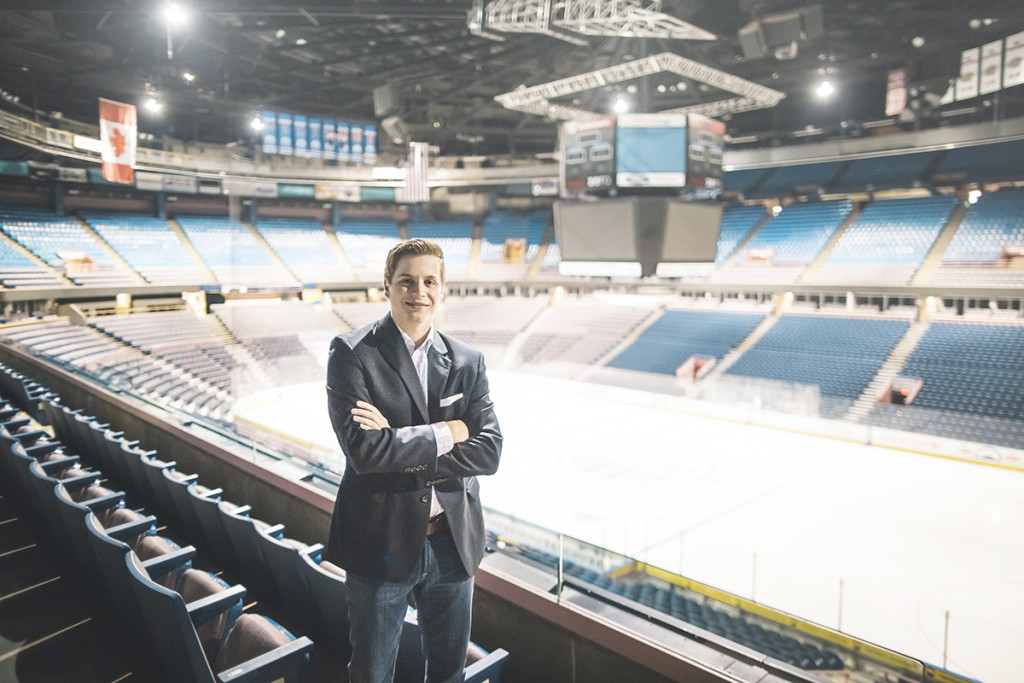 What was your most nerve-wracking moment in your early career?

My first 6 o'clock newscast on CTV Edmonton. I had done the late night show the night before without a hitch, and was hoping it would be more of the same. Right before the show, Joel Gotlib asked me if I was nervous. I remember telling him, "well, my grandparents have been watching this show for the past 50 years since they got off the boat from Italy." He gave me a surprised look and said, "Good luck". We came back from break and in my first set of highlights which was an Eskimos/Stampeders game, somehow whoever was rolling the teleprompter in the control room mixed up my script. Add to that, I had a sound clip from the game right off the top. In one ear Joel was telling me to keep reading, in the other ear the producer was telling me to hang on, and then the floor director kept telling me to wait as well. The whole time I was on camera flipping my scripts and looking like I had no idea what was going on. Eventually the highlights rolled and I got through them ok, and managed to regroup for the rest of the sports cast. I walked out of that studio with my tail between my legs. It was a learning experience that I will never forget.
When you chose this career path did you foresee that your career would have a focus on sports?

100%. Considering how stubborn as I am, I couldn't fathom doing anything but sports. So when I got my start in television covering news, it was a circumstance I had to accept and learn from. I think it actually helped me become more versatile and open as a broadcaster.  Anchoring the News in a small centre gave me a real shot in this business, but I always came back to my love of sports.
What led you to the Oilers organization?

Dumb luck actually. I had just started anchoring late night and weekend sports at CTV Edmonton when Marc, my current boss, contacted me one day asking if I would like to meet with him in regards to an on-camera role covering the Oilers on the digital media side. I wasn't sure what to think of leaving a traditional television station for the digital world, at the time digital and on demand content was still sort of in its infancy. I do remember that when I took the job, a lot of my peers in traditional media told me that it might have been a big career mistake. A year or two later, their opinions have changed. And now, heading into my sixth season at Oilers TV, we've built a solid rapport with viewers and have gained a lot of respect from them, and other media. It is definitely something I am very proud of.
What is the biggest source of pride in your work?

Knowing that people are watching what I do and hopefully getting the information that they want and need about the hockey team. The icing on the cake is when they tell me they really enjoy what we do on Oilers TV and they like me as a host and reporter. It's a gratifying feeling to know what you do is appreciated.
It's a gratifying feeling to know what you do is appreciated.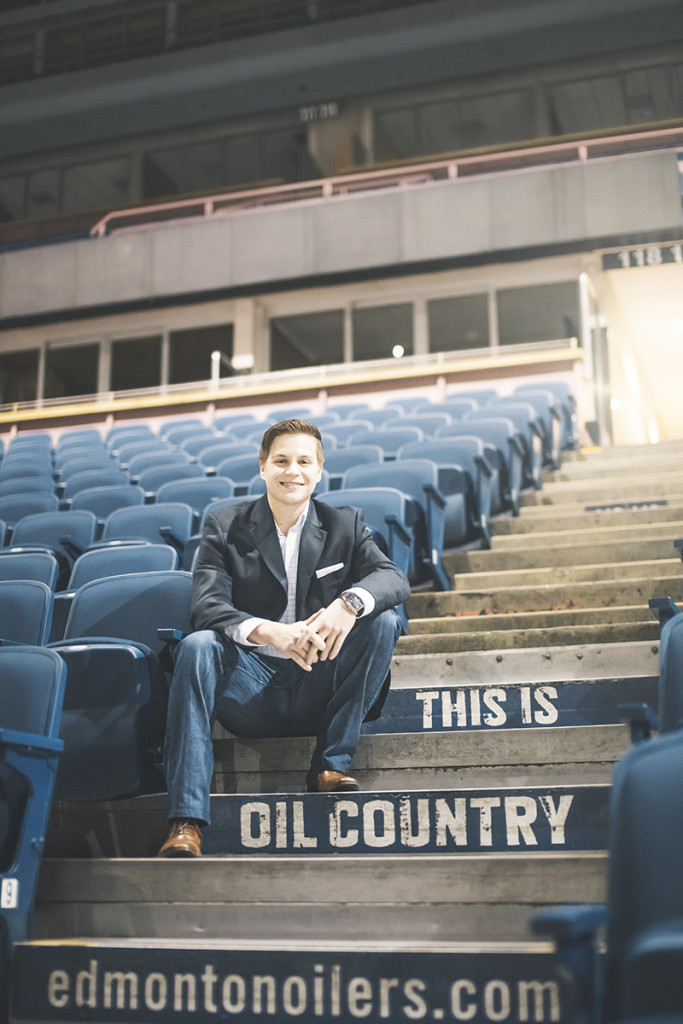 Is there anything that makes working for the Oilers more difficult than working for a traditional news organization?

You have to be careful how you present information. People always like to say "it must be tough to spin things positively all the time." I don't think things need to be spun, fans and viewers aren't dumb so why try to pull a fast one on them and wind up looking like an idiot? Win or lose there's a story to be told and I try to tell that story factually and respectfully and let our viewers read between the lines. Most of the time, they know what's going on; to try and fool them by spinning things isn't right in my opinion. We are an information source first, and we really try to focus on that rather than just positive public relations.
We are an information source first, and we really try to focus on that rather than just positive public relations.
What was your toughest obstacle you had to overcome to reach your goals?

Moving from traditional television to the digital world came with some hurdles. When I first started, people really didn't put a lot of value into what we were doing. Six years in, and through some losing seasons, we've now built up our reputation. Beyond that though, digital media in all North American pro sport leagues has now grown in importance and viewership.  That is a trend that we all expect to continue.
What do you think is the biggest misconception about having a career in broadcasting?

That it's pure glamour and that all you do is hop in front of a camera or behind a microphone for a few minutes and your day is done. The actual on-air portion of broadcasting is the easy part. Gathering information, coordinating with camera people, lining up interviews, sorting through the massive production that goes along with any game and bringing it all together is the hard part and takes a lot of time and effort. There are so many people that are involved to make it happen, and they help make what I do look easy.  The reward is getting a chance to tell the story at the end. Being involved in a sports organization, it is clear that success involves teamwork.
What traits do you look for in good team members?

Teamwork is essential in our line of work. It's one thing to have talent, but without motivation and trust in your colleagues, talent only gets you so far. We have a team of motivated individuals that care a lot about what is produced by Oilers TV. Without my producer/shooter/editors, Oilers TV wouldn't be anywhere near as good as what it has evolved into.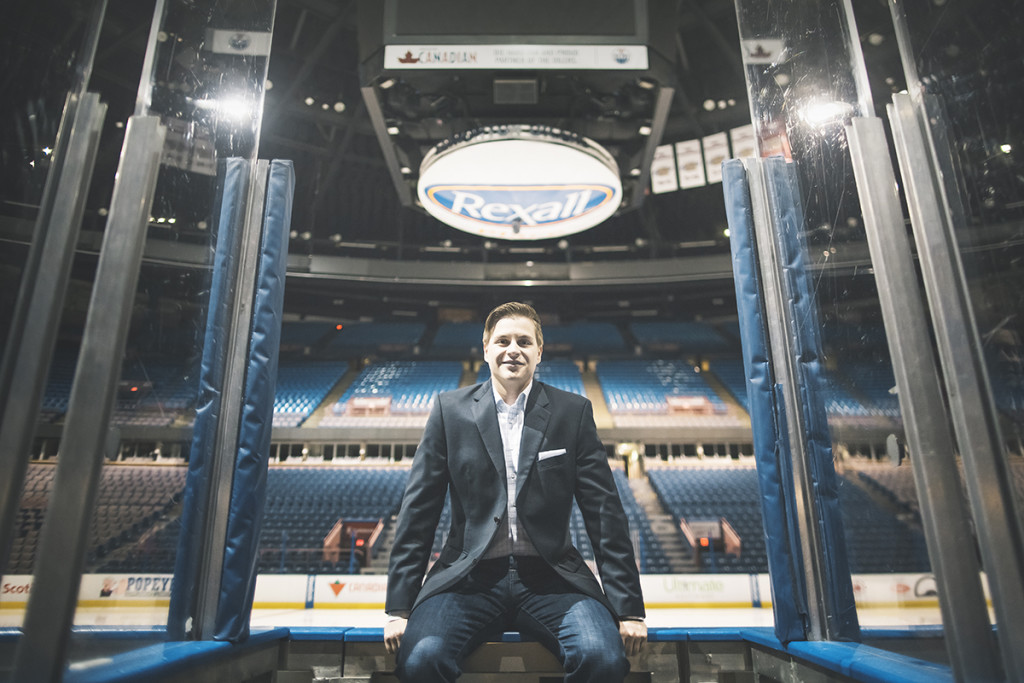 What does a game day in the life of Tom Gazzola look like?

Up at 8am (hit snooze at least 3 times). Coffee, shower, maybe breakfast (I'm not a big breakfast person), read some articles heading into the day. I try to read up a little on teams the Oilers are about to face as well.
Get to the rink at 10am for morning skate, interviews, write my story, shoot my on-camera elements, and then edit. When I'm done, I usually head home at around 1:30 and try to lay low and relax for a couple of hours. Sometimes it's a nap, other times a workout, just something to get my mind off work for a little bit.
Head back to the rink at about 5:30. Watch the game, do post-game interviews, write my story, shoot my on-camera portion, and then produce it. If it was a fun night or a weekend, some of us from the media-side like to head out for a drink or two somewhere downtown afterwards.  That part just keeps getting better with the explosion of awesome hangouts in downtown Edmonton.
Do you have any pre-game rituals?

I do try to stick to a routine on game days. It helps me be efficient but nothing too superstitious or anything —not like some of the players that's for sure. The one thing I almost always make a point of doing is avoid watching my pre-game preview play on the scoreboard and in the arena. I don't know why, but I've developed a real dislike of watching my story while thousands of people in the same building are watching at the same time.
Did you have a mentor that helped you reach your goals, or a role model either in the Oilers Organization or in broadcasting in general?

A guy I always appreciated watching as a youngster was Gene Principe. My first paid job in TV was as his studio runner during the 2007-08 season. I couldn't believe I landed that job. I was in my first year of broadcast school and every game night I tried to soak in as much as I could from Gene. How he carried himself, how he handled being on camera, how he interacted with players, staff, other media, fans and arena staff. When we travel, Gene is the most popular guy among the Edmonton media contingent in every city we go to. People respect him for a reason. As goofy as he can be on broadcasts, he is a true pro.
A guy in the organization that I have a lot of respect for and admire very much is Jack Michaels. He and I were hired at essentially the same time. He had to fill some pretty big shoes replacing Rod Phillips, and I think he's done a tremendous job. We've become very good friends in the five years that we've been a part of the organization. When we're on the road, we're generally always going out or we're the ones spearheading things to do for the travelling media contingent.
Jack is from Western Pennsylvania, so when we're in the north eastern United States, he's hard to find because he has a million friends that always want to visit with him. Yet, we always wind up at the same bar for a drink or two, sometimes I even hang out with his friends or family out East. He has, without question, become one of my closest friends. He's a talented guy with an interesting background and a great wife and kids who have supported him on his journey to becoming an NHL play-by-play man.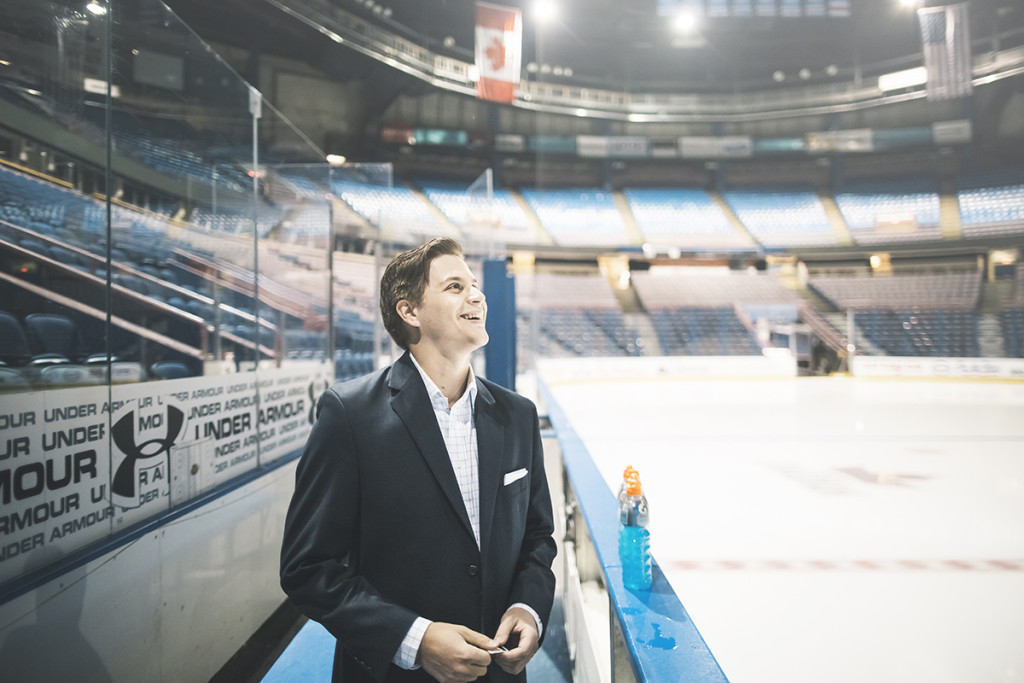 What is the best piece of advice that you received that has stuck with you?
"Nobody likes assholes, so don't be one." I can't remember who told me that but it was very much along the lines of "treat people the way you want to be treated" but in a much more blunt fashion.  I love it.
"Nobody likes assholes, so don't be one."
What advice would you give to aspiring broadcasters?

Say yes to any opportunity that is presented to you. Getting your foot in the door is hard, so volunteering or taking on small jobs in the industry when you're just starting out can go a long way. You meet people in the industry and build relationships and a rapport with them that can lead to bigger and better jobs in the industry. Someone smarter than me once said that there are no small jobs, and nothing can derail a potential career more quickly than too much ego.
You've had a chance to report on some International Tournaments over the years, what struck you as the most inspiring about watching Team Canada play overseas?

It's incredible to see how much respect Canadian hockey has garnered on the international scene. My first brush with that came at the 2012 World Championships in Helsinki. Finland is the only other country in the world where hockey is the national sport. I remember how anxious everyone in Helsinki —and Finland— were when the Finns had to face Canada in the round robin.
Everyone was talking about that game in the week leading up to it. It was Finland's biggest test. I remember they went up 2-0. Slowly but surely Team Canada turned the tide and eventually evened up the score. When Canada tied it, I vividly remember on the Jumbotron they were showing crowd shots right after Canada scored, and a lady —covered head-to-toe in Finnish blue and white— was crying, and being consoled by a friend. That's how much it meant to them, and in that moment, I think part of the reason she was crying was because she knew the Finns were done. Canada won the game, Finland never really recovered and was bounced out of the tournament shortly after.
Are Oilers fans unique compared to NHL fans in other cities?

What I can say about Oilers fans is that they are incredibly loyal. People have stuck with the team through a lot of really lean years and still love the club. Another unique thing about Oilers fans is that they seem to travel really well. Any time we're on the road, we always run into big groups of fans who time their vacations to coincide with Oilers road swings. It's actually quite impressive.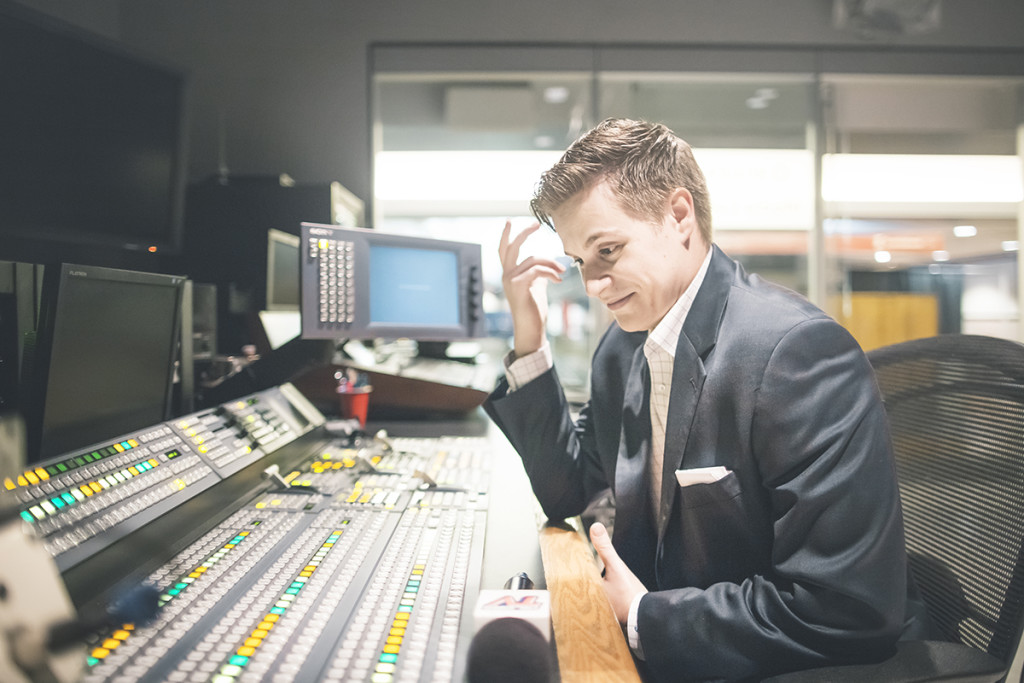 Someone smarter than me once said that there are no small jobs, and nothing can derail a potential career more quickly than too much ego.
What makes you call Edmonton home?

When I moved to Lloydminster to take my first on-air television job, I truly believed my time in Edmonton was quite likely over. Broadcasting can take you all over the country. When the opportunity at CTV became available, it was such a no-brainer to take the chance. The two years away from Edmonton made me appreciate it much more, I believe. The fact that the majority of my family still lives here also helps.
After being on the road with the Oilers, what is the first thing you do when you come back to Edmonton?

Most times, we fly out right after the game. And on road trips, that means landing in Edmonton around 1 or 2 in the morning. Although we are fortunate to stay in some very nice hotels, my favourite part about coming home from a trip is the first sleep  in my own bed. There's just something about that first night back that makes that sleep extra comfortable and satisfying.
If you could bring anything to Edmonton from around the world, what would it be?

I love Chicago, it's my favourite city to visit. The young people there are so cool, friendly, intelligent, fashionable and have a very easy going demeanour. They aren't full of themselves and even though they're young professionals, when work is over, it's time to have fun. I would love to bring that attitude and vibe to Edmonton.
Which NHL City has the best food?  What was it?

This one is hard to answer. In every city we seem to find amazing food. But I would say New York would be my answer. I have never had a bad meal there. Whether it was a sandwich from a little hole-in-the wall shop that was recommended to a wood stove pizza from Gimaldi's, which is a pizza parlour literally under the Brooklyn Bridge. It only fits about 30 people inside and people line up down the block just to get in.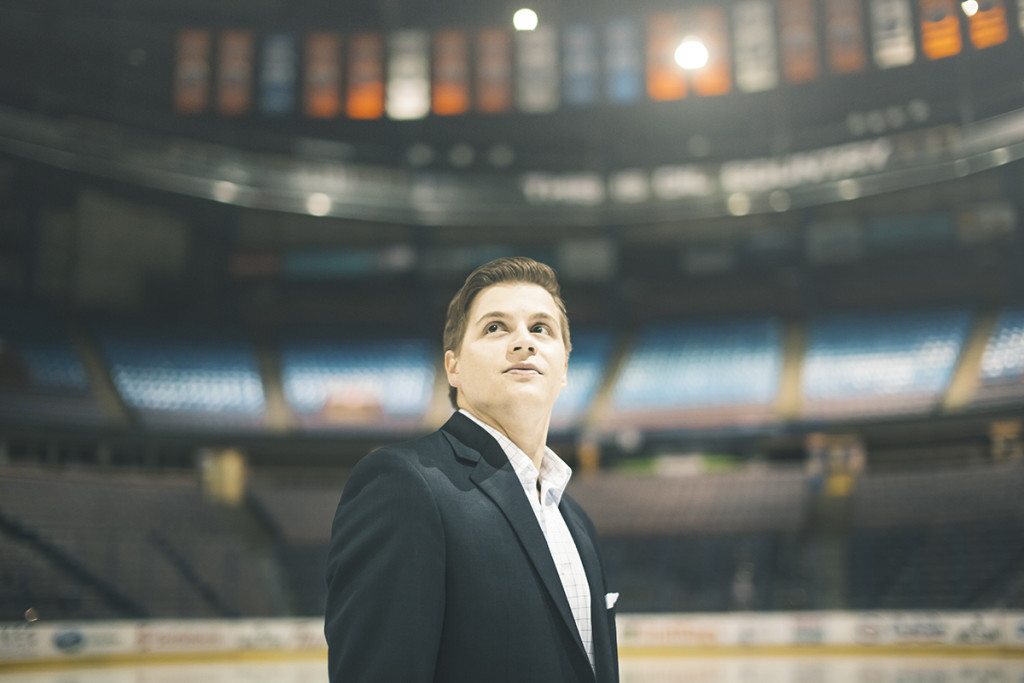 Say yes to any opportunity that is presented to you.
Is there a book you have read that has inspired you?

I always tend to read biographies and autobiographies about athletes or sports media. Over the summer I read Bob McKenzie's latest book and then followed that up with "Cornered" by Ron MacLean. I enjoyed reading about MacLean's journey to Hockey Night In Canada because he followed a similar path as me. Starting out in a small town, learning the ropes and then working his way up at a relatively young age. I also really enjoyed Jay Onrait's first foray into writing, "Anchorboy". It is definitely a book I would recommend. He actually has a second book on its way to release.
Do you have any principles which you follow to help you stay focused?

I always want to just be a good person and do a good job, be someone that people look forward to being around and I hope that applies to my work as well.
be someone that people look forward to being around
What is essential for you to keep energized for the day?

A cup of coffee to wake me up and at least one good meal during my day. My schedule is so sporadic during the season that although there is a general routine, so many wrinkles get thrown in; those two things keep me going during long days. Sometimes an afternoon siesta goes a long way too.
Is there an app that helps you stay organized in your daily life?

I'm pretty unhip or "with it" when it comes to mobile technology. I only reference my calendar app when I somehow can't remember what's coming up the next day. I do check Twitter frequently to stay up to date on things. I am a big time double-tapper on Instagram, I pretty much like every picture that people post. I also play Clash of Clans, which I was reluctant to even bother with at first. I even managed to get Jack Michaels to play; we've since created our own clan and still play. Really cool, I know.
If you have to pick a favourite place in Edmonton to spend your down time, where would it be?

My home. Honestly, I spend so much time everywhere else, that when I get a chance to just be at home, I make the most of it. It helps that I live downtown, so when I get restless, as soon as I walk out my door there is a million things to do nearby.
Are there any projects that you have been involved in within the community that you are particularly proud of?

I am very proud to be a part of the annual DirtyBird Charity Hockey Tournament, which supports the Neurosurgery Kids Fund at The Stollery. It started out as a small and simple idea from a local men's league hockey team. In 3 years, the tournament has grown substantially and has managed to raise $330,000 for the NKF. The NKF is dedicated to help babies, children and adolescents dealing with neurosurgical conditions.
What's next for Tom Gazzola?

Our crew at Oilers TV has some pretty cool stuff in the works that I am proud to be a part of. Last year our crew produced its first documentary. We were tasked with producing the Oilers 1984 Reunion documentary. It was an incredible experience. So now, with Rexall Place closing and the new arena set to open, as well as the arrival of Connor McDavid, we have a few more cool projects on the go.
Instagram: @tomgazzola_
Twitter: @TomGazzola