Kevin Cam may not have been born in Edmonton, but he – and his restaurant North 53 – are definitely examples of what epitomizes Edmonton's spirit.
Before he opened North 53, Kevin was working in the fashion industry. It was on buying trips to bigger cities like New York when he discovered the immense joys offered by the food & beverage industry —a happiness that he ultimately decided to bring home. Before even opening the restaurant, Kevin encountered several obstacles that stood in the way of sharing these culinary experiences with Edmontonians, but hard work, a lot of research, and help from his dedicated team, came together and that dream a reality. We sat down with Kevin and picked his brain about what inspires him, his no-holds-barred take on starting your own business, and why family (blood or business) is his key ingredient.

You aren't originally from Edmonton. What brought you to this city? Why did you decide to move here?

No, I'm not. I'm originally from British Columbia, and moved to this city when I was 12. It was initially my parent's decision to move us all out here; they had more relatives residing in Edmonton, so we packed our bags.

Now that you are an Edmontonian, what do you love most about this place?

I love the people here. I find Edmontonions to be more genuine and real, as opposed to residents of bigger & busier cities –I'm amazed at how fast this city is developing. It used to be rare seeing a crane in our skyline; now they're everywhere. I'm immensely looking forward to what this city will become, as we have huge potential to get out of our big 'town' shoes, and into 'big city' ones.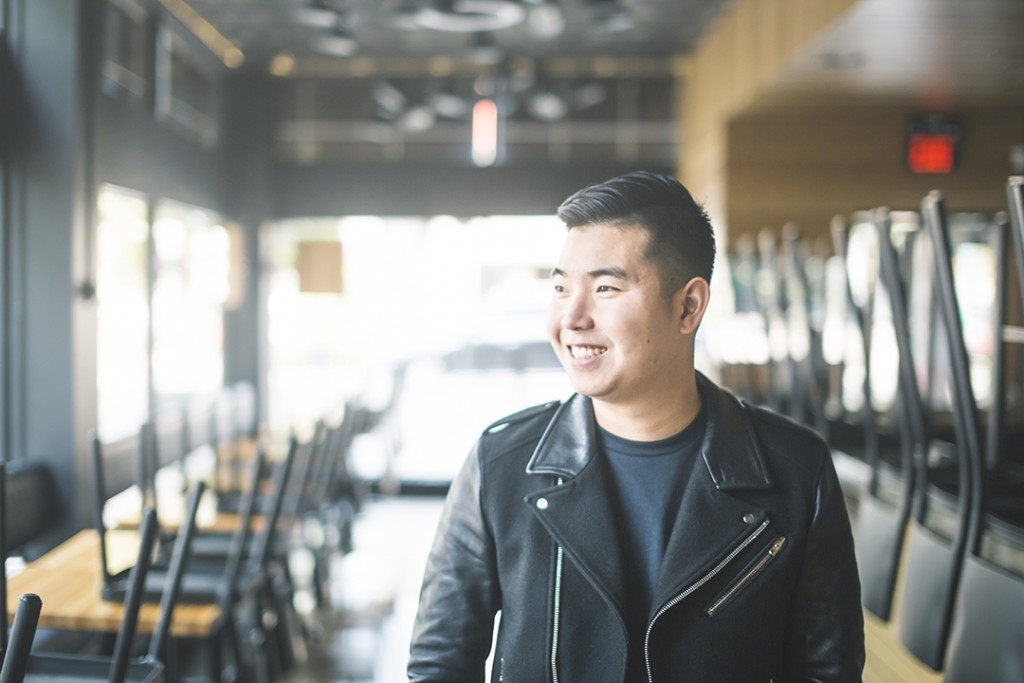 What were you doing before opening North 53?

I was in the clothing business, on the retail end. Part of my job involved a role as the buyer for the company, so that offered me the opportunity to travel to different cities on buying trips, 4 seasons a year.
What sparked your decision to change your career path from retail to restaurant?

I would heavily immerse myself in the food and cocktail pockets of Toronto & Montreal while on buying trips. This pleasure was initially what planted the seed in my brain for a huge career change back home.
How did you come up with the idea for North 53? What was your inspiration for opening your own restaurant?

There was one city that inspired me like no other city had —that place was New York. 6 months before I had taken possession of the current North 53 space,  I embarked on a week and a half "solo mission" out there. The city blew my mind with its food and cocktail scene. I wanted to bring a little piece of what I ate and drank in New York, back home to Edmonton. I came home and found a chef [Ben Stanley] that would eventually shape the initial food-concept of North. This concept would then change, 8 months after we first opened.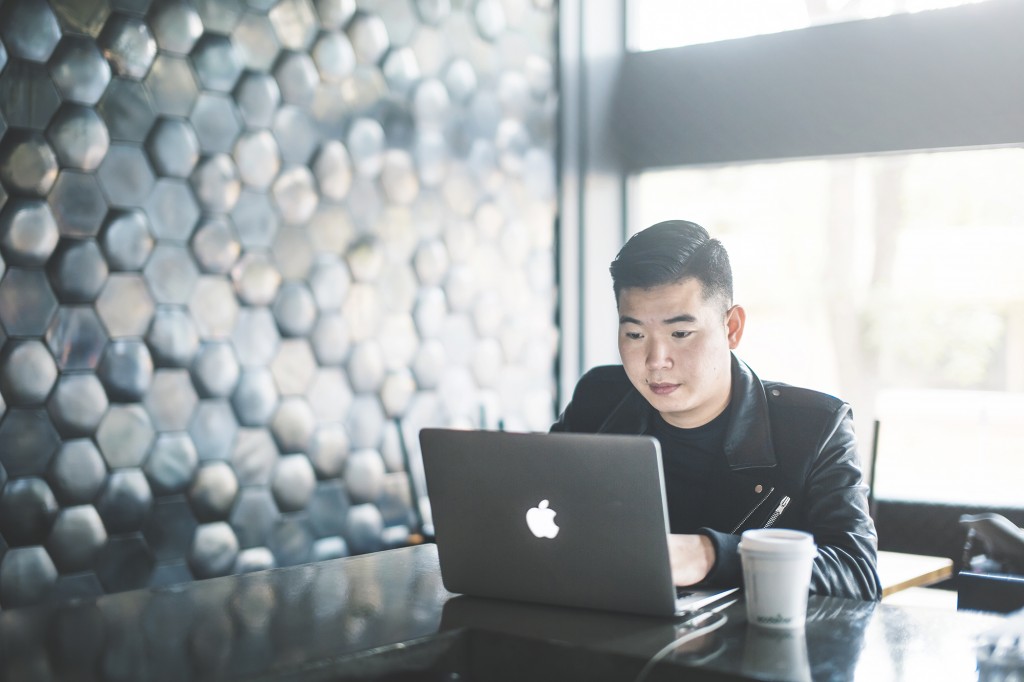 Research. It all boils down to research.

What was the biggest hurdle in getting the restaurant up and going? How did you overcome those challenges?

The biggest pain in the ass? Dealing with the city, haha! The permits and licensing sector was a headache from the get-go —it was a draining, and consuming process. When the time came where we finally got approval for all our building permits, the second hardship hit, and it hit hard.
Construction.
I made the —costly— decision to be the General Contractor of the entire job; start to finish. It was my hard-head telling me that I could do it and we lost a lot of time and money in that process. But I took away valuable experience and knowledge from it, so it all kind of evens out. Will I GC my next project? Hell no.

Will I GC my next project? Hell no.
How do you curate your food and cocktail menus? What influences and inspires such a menu?

Research. It all boils down to research. I'm also blessed to have staff members in the kitchen and behind the bar that are all motivated and passionate about their roles within the company. They spend a lot of unpaid time before and after work digging up current trends, new ways of doing things, innovative ingredients etc.
I also enjoy taking my key staff members on research & development trips to gather and forge new ideas.
Edmonton's food and cocktail scene is very tight knit, so everyone that's involved is generally pretty blessed to be able to reach out and learn from our associates.
Gotta keep it moving, and keep things exciting!
On a personal level, what keeps you moving forward? Where do you find inspiration in your everyday life?

My biggest inspiration comes from my mom —she may not know it, but she's a very strong women. I grew up in a household that consisted mainly of my mom, my sister, and I. She worked very hard on the daily to get us what we needed, and instilled her hard work ethic in me. I really wanted to make her proud upon venturing out on my own —that sole goal feeds my drive everyday.
Secondly, my team at North 53, keep me pretty in line haha. They work their butts off day in and day out, and that really keeps me in touch with what we've built as a team, and is a reminder of the effort it took for us to get here. I couldn't have done it without them. I use them as motivators sometimes, and I'm sure they know that.
My team at North 53, keep me pretty in line haha.
What does ideal first 60 minutes of your day look like? What do you do as part of your daily routine or would like to do in an ideal world?
I read the daily news on my tablet upon waking up in bed, before fixing myself a small breakfast. I've been trying to keep up with eating and making breakfast —as that's the meal I generally tend to skip – if I have a full schedule ahead of me.
This time is also where I plan my day, and I make a list of things I need to tackle during this time. I contact my core members of the company —my manager, bar manager and chef— and put together a game plan for things that need to be done either the day of, or the week that's following. 
…I then take a long, hot shower.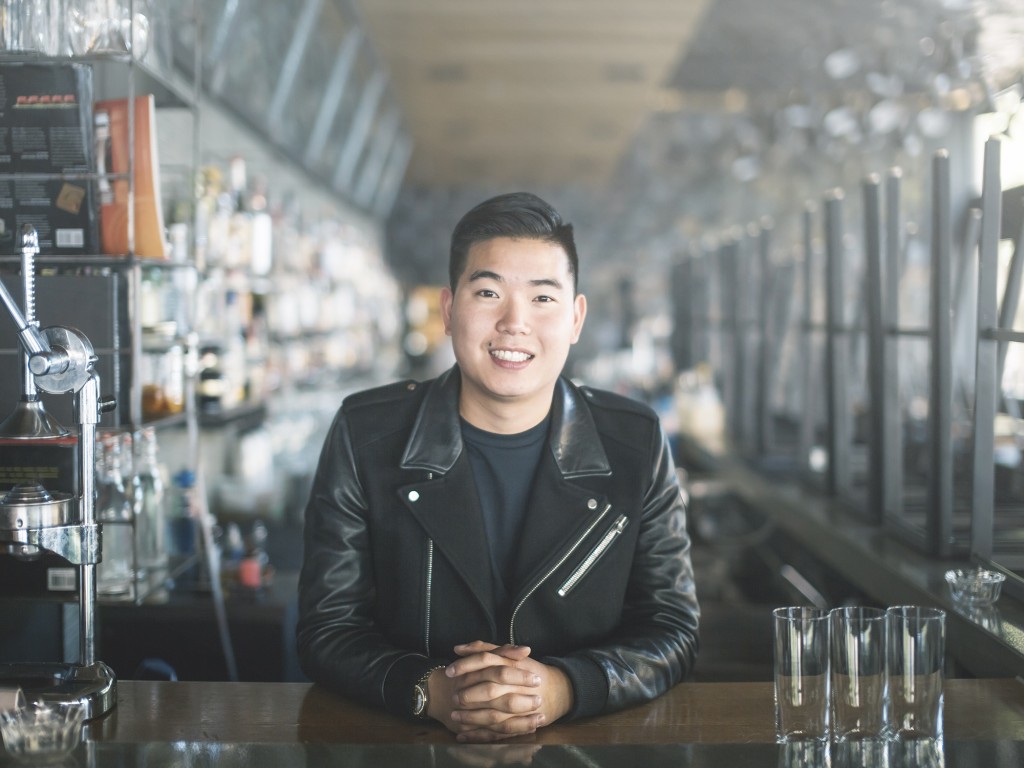 We imagine the life of restaurateur and entrepreneur can be stressful! It's long days and early mornings. How do you find balance in your life? Do you have any hobbies or activities you like to do outside of your work? How do you wind down and relieve stress?

I can relax with a good book. It takes my mind off work, and places it in the book's setting. It's my quick escape, if I ever need it. Another way to wind down is grabbing a cup of coffee, or beer, or a meal, alone. This is when I tend to people watch the most.
There's something about doing things, that you'd normally tackle with a partner or a group of friends, alone. It takes away a lot of distractions, and awards you with quality you time —something that's usually rare in an industry where you're always surrounded by people.
Are there resources or an app that help you manage your day-to-day and keep you organized or in check?

I use NOTES on my iPhone a lot haha. It's where I compile my to do list.
I also put my phone's calendar to good use and plug in important meetings and dates, and to set reminders a day before that event, as I'm pretty forgetful.
I don't use anything that's too tech-heavy in terms of my daily and weekly organization —my company sales and report tracking programs on the other hand… That's a different story.
Is there a book that you would recommend that inspired, influenced or helped you in your life?

Be Stupid, by Diesel lifestyle brand founder, Renzo Rosso.
Back when I was dealing with Diesel Denim, one of the designers gifted me this beauty on a buying trip. This one book expanded my horizons on how to manage and accept risks, and the importance of risk-taking. This book has majorly influenced me, in every aspect of business and decision-making to this date —I use it as a reference from time-to-time.
I encourage every startup entrepreneur, or existing entrepreneur to go through this book, and treat it as a reference guide for not only business dealings, but for dealing with life as well.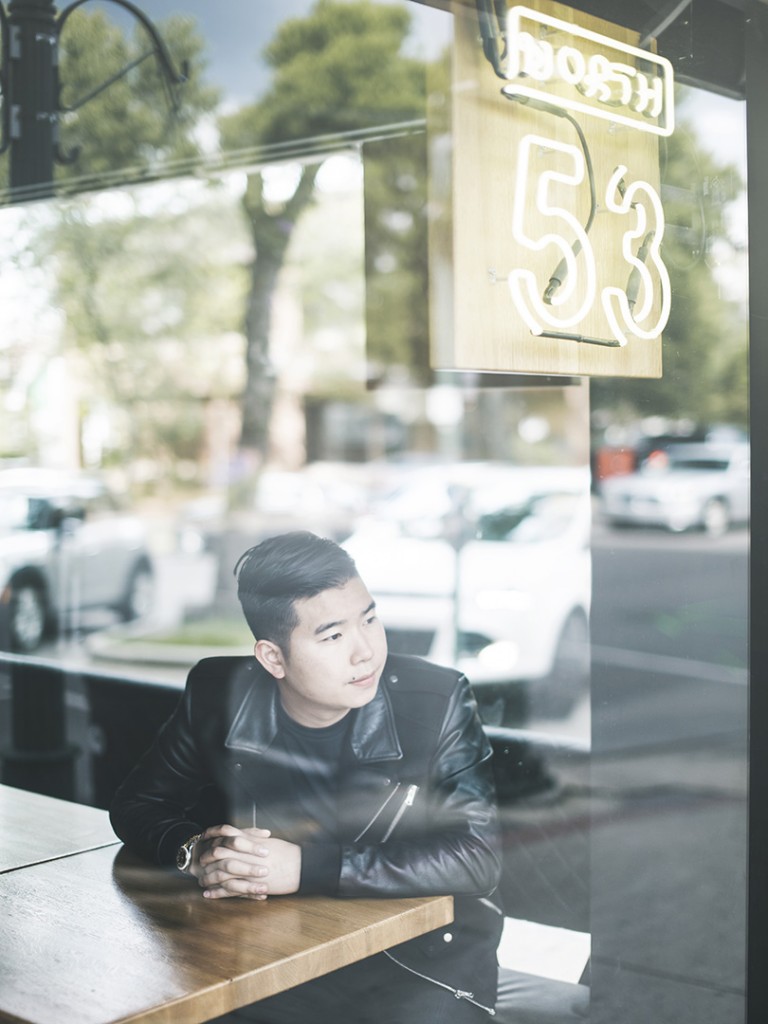 I encourage every startup entrepreneur, or existing entrepreneur to go through this book, and treat it as a reference guide for not only business dealings, but for dealing with life as well.
Do you have any words of wisdom or advice for anyone looking to get started in the restaurant business?

If you really are passionate about it, take the leap. If you over think it, you'll most likely be scared off. This is true with all business ventures. Like any starting entrepreneur, you're a sheep that willingly tosses yourself into the lion's den.
Like any starting entrepreneur, you're a sheep that willingly tosses yourself into the lion's den.
Business is cut throat —especially in the food/bar business. You really need to have thick skin, and to not be scared to know that yeah, you're going to stumble a lot in the first few years.
The key to success, is to really learn how to take your mistakes, and turn them into lessons that will, in turn, propel you to success. The formula is a lot of dedication, a lot of hard work, mixed in with some luck here and there.
The formula is a lot of dedication, a lot of hard work, mixed in with some luck here and there.
If there was one thing you could bring to Edmonton from your worldly travels or life experiences, what would it be?

I would bring MORE culture to this city. I think we're lacking. It's definitely gotten a lot better over the years, but yeah… I would bring more cultural influences, art, fashion & cuisines to Edmonton.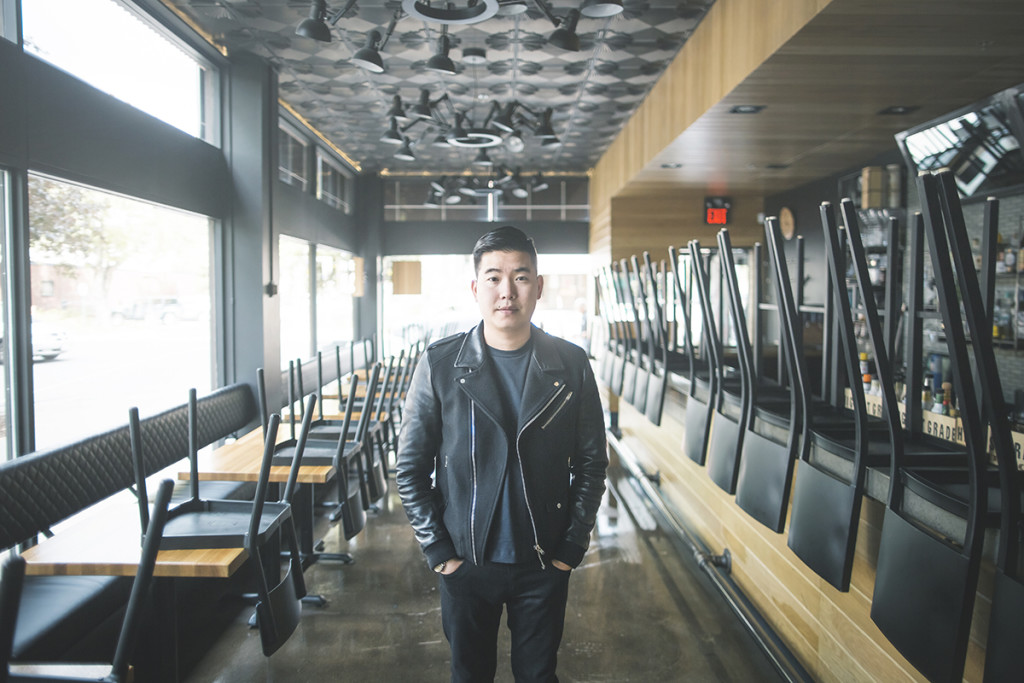 What is your favourite restaurant or coffee shop in town?

I have TONS.
What's interesting about Edmonton's food/coffee scene is that it's a ticking time bomb. People's palates are really expanding, and with more travel being done nowadays, people are coming back to Edmonton and expecting more from our eateries/bars/cafes. This, in turn, pushes owners/Chefs/Baristas to be more creative —this is what makes eating and drinking in this city, so exciting.
If I had to pick just one, my pick would be Corso 32. I'm in there so much, they're probably all sick of me by now. Haha!
Coffee shop: Credo. They've given me so much support at North. I love them.
If you had to pick a favourite place in Edmonton to take a breather, let loose, or to soak up the city, where would it be? And why?

I like Connors Hill. I venture up there when I need to decompress. It has a very beautiful view of the city at night and it's quiet. A lot of thinking gets done up at that hill.
What are you currently excited about? Are there any new projects in the works? What's next for Kevin?

I'm currently working on a second project in this city, so that's keeping my excitement a float. I get bored quickly, so I can never just sit still, and watch on the sidelines. I need to be continually involved, and involve myself in the happenings of this crazy city. Stay tuned!
Online:  www.north53.com
Instagram: @north_53