Katie Mahon sits back comfortably on a bed of colourful pillows in a cozy nook of SATTVA School of Yoga's studio. It's early on a Thursday morning and the hustle and bustle of the Whyte Avenue traffic below is only just waking up.
She lightheartedly starts to tell us about herself — the basic surface details people provide without revealing too much personal information. But Katie is an open book, as we soon discover, comfortable revealing intimate details about her struggles with depression and self-harm, and her road to discovering yoga and meditation.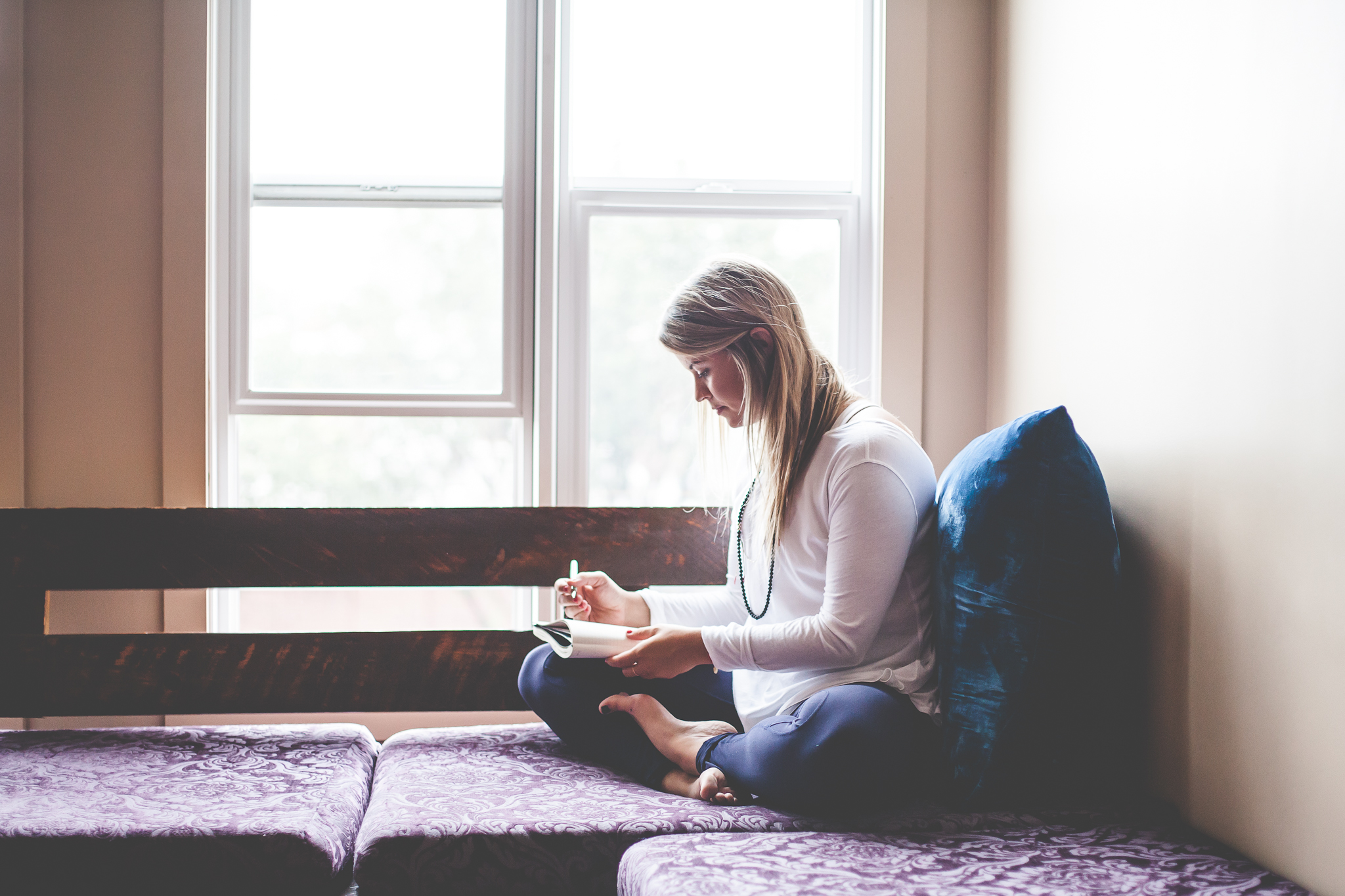 Katie was born and raised in Winnipeg, Manitoba, with brief stints living in North Carolina and Toronto. She ended up in Edmonton when she was fourteen after her father took a job as the Dean of the Physical Education and Recreation Faculty at the University of Alberta.
When we ask what she first thought of Edmonton as a fourteen-year-old, she laughs and tells us "it was hard."
But as it does with so many other transplants in our city, Edmonton has grown on Katie.
"Right now I live in Grandin in a beautiful old apartment building that I love so much. I wasn't sure I was going to like living downtown, but it's great. I love the walkability of my neighbourhood."
We chit chat a bit more about Katie's life today, then ask her about how she first got into yoga.
"I worked at lululemon when I was nineteen or twenty. At that time it was very clear to me that I should be practicing yoga like all of my lululemon co-workers did. I was nervous to try yoga by myself, so I called my mom and told her she had to come with me."
The closeness of Katie's relationship to her mom grows more evident.
"My mom met me at the studio just before class, with a Pita Pit wrap in hand as I was coming from work, and having been an athlete all my life, we knew that I should be fueling-up before exercising. So I'm downing a Pita Pit in the lobby of Lotus Soul Gym, and the yoga instructor for my class, Paul Broomfield, comes up to me and says gently, 'I don't know if you want to be doing that'."
We all laugh, imagining Katie as a rookie yogi entering her first class and the challenge of practicing yoga on a full stomach.
Katie continues her story.
"I was so embarrassed, but despite all that, the practice just resonated with me. I felt so good."
From there, and being an employee of lululemon for many years to follow, Katie was able to continue to practice yoga with lululemon's generosity — something the company provides and encourages for all their employees. Katie tells us her feelings of good fortune and appreciation for working for lululemon at that pivotal time in her life, and that she couldn't have afforded to practice yoga otherwise.
She hasn't stopped practicing since.
"…the practice just resonated with me. I felt so good."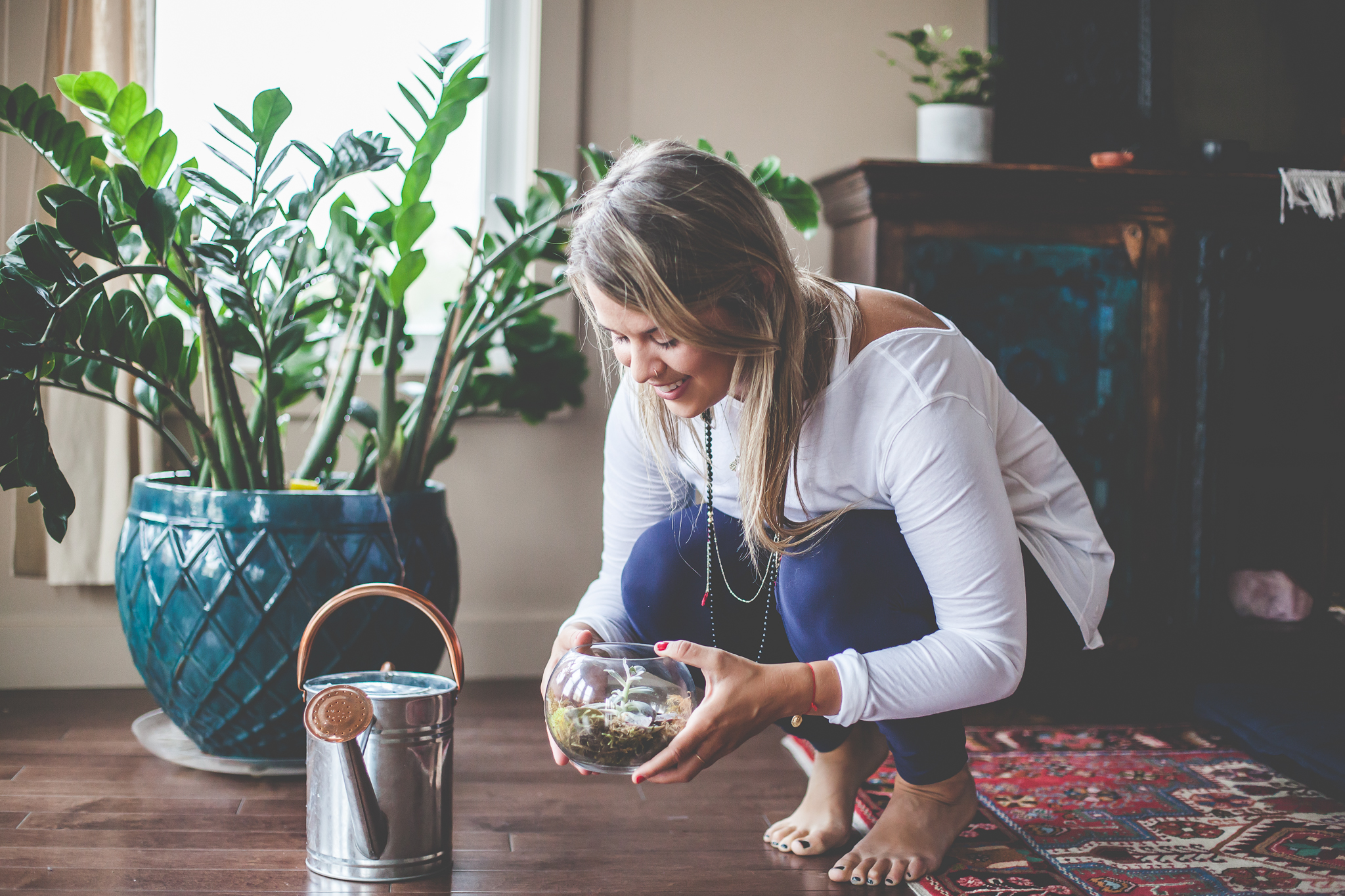 The starting of a 9:00 a.m. yoga class at SATTVA interrupts our interview so we quietly move into the change room — perhaps not such an ironic place for a deeply personal conversation. We sit on yoga mats, sprawled across the warm, tan coloured floor.
"What did you want to be growing up?" we ask Katie.
"I wanted to be a kindergarten teacher. My mom was a kindergarten teacher. There are definitely some parallels in teaching yoga and the work that I do with youth now. To be honest, I didn't even know what yoga was when I was a kid."
Katie's decision to become a yoga teacher came about while she was working, again, at lululemon, this time in an assistant manager role. She was interested in deepening her personal experience of the practice and knew that she liked teaching and leadership — whether this would turn into a yoga teaching gig she wasn't sure, but she signed up for the training anyway. Once again, the gift of yoga was provided to Katie when lululemon offered to pay for a portion of her teacher training.
"That gift from lululemon was really amazing," Katie tells us. "It made it possible for me to complete my initial training with Michele Theoret at Empowered Yoga. It was only after I got into that training session that I really recognized that yoga was something I was called to do."
Shortly after, Katie completed her training with Rameen Peyrow at the SATTVA School of Yoga and began teaching with SATTVA, where she still teaches today.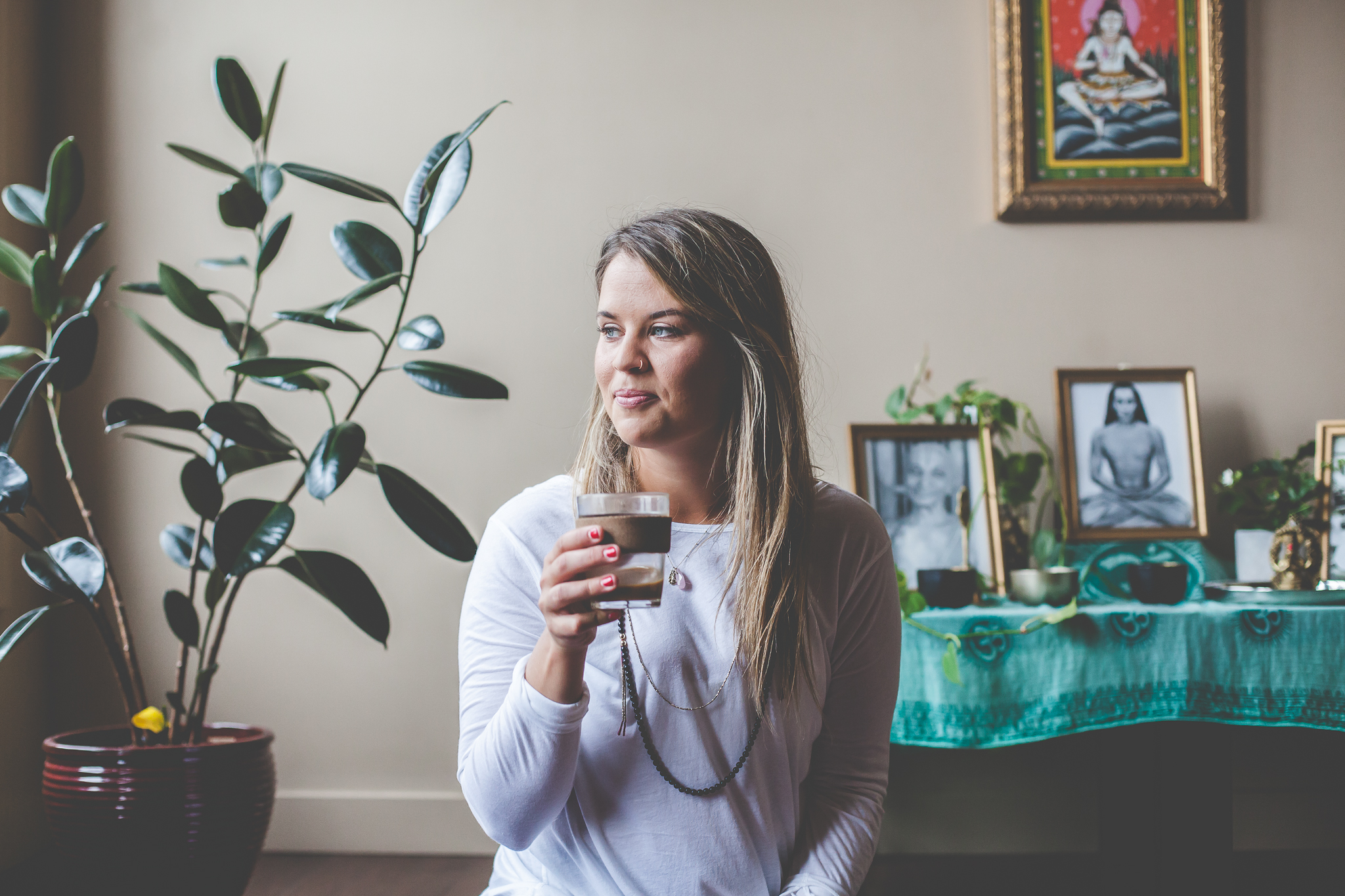 For Katie, practicing yoga has become an incredible tool for healing the whole person, including herself.
"Truly, yoga saved my life. I was diagnosed with depression in my early twenties; around the same time I first tried yoga. I was into self-harming and I just felt really lost. I became disconnected with who I was."
Katie's experience with yoga during that difficult time in her life gave her the opportunity to connect back with who she was on a deeper level, and provided her an outlet for spiritual practice.
"Truly, yoga saved my life."
"Yoga has become this really beautiful tool for coming to know myself in a way that makes me better all the time, and by extension makes me a better sister, daughter, auntie, and friend," Katie tells us. "I am better in all of my relationships because of this practice, and ultimately better for my whole community."
We ask Katie to explain the life lessons she's learned from her yoga practice and how it's helped her move through difficult times.
"The greatest lesson that yoga has taught me is to be still and to look inward. In times that are most challenging, it's so important to take deep, full breaths and to find some stillness, to look inward."
"If you've never tried it before, yoga is just something that is so worth exploring. It might be for you or it might not, but I think it's worth exploring. The practice is so good even just simply for the physical body, and whether or not that becomes a deeper experience on an emotional or spiritual level is up to the individual."
Even from a brief conversation on the floor of a change room, it's easy to see Katie's passionate belief in the healing powers of yoga on every level, and why she feels compelled to share it with others.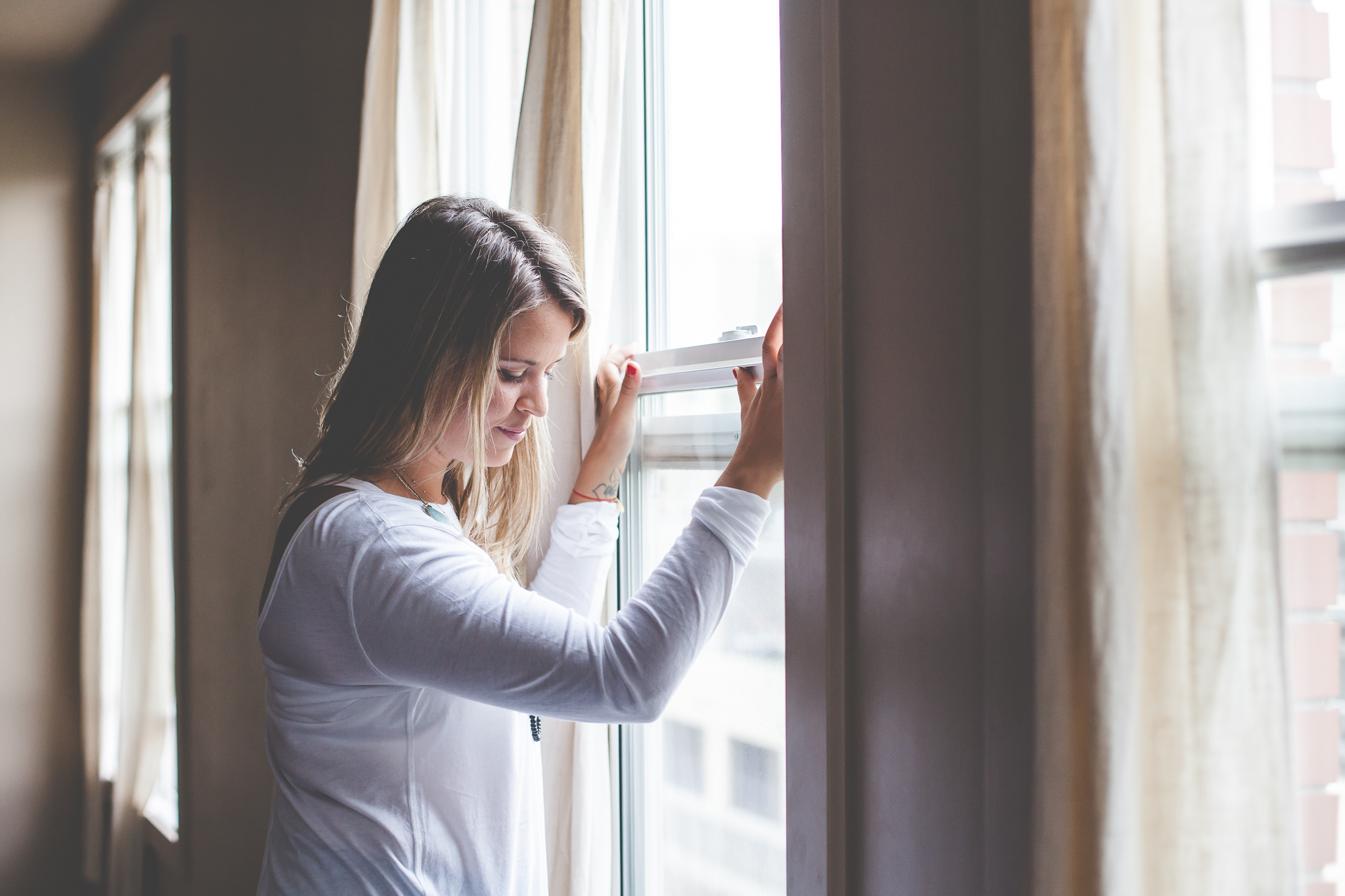 Enter the Inner Peace Project and Here To Be.
Back in her twenties, when Katie first started practicing yoga, she met a teacher, Rameen Peyrow. Rameen, the Founder and Director of the SATTVA School of Yoga, had a profound impact on Katie. He became not only her yoga teacher, but spiritual teacher as well.
As they got to know each other, Rameen put an idea in her head that she never forgot.
Katie explains, "He said to me, 'Inner Peace Project,' and I just put that name in the back of my mind and sat on it for a long time."
Over the years, Katie listened to Rameen speak often about the healing practice of yoga and meditation and the SATTVA method, and continually experienced these effects for herself. Rameen and Katie talked intermittently about the need to bring yoga out of the studio and into the community on a local scale, and someday on a very broad, global scale. They both believe strongly that the SATTVA yoga practice has great potential to affect healing for even the most marginalized or vulnerable individual.
About a year ago, Katie approached Rameen with an idea for the "Inner Peace Project." Katie received Rameen's blessing and with his support, as the Founder of Inner Peace Project, and that of the SATTVA School of Yoga, she's been able to pursue the idea.
The Inner Peace Project is a nonprofit designed to create access to yoga and meditation for vulnerable and marginalized populations.
"We believe that a person should have the most basic needs met: food, water, clothing, and shelter first. When those are met, the emotional and mental needs can start to be addressed. It is our belief that the practice of yoga is an amazing tool for addressing these needs. We saw a gap in the system where emotional and mental needs were not being met. The Inner Peace Project is designed to fill that gap."
The Inner Peace Project is still in its infancy and looking for funding and support, although initial response and outpour from the community has been strong. An outreach and residential program for youth aged thirteen to seventeen struggling with mental health related challenges has been established with the Boyle Street Community Centre. According to Katie, so far the success and positive results are encouraging.
"Sometimes it floors me that these kids show up every week. Every week they show up excited about yoga."
As the executive director, Katie's dedication to the Inner Peace Project is admirable, and you can tell that she's found her calling, especially when she experiences familiar scenes that hit close to home.
"The first time this one young girl in the Boyle Street program showed up to the class she just sat outside the room where the group was practicing. She was too nervous to go in and that was okay. The second time she came, she had long sleeves on but was bleeding through them. The third time she came, the scars on her arms were deep and stitched up, but she figured out how to get into her first headstand. She was just so excited — this little sixteen-year-old. She keeps coming to class and has opened up a lot and become more conversational and more willing to experience and explore yoga. The fact that she keeps showing up has been a clear piece of feedback for us that this is something we are meant to be doing."
For Katie, the Inner Peace Project has given her purpose in all elements of her life; her personal practice has been a tool for her own healing and provided her the ability to be a better yoga teacher at the SATTVA School of Yoga and for those involved in the project. Katie believes that Edmonton's yoga community is doing a great job of offering yoga for people who can access it, but for others who can't for a wide variety of reasons, the Inner Peace Project will.
"What's already happening in Edmonton is so good. This project just extends that to an even greater portion of our community, or to those in the broader community who are sometimes forgotten."
"…this is something we are meant to be doing."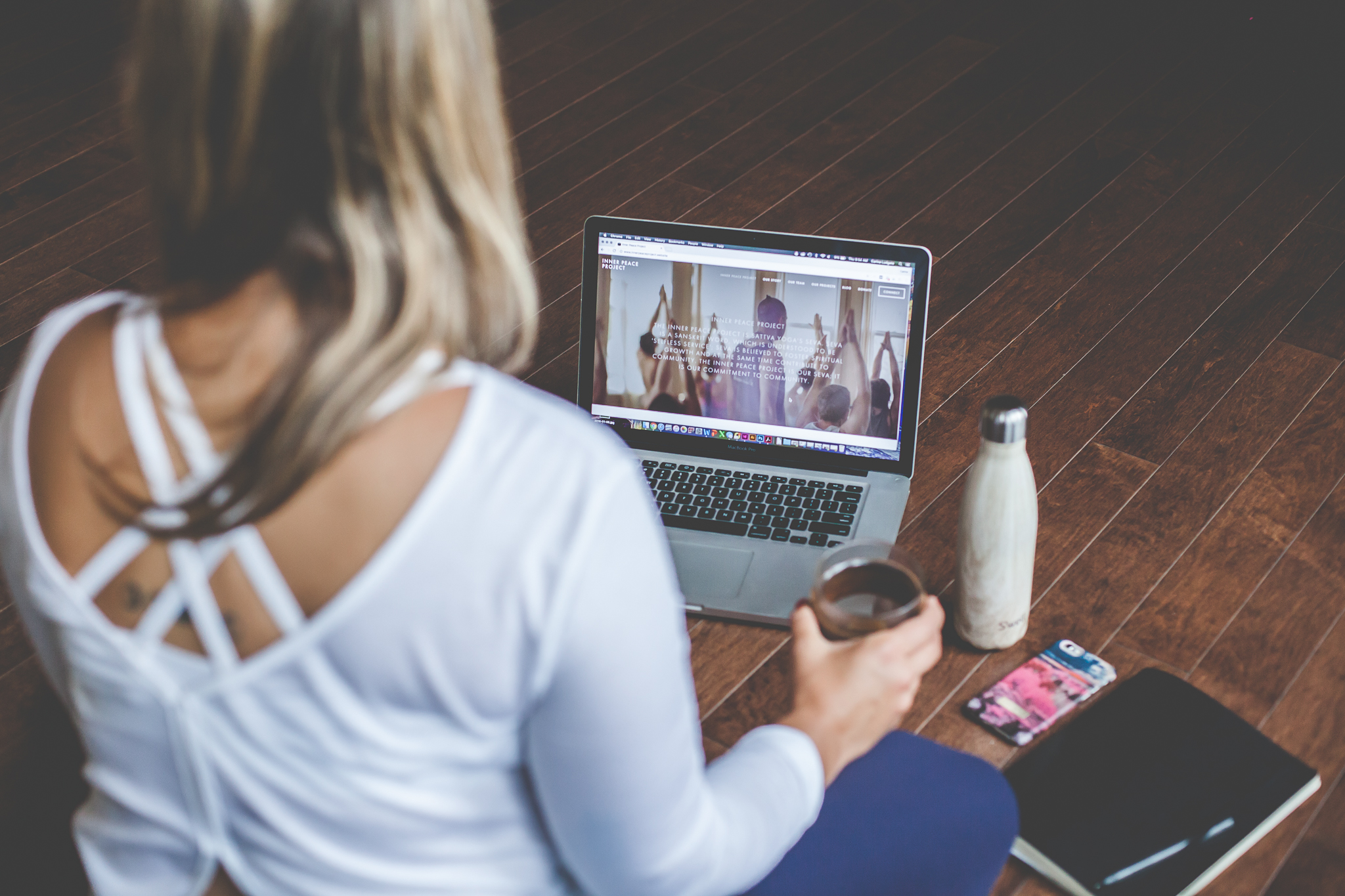 For the moment the Inner Peace Project is steadily growing. Funding is always an issue for nonprofits, and this project is no exception. But where lululemon has played so many important parts in Katie's life journey to discovering yoga, the company is playing yet another significant role in this project.
lululemon has always run internal programming that provides support for stores to give back to their communities. Recently, lululemon has launched a new initiative called Here to Be, which is a community-based social impact program. It's a movement to make the healing benefits of yoga and meditation accessible in underserved and at-risk communities around the world. Yoga practice provides the transformational tools to unlock a person's potential, regardless of where they're starting. Here to Be partners with nonprofit organizations and charities, like Inner Peace Project, that are already working to bring yoga and meditation to communities.
Here To Be and the Inner Peace Project are working to take yoga out of studio spaces and into community places for those that can't access it. Both are really about sharing the gift of yoga.
And Katie believes that the two go hand-in-hand.
"The Inner Peace Project is a great example of Here To Be, and that's aiming to bring yoga and meditation to underserved populations who don't otherwise have access to it. lululemon has done a great job of recognizing that the people who are connected to the community at a really grassroots level are the best people for this type of work. Here To Be is such an intelligent way of creating access for vulnerable and marginalized populations everywhere that lululemon touches. It's an invaluable partnership for the Inner Peace Project."
Yoga has been an important component of healing in Katie's life. She feels that her experience with the healing part of the practice needs to be shared with others.
"For those who are more marginalized, more vulnerable — it feels like there should be an opportunity to try the same healing practice that I experienced," Katie tells us.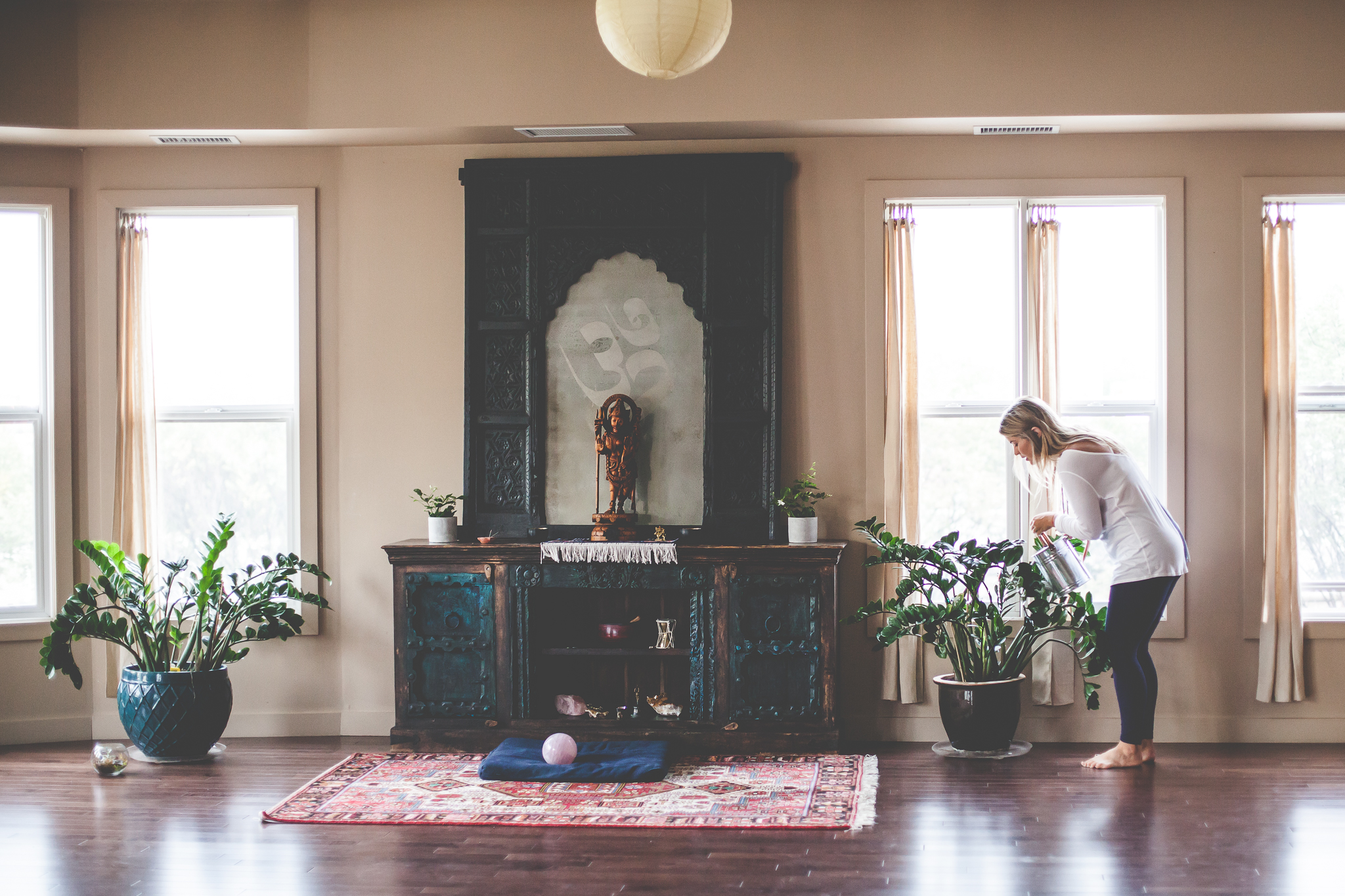 The morning ninety-minute yoga class at SATTVA is nearly finished and soon we'll be crowded out of our, now comfortable, interview place on the change room floor.
As the conversation winds down, there is an urgency to explore the part of Katie that motivates her in her practice of yoga and the life she's chosen to dedicate to teaching others about it.
Katie explains her personal "why" — that it's the belief that there is something greater than herself, that she is called to serve. She follows the eternal question written on the mirror in the lobby at SATTVA, "Who are you?" and believes that as long as she stays attuned to who she is, she will be able to do things from an innate and authentic place.
A theme throughout our conversation has been Katie's relationship with her mother, and when we ask her who her personal hero is, it doesn't come as a surprise that it's her mom.
"My mom is an incredible woman. She is so strong. I could just cry talking about my mom. She is one of the most balanced people I know, and is so humble in the most quiet and invisible ways."
Katie's close relationship to her family has clearly been a driving force behind her motivation, and she attributes her energy and dynamic personality to them.
What's next for Katie Mahon?
"I hope what's next is that the Inner Peace Project grows on a global scale and becomes my full-time job. I want to give my full self to the work we are doing. That's the three-year plan. After that, who knows?"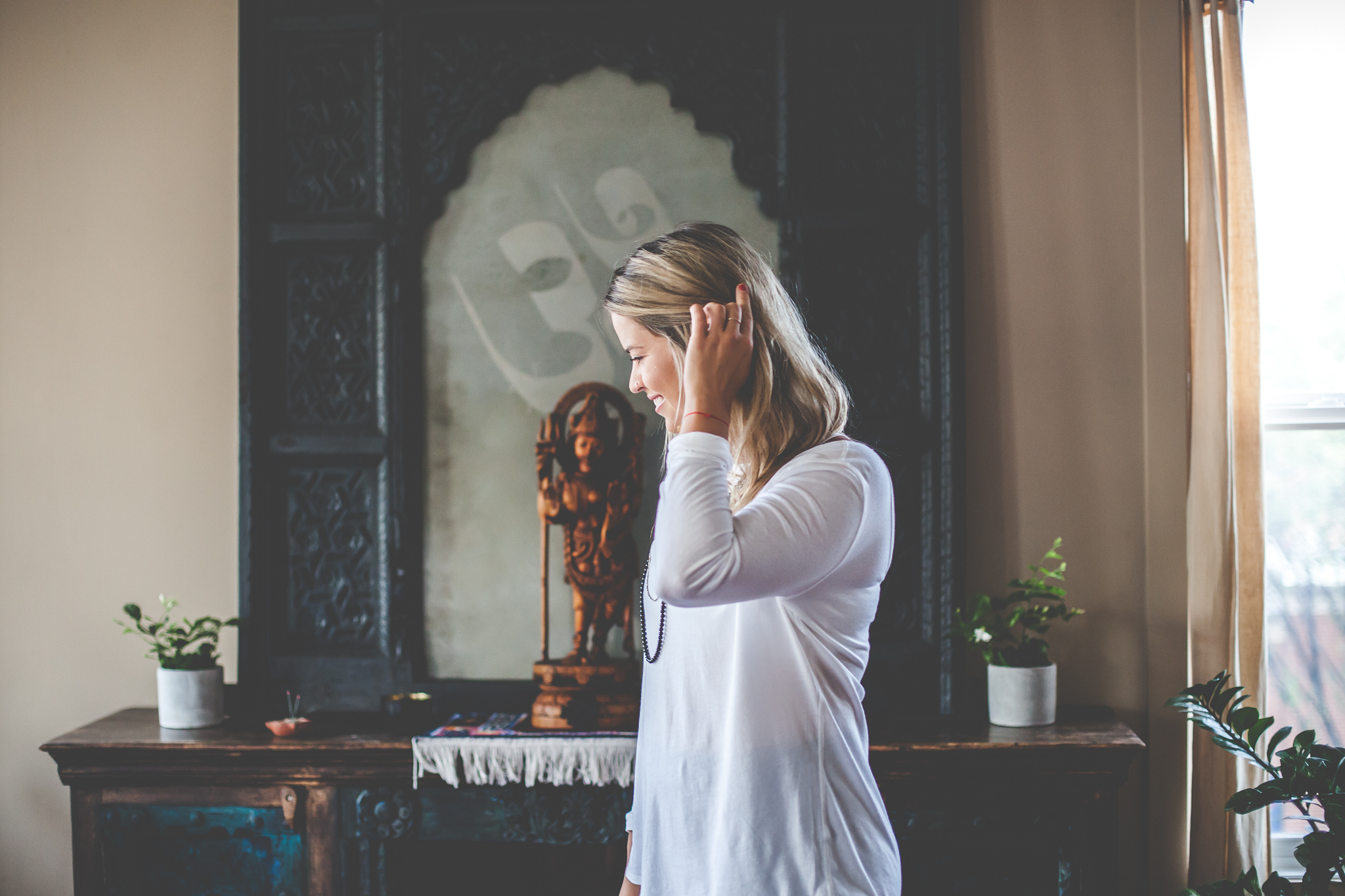 Instagram: @kateselizabeth
Twitter: @katesmahon
Learn more about the Inner Peace Project by visiting:
www.innerpeaceproject.website
Photography by: Jenn Crebas