When Geoff Linden and his wife Joanne first decided to open their first café, they were taking a leap towards realizing a dream that had been many years in the making —and we are extremely glad that they did! Geoff's love for coffee began when he was in his late teens, when the act of 'going for coffee' was more about the place than it was about the brew. Since then, his appreciation for coffee shops has grown into a passion for the coffee and café culture as a whole.
There's nothing quite like the feeling you get when you walk into an establishment for the first time and are immediately welcomed in with a warmth of familiarity and sense of community; Credo Coffee is one such place. Built from a deep love of community, and a strong passion for all things coffee, Credo has become much more than just a coffee shop to many Edmontonians. It's a place where family, friends, and passers-by come to connect —a place where ideas and stories are shared over warm beverages and homemade treats. We were fortunate to have the opportunity to talk to Geoff about the amazing story behind Credo Coffee, and his journey from being a social coffee drinker, to passionate café owner.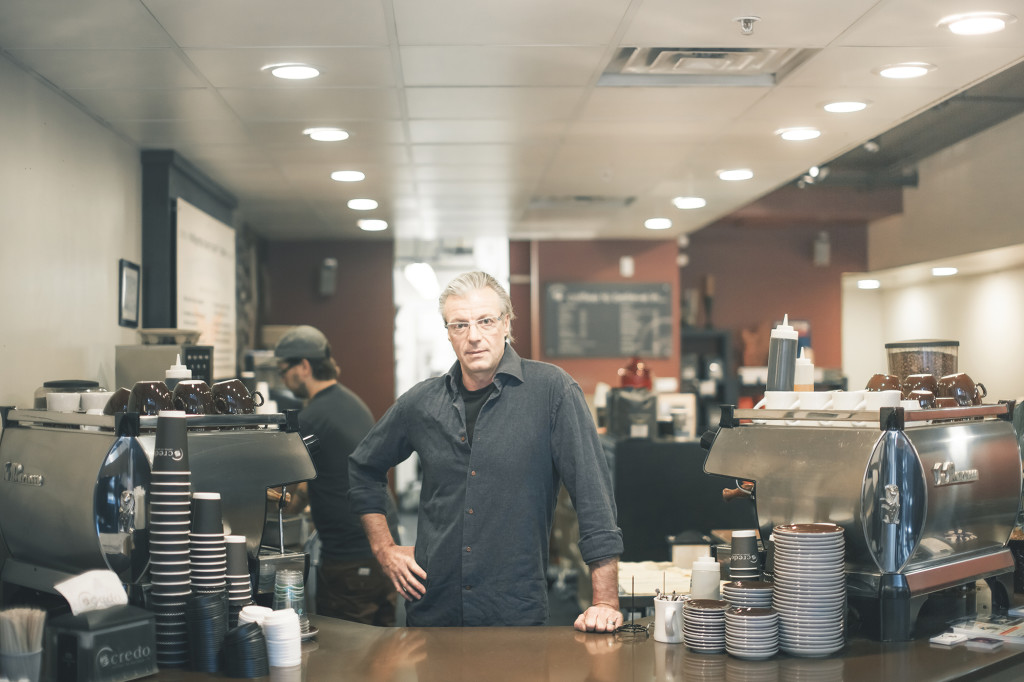 You aren't originally from Edmonton, where are you from, and what brought you to the city?
Born in England (beautiful town of Knaresborough in North Yorkshire) and moved to Saskatoon at the age of three (with my parents and sister, to be clear). Grew up and got married in Saskatoon and moved to Edmonton just after the boys were born (there seems to be a pattern of my family moving away with young children).  My career was in the trades (estimating, tendering, drafting) and in my early 20's I came to Edmonton to attend NAIT where I received my Journeyman Certification in Cabinetmaking.
Aside from your business, can you tell us why you chose Edmonton as a home for your family?
Going to school here, we fell in love with the city.  It is so similar to Saskatoon –both are river cities and both have a very strong independent, artistic energy that Joanne and I enjoy being part of. It felt so comfortable and Edmonton also had so much more opportunity for me with my career and Joanne with her music and –as all parents hope– a future for our boys.
When did your love of coffee first take shape?
Does drinking my first cup at 3 ½ years old count? Of course, in England, from birth I drank milky-tea but apparently, upon landing in Canada my tastes immediately changed to coffee.  Seriously though, it was in my late teens, as my friends and I would meet after school at a local coffee shop to –ahem– do 'homework'. The coffee was "diner brew," but it was the meeting place that really counted – I didn't realize it at the time, but that shaped my view of what a coffee shop was really about.  Since then, for me the coffee shop has always been the place to meet, to relax, to take Joanne on our first date…The journey really did begin there.
The only way you will know if you have the ability, the drive, the energy and the idea is if it is impossible not to do it. It has to come from inside.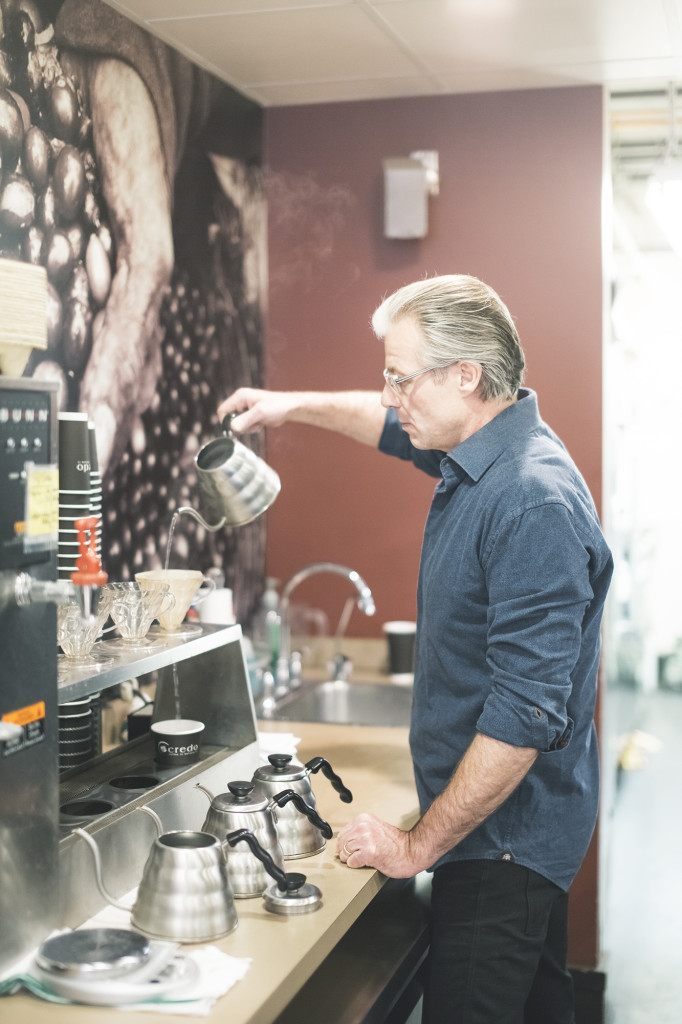 Could you tell us about your journey before opening Credo Coffee?
Worked and raised kids… It's funny when people comment on how much I work because honestly, compared to the past when I was working full-time and ferrying the kids to all their events, sports, activities… running a cafe is a breeze!
The coffee journey continued as it should at that time… getting out of the house to read the paper, finding the "local place" when we travelled, waking up to a fresh cup in the morning. Nothing spectacular, just the daily comfort of routine.
What ultimately led you to take the leap to open Credo Coffee?
It was always in the back of our minds… We would drive around Saskatoon and say "that would be a great location for a café."  Thank God we didn't do it then, we would have failed in an epic fashion!
But, after talking about it and thinking about it for years —wait… brief "change of scene"…
…Fifteen to twenty years ago this thing called the internet sprang to life. With that came instant and easy access to a fascinating world for anyone with a hobby or sideline interest.  It was through that access that we were introduced to a level of coffee we had not known existed and, most importantly, to the people responsible for the shift. Our home became the testing ground for new brewing methods, new equipment, and coffees from different roasters. At that time, my parents had retired to BC, so our spring-breaks consisted of driving to Vancouver Island with a two or three day stopover in Vancouver on the way.  It was there that we solidified our dream, our ideas, and our concept for what our café would look like, should we ever take the leap…
…Ok — "scene-change" back..
…Finally, we reached a stage of life that made opening Credo possible (the kids were older and Joanne had a full-time teaching position). I think we both just looked at each other and said "let's stop talking about this – just shut up and do it!"
There are two or three moments in the last six years of business that literally stopped my heart —the unveiling of the Credo bar was one of them.
Could you tell us the meaning behind the name "Credo Coffee"?
Shortly after we "took the leap" on the decision, we were driving through the mountains and talking about what we really stand for; what we believe, and what we wanted to bring to the city.  We started throwing out names that hit the important notes for our lives… and Joanne said "Credo".
Credo is Latin for "I believe" or "a statement of beliefs" but is also a part of the Latin mass. Bach and Mozart, among others, used the text of the Credo for movements within their choral compositions. The name resonated as it brought our faith, our perspective, and the joy of music that fills and motivates our lives all under one umbrella. It captures and represents who we are.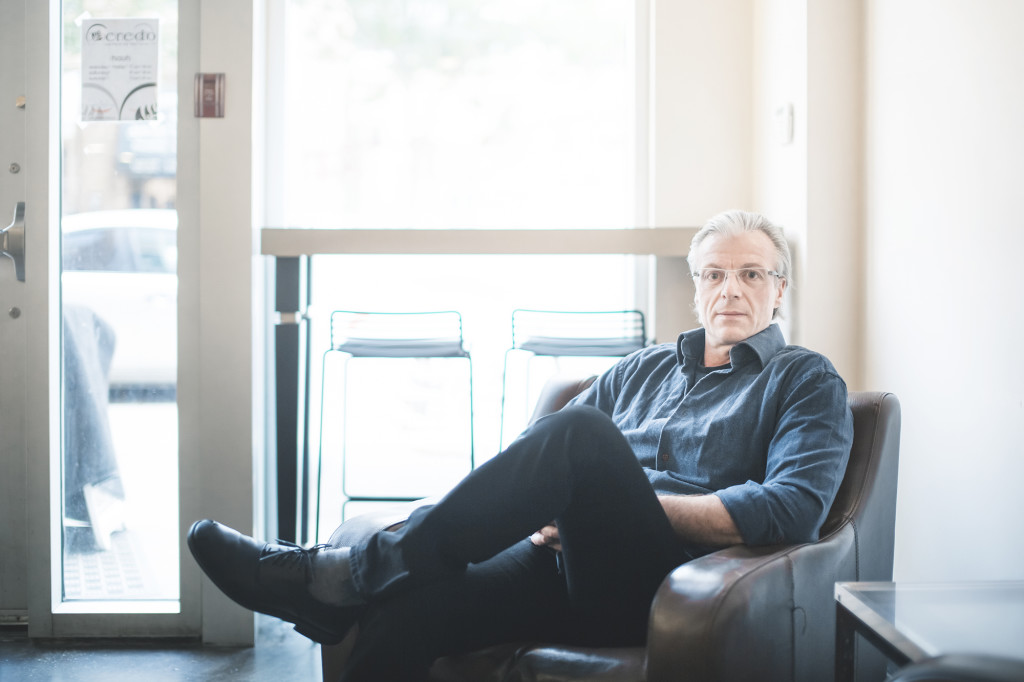 What is your business mantra?
Do you mean "our credo"?!? So funny!  If I had to sum it up in a word it would be "respect." Respect for all those who come in contact with us… the workers and farmers who put their lives on the line to produce great coffee, Intelligentsia for their leadership in truly respecting those farmers and recognizing that they too are running businesses just as we are, and that those farmers need and deserve to be paid and supported properly.  
Also, respect for those that join us on our journey when they work for us, for our local suppliers who align with our view of how people should be treated and, of course, respect for our customers who —because they choose to support us— deserve our best. This city is an amazing community and we, as a local business, need to be better than any of the alternatives if we hope to gain the respect of our community. We're serving our neighbours and our friends. Respect for them comes easy.
Did you experience any major challenges when opening the first Credo Coffee location on 104 Street?  How did you overcome these challenges?
Construction.  That was it, seriously! Delays, work not being completed, never getting a firm start.  The light at the end of the tunnel got brighter when we met and signed on with Tania Bosch who took our project as seriously as we did and helped us create an amazing space.
Did you experience any new or different challenges in opening your second location on 124 Street?
Same problem… construction… delays, challenges within that realm. It's so funny, because I think I'm supposed to say staffing but that was never an issue. Any delays or construction challenges were eased by the support of the people around us.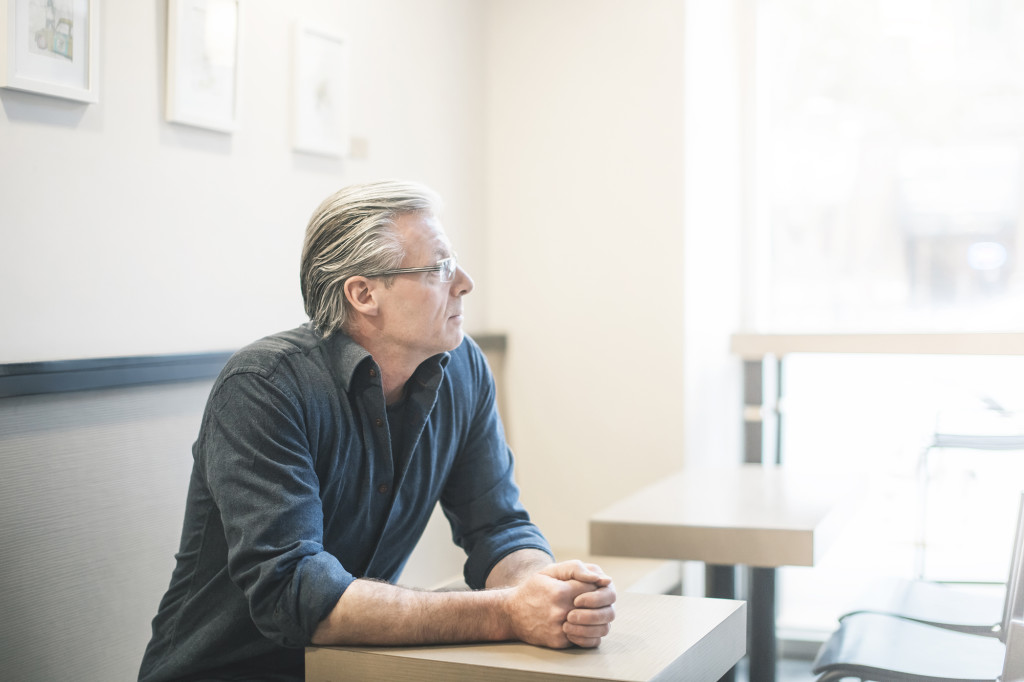 With an artisan or big box coffee shop opening almost every month, how you feel this competition affects the market or your business and how do you position yourself within the playing field?
This is a tough one, because the answer sounds so arrogant. We don't compete with anyone. I am not worried in the least about what anyone else is doing, and I am truly hopeful they are all successful! We enjoy connecting with people and because we do connect, it's our responsibility to do the best we can today, always be better tomorrow, and love every minute of this amazing journey.
The coffee world is so collaborative and supportive – within this city, places like Nate Box's cafés, Cavern, Coffee Bureau, Lockstock, Leva, and Transcend are all places run by people we consider as friends and colleagues – and we will do what we can to support them.  We have all put our hearts and minds on the line. I have so much respect for people that do that in any field – I just happen to understand how much it takes to do that in the coffee world.
There are so many coffee shops in Edmonton but there seems to be a unique connection and feeling people associate with sipping a cup of coffee at Credo Coffee.  Why do you feel people really connect with Credo?
Isn't Edmonton an amazing place! The loyal customers of all the other cafes in town could claim the same thing. People connect with different places for all sorts of reasons. Credo is blessed with being in the right place at the right time.  We are grateful for the support!
104 Street Promenade was in its infancy when you decided to choose it as your first location. Could you tell us why decided to set up shop there, and what key factors you consider when choosing a location?
Thank Joanne for that! I have zero imagination, but I do know a good idea when I'm hit between the eyes with it. The area has a unique mix of residents, not only in the Icon but all along 104th, as well as the creative businesses, restaurants, professionals, and artists that all seemed so comfortable with each other.  It just felt right and 124th street has that same "right" feeling.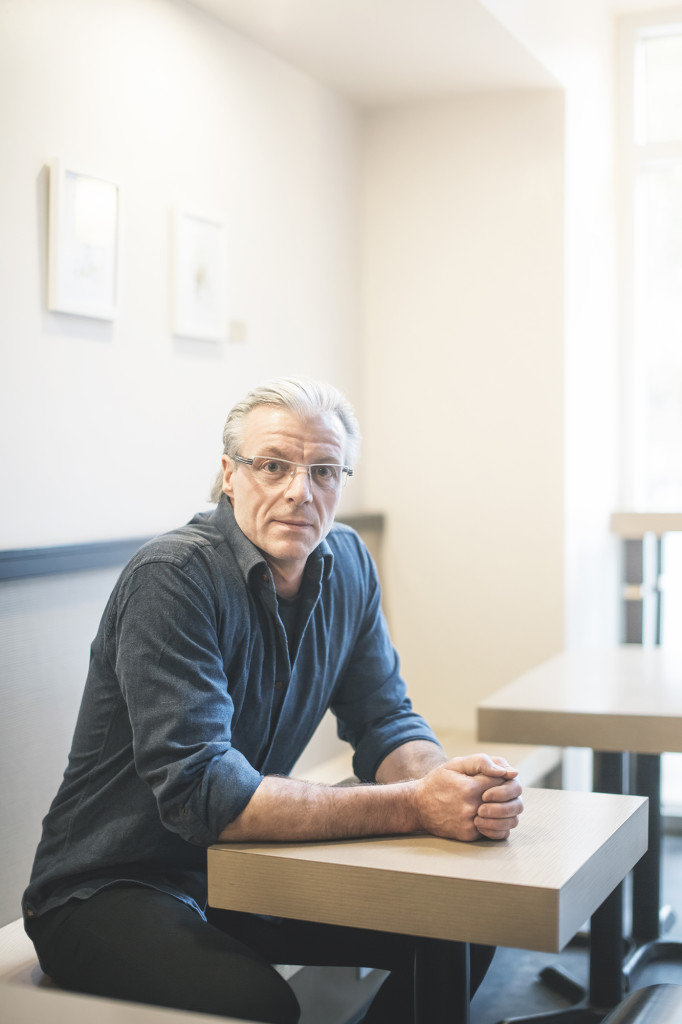 You have had the opportunity to be on the front line of watching the city take shape as a metropolitan area over the past 6 years. Many people would say that you have also contributed to that momentum. What has you most excited about downtown Edmonton these days?
It's been fascinating! Edmonton has always been "5 years away" but now we can truly say this city is shining bright! It's flattering to think we had anything to do with it. It's the people who come in with the big ideas and the thoughtful plans to make those ideas reality. It's vibrant, energetic and alive. Most exciting to me is the creativity of so many young and talented people, that they are deciding to stay in Edmonton and help build this city… In an early conversation with Daniel Costa, he said "build the city you want to live in." So many people, with so many diverse talents, all pulling in the same direction… it's amazing.
Credo Coffee recently collaborated with Jacek Chocolate to create a Credo chocolate bar, which from our own experience is amazingly delicious.  Could you tell us how this collaboration came to be, and the thought process behind the bar itself?
Thank you, we eat our share of those too! Credo and JACEK connected 5 years ago when we were looking for a chocolate supplier and Jacqueline was growing her business from her kitchen. We run completely different business models (JACEK is constantly developing and creating new combinations and collections… credo remains steadfastly consistent). Jacqueline's creativity and energy blows my mind, but we share a similar philosophy. We are both striving to provide something special for our clientele and for our staff. Our businesses are the same age, and we are hitting similar challenges at the same time.
Discussions with Jacqueline around direction and the future are very easy and very open. Jacqueline's future plans included the development of her chocolate couture "fabric-line"– bean to bar – in which they will source and roast the cocoa beans themselves. They will then use those beans to develop their new creations.  As we carry her chocolates in both our cafes, and we collaborate on coffee and chocolate tasting events, the idea of uniting coffee and chocolate, well… the two are a perfect pairing.  Jacqueline presented the idea of a chocolate bar incorporating the whole coffee bean and also on a new technique she had developed for blending the coffee and chocolate. This technique creates a bar that combines and enhances the flavour profiles inherent the chocolate and the espresso beans. We had a crazy afternoon of tasting many different origins of chocolate and coffee – yes, it's a tough job eating chocolate and drinking coffee all afternoon! All were great individually, but simply didn't work when combined (competing and/or contrasting flavours) but there was one combination that stood out immediately from the rest: a Dominican Republic cocoa bean together with the Intelligentsia Black Cat espresso. The flavours are amazing, but additionally for me, it is the texture that sets this bar apart.  It literally melts in your mouth – so smooth and delicious. There are two or three moments in the last six years of business that literally stopped my heart —the unveiling of the Credo bar was one of them.
It's our responsibility to do the best we can today, always be better tomorrow, and love every minute of this amazing journey.
On a personal level, what keeps you moving forward? Where do you find inspiration in your everyday life?
The energy of the people I work with and serve.  That our boys, Andrew and Christopher, have chosen for themselves to join us and that I have people who have been with us for years… I never want to take their support for granted. Inspiration comes from the people who have decided to join us on this path.  I honour that by trying to create opportunities that will sustain them, challenge them and reward them long after I'm out of the way. I don't spend a lot of time or energy looking back because I believe, trust, and have faith in the future.  
What does the ideal first 60 minutes of your day look like? What do you do as part of your daily routine or would like to do in an ideal world?
Nothing starts until I've had my first espresso (at home, after I wake up and stumble downstairs). The best hour for me, and I'm so fortunate that I get to do this every week, is on Sunday morning… wake up slowly, still have to stumble downstairs for my first espresso, read the paper over breakfast, then drive to the café to get the muffins in the oven and the café set up for the best day of the week. I used to love going to coffee shops on a Sunday to relax and now I am so blessed to be able to serve that opportunity to everyone who visits us.
How do you find balance in your life? Do you have any hobbies or activities you like to do outside of your work?
Balance comes from a few days in Vancouver two or three times a year. It helps me clear my mind and regain some energy. That's where our ideas were conceived and it's where I go to find perspective.
I really enjoy a heart-pounding workout as well. I've become a recent convert to spin class and find it to be the most awful, terrible and sweaty thing anyone can go through… I love it! But seriously… three or four times a week at the gym and once a week I go to a spin class led by Erika Barootes at Blitz Conditioning. So good!
How do you wind down and relieve stress?
Scotch! (Just a wee dram at 6:01, to be clear…)
Are there resources or an app that help you manage your day-to-day and keep you organized or in check?
Nope, it's all up here (pointing at my head).  Kinda scary, isn't it! Actually I rely on the kids in the café a lot! They send me info and reminders as needed. But seriously, for the most part it really is all in my head.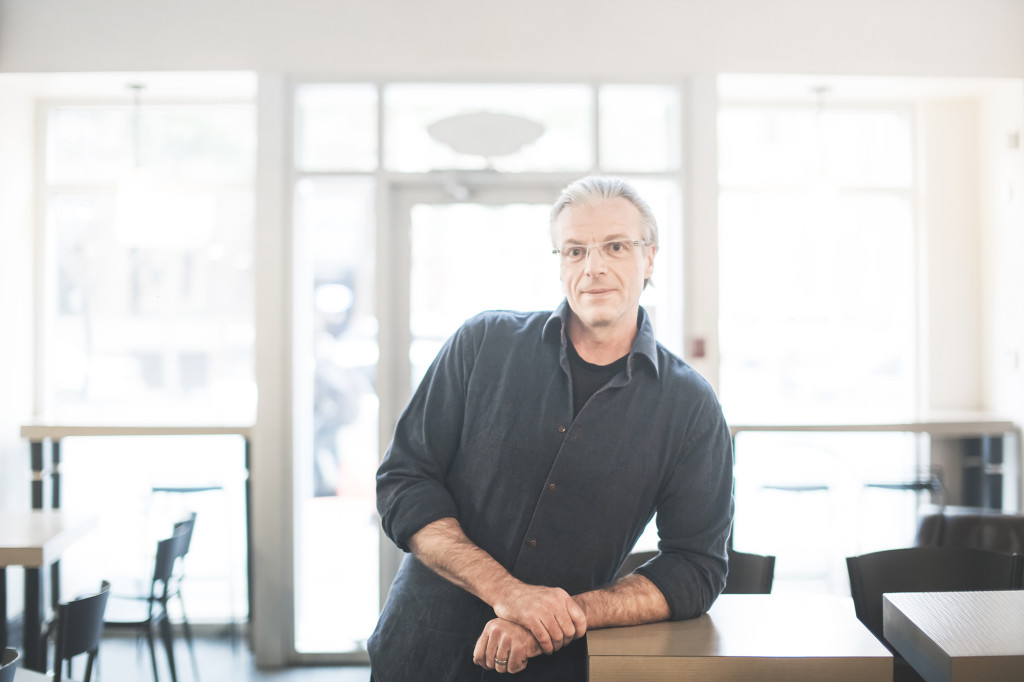 Is there a book that you would recommend which inspired, influenced or helped you in your life?
It Starts With Why by Simon Sinek … actually, kind of interesting, because I read this book two years after we opened and it has become a confirmation and a reminder rather than inspiration or direction. My "why" is so clear and so important to me… and to know that someone else can understand and write about it helps me to re-establish it when things go off track.
Do you have any words of wisdom or advice for anyone looking to get started in the coffee business?
Don't.
And for those that do… you wouldn't listen to that advice anyway… nothing would stop you or get in your way.  
The only way you will know if you have the ability, the drive, the energy and the idea is if it is impossible not to do it. It has to come from inside.  
Who are you, what you project, what fires you up.  The coffee business —or any small business— is not simply a cool thing to do. We're living our lives out-loud. Oh, to be clear, I'll gladly talk to anyone who is truly passionate about opening a café. I have a great life and I would be thrilled for someone to find their expression of passion for themselves.
Inspiration comes from the people who have decided to join us on this path.  I honour that by trying to create opportunities that will sustain them, challenge them and reward them long after I'm out of the way.
If there was one thing you could bring to Edmonton from your world travels or life experiences, what would it be?
I like to think we've already done that.
What is your favourite restaurant in town?
Seriously?  OK… Corso 32, Bar Bricco, Red Star, Rostizado, Tzin, Canteen, and North 53. Depends on the day, the time, the mood, if it's just the two of us, or with friends, and these days… if we can even get in! So exciting to be in this city with such a vibrant and tasty food scene!
If you had to pick a favourite place in Edmonton to take a breather, let loose, or to soak up the city, where would it be? And why?
Tzin's patio! There is nothing better than a glass of wine with Joanne and friends on a warm evening, on a street I love, chatting with everyone who passes by, and eating bacon!
What are you currently excited about? Are there any new projects in the works? What's next for Geoff?
No idea what's next… 104th was about creating something that didn't exist, 124th was about creating an opportunity for those on the journey with us… and the future… well, that will be determined by future people. We don't know who we'll meet next, where we'll feel connected or where the opportunities will exist.  This was never about growing or expanding, it was, and is, about creating a place for a community to gather, to connect and to explore new ideas and new directions. I'm so excited for our city because we have creative people thinking creatively. If they do that within our cafes… Dear God, what a life!
Online: www.credocoffee.ca