Meet Erin Ross: Edmonton-born artist and quintessential style-savvy sweetheart, and YEGpeople's first style feature. Erin invited us into her home to talk fashion and fun in the city, as well as her experience as a thriving artist in Edmonton. We immediately fell in love with her apartment —which is in many ways a reflection of her artwork— vibrant and chic with sentimental pieces scattered throughout. She does an amazing job at keeping a small home beautifully organized, and takes no shortcuts when it comes to stylishly curating her space.
LIVING
---
What tips do you have for our readers on curating a small home space?
Well, I've lived in both big and small spaces. Going from owning a house with a garden and a huge garage for storage, to living in a 600 square foot bachelor suite (with no storage), the first thing I needed to do was cut out any clutter. Small spaces truly make you curate your things; you don't have room for anything useless or extra.There are a few different theories on how to make small spaces look bigger, but I prescribe to the more is more theory.

I hung a lot of art and mirrors in variant sizes on the walls, put down multiple area rugs, and divided the space with mirrored wardrobes and paint colours. Not having a yard anymore was definitely a challenge for me because I love gardening, so I also incorporated a lot of smaller plants, herbs, terrariums and my living wall piece. I switched out the fluorescent lights with cleaner and warmer hanging pendant lights and really considered every object in here. I wanted my space to be a reflection of the things I love, and to feel very warm and inviting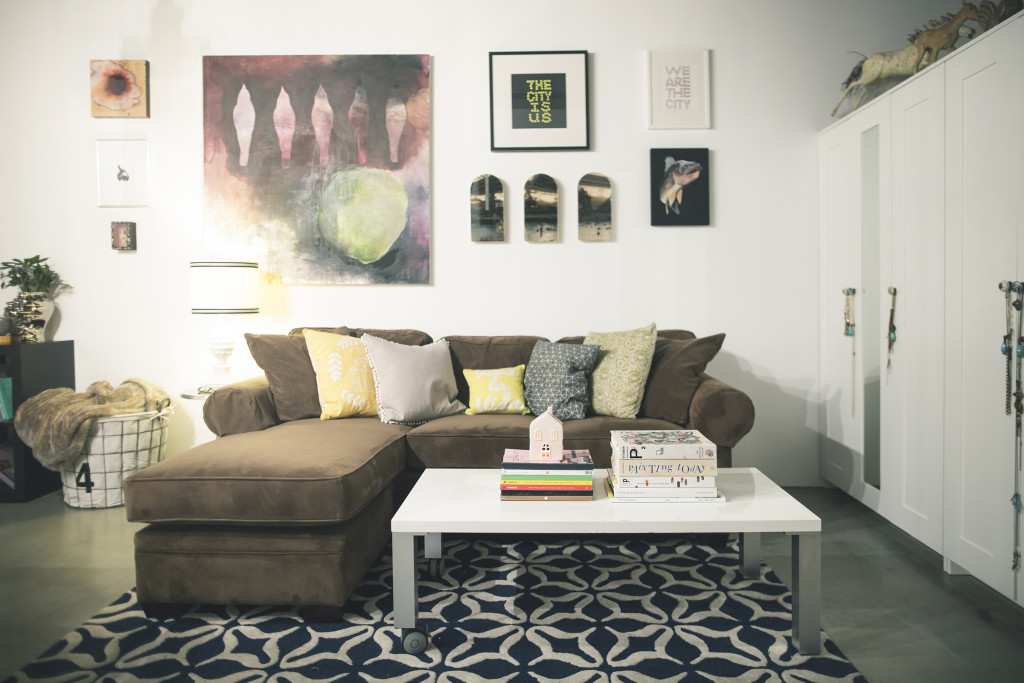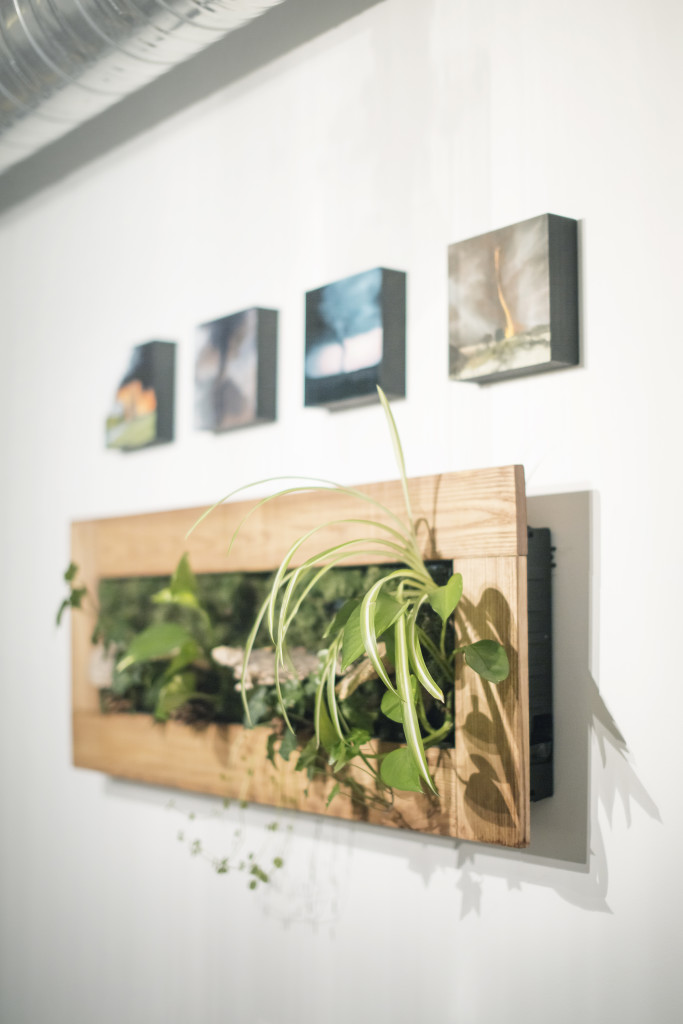 Erin's style notes: The couch cushions are from HomeSense and 29 Armstrong; fur throw from Restoration Hardware; coffee table is by a Japanese brand, Techna, that I found on Kijiji; the coffee table books on the left are collection of my favourite art periodical, Elephant magazine, and on the right is a collection of my favourite art books, mostly by Phaidon (one of my favourite publishers).
I like to purchase a piece of art wherever I travel, so the little pink ceramic house on top of the magazines is from my trip to Iceland last year. The art on the wall is a collection of mine, Adam Maitlands (the small silver framed drawing second down from the far left), Chelsea Boos (the "We are the City, the City is Us" stencils that I framed), and a day of the dead diorama from one of my trips to Mexico.
The tryptic of the West Edmonton Mall waterpark was purchased at Latitude 53's Fine Art of Schmoozy probably 4 years ago after an aggressive bidding-war, and I'm embarrassed to say I don't actually know who the artist is, but I love it. The dressers are Ikea, and the dresser knobs are all hand painted glass from Anthropology. The two horses on top of the dresser are from Canadian artists, one of which is a Joe Fafard, who my family has been a long-time supporter of. Lastly, the area rug and basket are from HomeSense.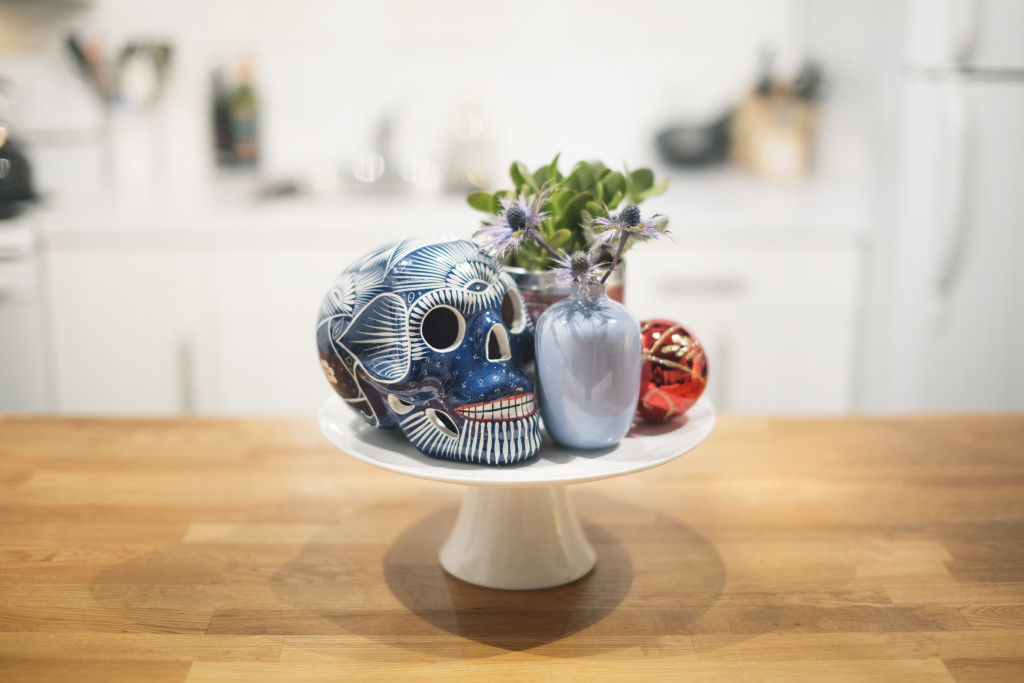 STYLE
---
What was your latest  wardrobe purchase?
I'm really into sweatshirts. The last thing I purchased was a "Still in Edmonton" sweatshirt. I meant to purchase my sweatshirt from my little sisters' restaurant Camp (in Elkwater) over Christmas, but I'm pretty sure that I may have just stolen it. Sorry Becky.
What city best captures your personal style approach?
I'm really into a more laid-back fashion sensibility, so LA is a city that feels closest to how I like to dress.
What is your favourite winter fashion item?
I can't pick just one!  Huge shawls, wool socks, and toques are my top picks.
Describe your personal style in 3 words.
I think the most important thing about anyone's personal style is just to carry yourself with confidence.  Because I'm a working artist, I need to wear things that are comfortable and functional on most days, and when I go out I like to dress things up a bit, so I'm definitely a chameleon.  Narrowing it down to three words is a challenge because of that, but I guess I would go with: versatile, light-hearted and comfortable.
Favourite pair of shoes?
I love wearing a great pair of heels that I feel really feminine in when I'm going out or attending an event, so my favourite pair of heels at the moment would have to be these Dolce Vita nude woven leather sandals with a thick ankle strap and a super high wooden heel from Nordstrom's.  Most days though, I'm walking to-and-from my studio and I'm on my feet all day, so I'll always love my classic worn-in and paint-splattered Doc Martin boots.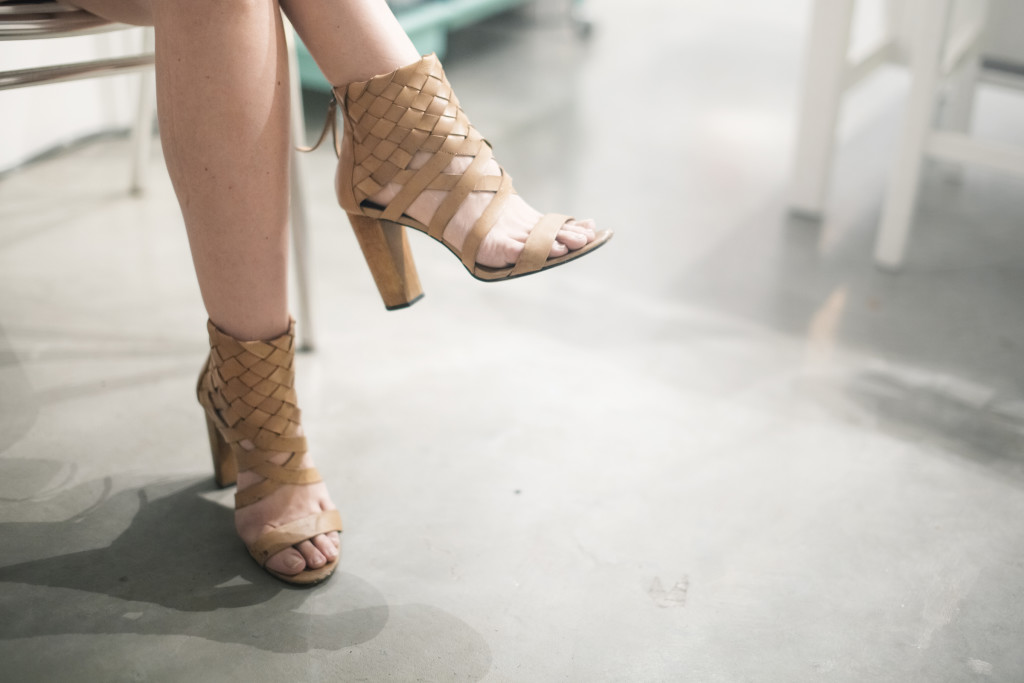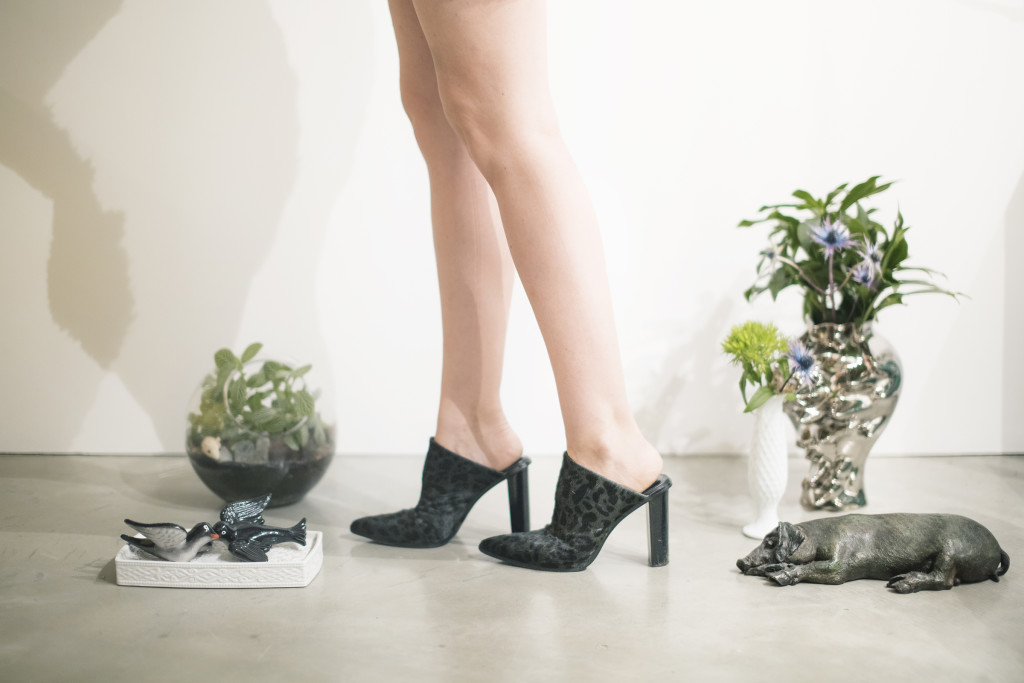 Erin's style notes: Senso pony hair shoes from Coup Boutique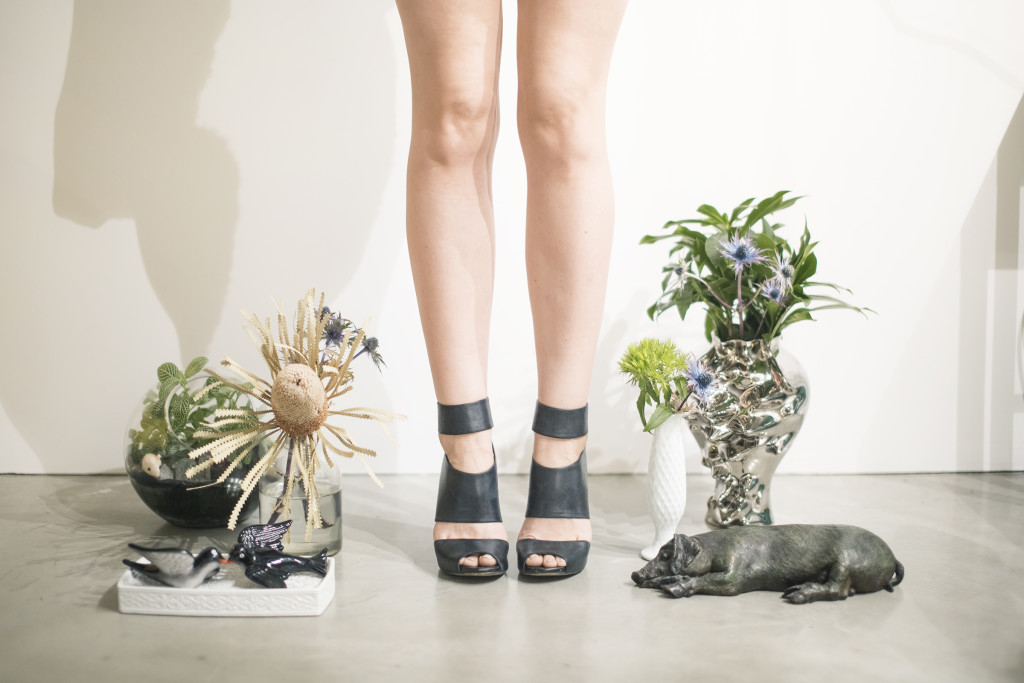 Erin's style notes: The shoes are from —believe it or not— Aldo. And i love them. From left to right, the terrarium is Axis Mundi Artistry, a local couple that make lovely living art. The glass vase and flowers are from Art Works, the ceramic swallows are from a trip to Portugal, the vintage milk glass vase was a give-away from a friend's wedding, the platinum vase is called "Speed vase," that I purchased from The Art Institute of Chicago while on a trip there, and the bronze pig is a Joe Fafard.
What is your wardrobe MVP?
Two things are a necessity: a GREAT pair of jeans (my favourite at the moment is Frame denim) and a great leather jacket.  I'm lucky enough to call Anna McDonough (owner of Coup Boutique) a close friend, so I buy a lot of her hand-me-downs –including my awesome IRO leather jacket.

Where are your go-to shopping spots in Edmonton?
Coup Boutique, obviously. Anna has an amazing curatorial eye and we're lucky to have a store like her's here. Simons is great if you're not sure exactly what you want, because they have an enormous selection. I frequent American Apparel and Artizia for all my basics; Lululemon for my leggings (which I wear almost every day to my studio) and athletic wear; and my favourite place for socks and sweats is Roots, hands down.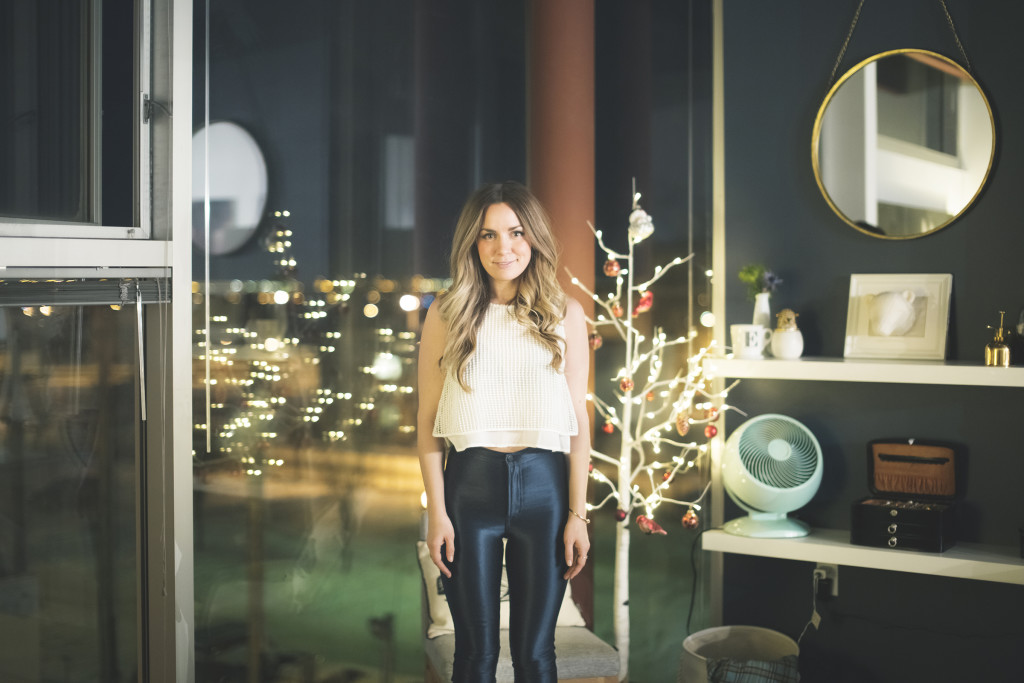 Erin's style notes: My top is Club Monaco, the pants are American Apparel, and the bracelet is Kate Spade. The chair behind me is from 29 armstrong, the Christmas tree is from Restoration Hardware, the glass ornaments and circular mirror are from Home Sense, the fan I took apart and repainted myself, the framed stuffed bear head was handmade by my sister Emily, the little vases and candles are from Anthropology, and the black leather jewelry box was hand made in Italy and purchased from Artworks.
LIFE
---
Describe your dream day in Edmonton.
Ok —like almost everyone who lives here, I love Edmonton in the Summer. My dream day would be waking up on a Saturday morning, walking to the farmers market on 104th (which is conveniently right outside my studio) and meeting some friends there. We'd go grab a coffee from one of the awesome spots within walking distance —either
Credo (a favourite spot of mine) or Lockstock , and a snack from one of the market vendors. Then we'd stroll-and-shop, stopping to say hi to friends and all the adorable dogs and babies, while grabbing whatever looked beautiful and fresh along the way. After, we'd grab a football, a frisbee, bocce balls, some blankets and all our market snacks and walk, ride bikes or longboard over to the Legislature Grounds where we'd snack and play in the sun.

Then we'd all pile into a couple of cars and head to this secret spot in the west end where you can park and walk down to the river —there's some sandbars there and drift wood to sit on, and the water is actually really clear and clean. After playing in the river a bit, watching the sunset, we'd then go have a fire and some drinks in someone's backyard, and play a game like "Celebrities", where everyone writes down ten names of famous people (dead or alive), and you try to make the people next to you guess the names.  It's one of my favourite games to play in a big group.
That sounds like a pretty perfect day!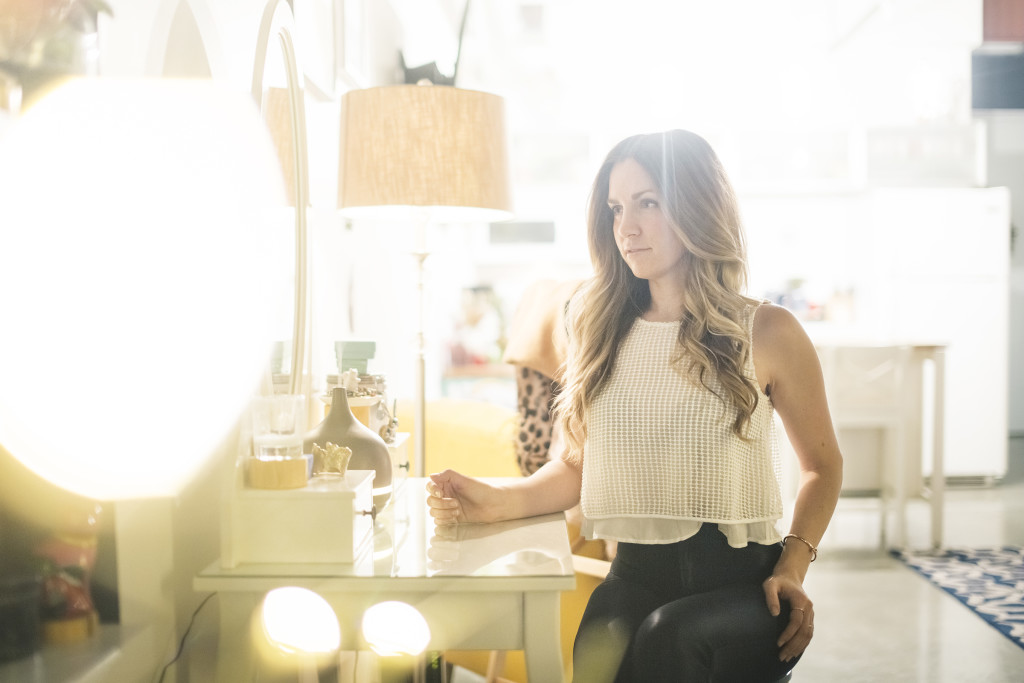 What are your thoughts on the local Arts scene?
I think Edmonton has a really vibrant art scene, and I've seen that more and more over the last ten years. There's a lot of exciting things happening here across the board in terms of the arts, and that's all being lead by a pretty impressive group of local talent.  There's so much creative passion and drive here, and a real interest from a lot of our citizens to engage and participate in that.  I've had the absolute pleasure of meeting some hugely inspirational and kind artists here. Very down to earth and open people who are willing to share their experiences and offer advice and perspective, and I think that quality is priceless.
How does living in Edmonton impact your artistic expression?
I'm not sure… I've only ever worked as an artist in this city so it's tough to pinpoint how living here directly impacts my work. Living in Alberta has obviously heavily influenced my interest in exploring landscape as a subject… Those prairie skies have been pulling me in ever since I can remember.
What are some things you love about Edmonton?
I love Edmontonians' perspectives. I know so many inspiring entrepreneurs here; people that just put themselves out there and take risks to pursue their passions. I believe it's one of the things that truly defines our city. Outside of that… I love our river valley, I love china town, I love the 104th and Strathcona farmers markets, I love summer cocktails on the Hotel Mac patio, I love all the winter city initiatives we've taken this year… there's a lot to love about Edmonton!
Do you have any advice for local aspiring artists?
Don't let anyone but yourself sculpt your definition of success. Figure out what you want to do, and find mentors that can help you get there. Ask for advice whenever you can —other people's human experiences can be hugely influential.  Make a lot of work; good, bad, or ugly… just keep making it. And develop a thick skin if you don't already have one. Be prepared for a lot of rejection, and then take that rejection and use it to make yourself better.  
What are your hopes and plans for 2016?
I would love to land another public art project. I put together a couple of proposals last year that I was really excited about and would love to see some of those ideas come to life. I also want to find broader gallery representation, and get better at not procrastinating — I want to take my own advice and just keep making work all the time. I had a busy 2015 but it wasn't without it's challenges and serious creative blocks. I'm hoping that 2016 flows a little better creatively and is full of both personal and professional growth.
More on Erin Ross:
Online: www.erinelizabethross.com
Contact: erin@erinelizabethross.com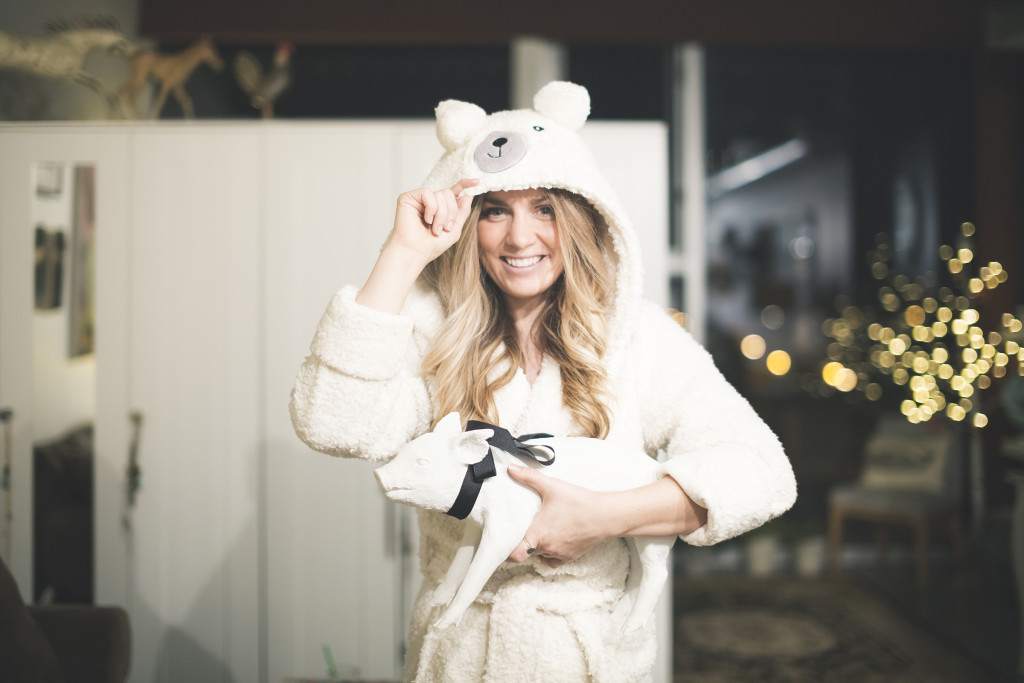 Erin's style notes: This one is pretty cute! The teddy bear robe is from Simons, and the pig is from Artworks.
By: Annaliza Toledo