Retired Olympian EJ Parris shares his tips on starting your new year fitness goals off on the right foot.
3 Simple Questions to Kick Start your Fitness Goals in 2016.

1. Do YOUR health-related goals resonate with you?
If they do not then you probably won't stick with them; therefore, chose health-related goals that work with YOUR daily routine, lifestyle and level of fitness.
2. Are your health-related goals measurable?
If your goals aren't measurable how will you know if you are making progress? Decide if you want to measure how you feel, move and or look. Pick any combination and test quarterly. Compare the new results with the old ones – create a Before & After storyboard.
3. Are your daily practices in line with your health-related goals?
Actions are words in motion – Be sure to keep your actions in line with your goals. If you are having difficulties, identify the limiting factors and create new behaviour goals that will get you back in check.
It's all about discovering YOUR way to live healthy life, at YOUR own pace. The journey is yours and yours alone. Make it simple, fun and enjoyable; not exhaustive.
---
EJ Parris knows a thing or two about fitness. EJ's journey rising up in the international sprinting scene inspired him to see the positive in every scenario. Now a retired Olympian, EJ shares his infectious energy, humour and positivity through coaching and training. His mission is to share fitness as a lifestyle, and we are all ears!

Can you tell us a bit about yourself?
I have always found it hard to transfer thought to paper, especially when I am expected to talk about myself, but here goes… (I hope this doesn't come across as the opening lines to a profile on a dating website!).
I am a retired Olympic athlete, professional bodybuilder, and current performance coach. I have appeared at the 2008 Summer Olympics as a member of team Canada's 4x100m relay team – I didn't see much action other than some extra strength Tylenol to help me deal with the flu I contracted during my stay in China – regardless Beijing was beautiful. Before 2008 I was a member of the 2007 Pan American Games 4x100m relay team that won silver, and a bronze medalist from the 2006 Commonwealth Games of Melbourne Australia.
In 2009 I hung up the sprint spikes to pursue a career as a performance coach/trainer. Since then, I have been able to create positive change in the lives of my clients, implementing progressive strategies that challenge their mind and body within the context of fitness. I don't just supervise movement or simply get you bigger, stronger and faster – I teach fitness as a lifestyle; not as a diet.
What sparked your interest in athletics?
My love for healthy competition sparked my interest. I'll tell you… When you're raised in a household of athletes and hard workers, it's very easy to be compelled by competition. As for my love of the sport, it came to be around grade 11. Around that time there was a growing hype around the sport – at least in my eyes. I was addicted to the rush of competition and the alluring title of "fastest man"…. I never looked back.
Instead of seeing a negative situation I see an opportunity, an opportunity to learn and grow.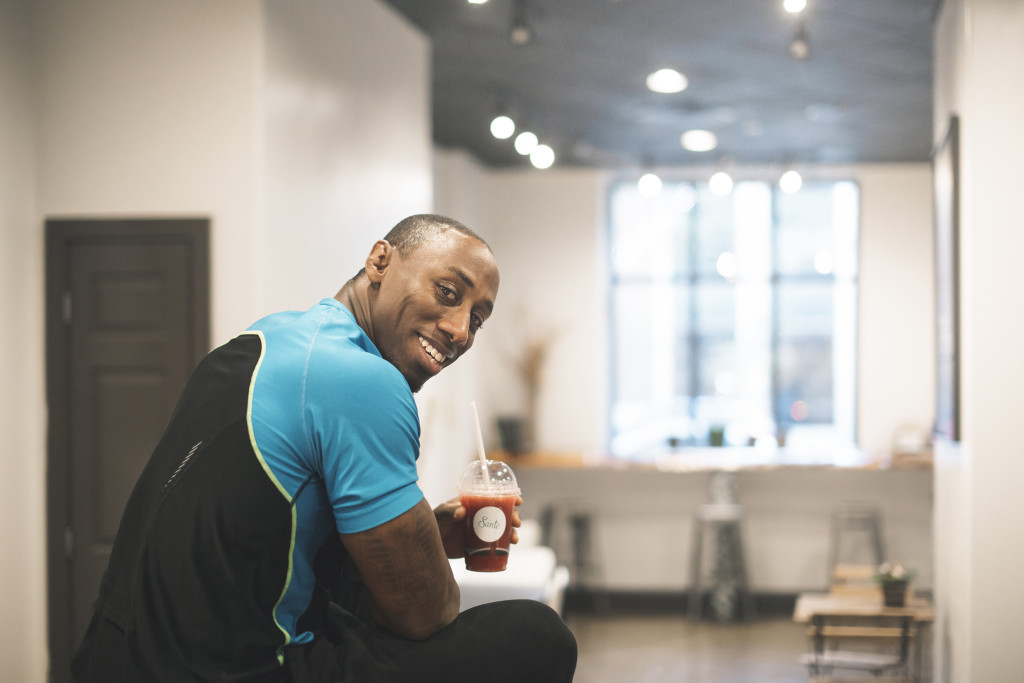 Was there a point in your life that inspired your goal to sprint competitively?
It was at the Ontario High School Provincial Championships; I was the odds-on favorite to win the 400m dash as well as medal in the 200 and 100 meter races. Nothing happened the way I had hoped (no medals). My confidence was shot, until my sister brought me a large pizza. Before the next season I started a vision board where I illustrated my goals and the prerequisite steps to accomplishing them. I worked, tweaked and worked that plan, every day for the next decade.
Competing at a high level takes a lot of preparation and planning when it comes to stretching, exercising, and meal planning. How do you plan out your activities and tasks for the day?
About an hour before bed, I retire to the bat cave where my butler, Alfred… (Just joking of course…I hope you get the Batman reference!).
Before bed, I produce an itinerary for the impending day; listing tasks in order of priority. This "to-do list" serves as a guide and reminder to align my actions with my goals of the day(s). It's a neat trick I learned from honored speaker, Brian Tracy.
I use action. Simply writing down a goal does not assure you any success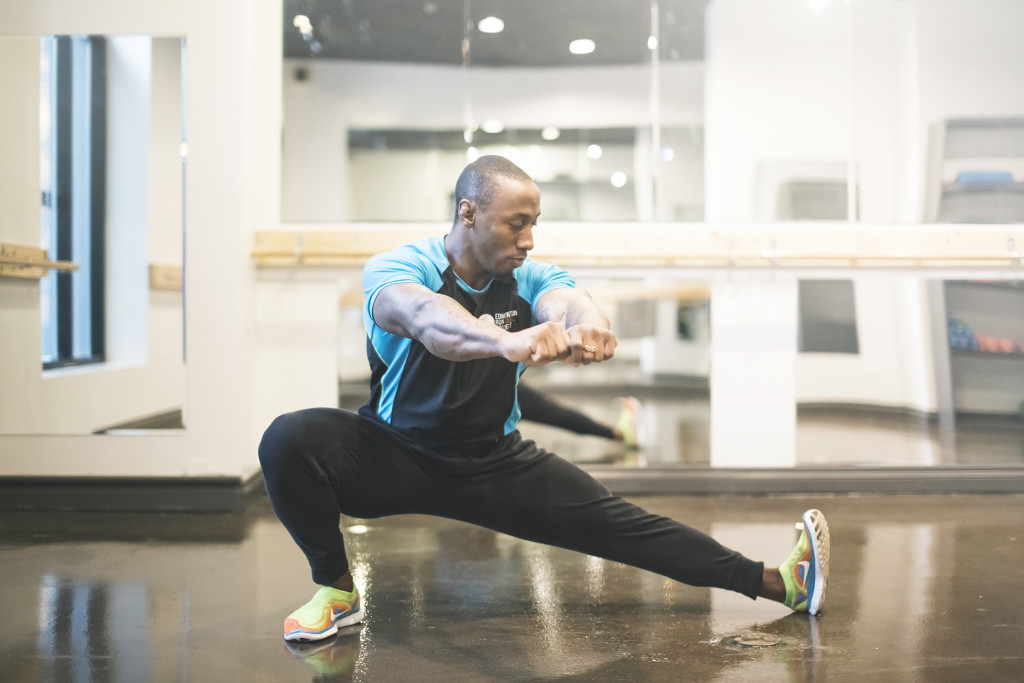 Being a competitive athlete comes with a lot of pressure, particularly in the Olympics that is a two-week event based on a 4 year preparation cycle. How do you deal with this pressure?
They say pressure creates diamonds, right? Pressure presents another opportunity and challenge to rise up to a new level, kind of like a Super Saiyan in Dragon Ball-Z [laughs]. My favorite technique to utilize when I feel pressured…wait for it…BREATH…so simple eh? If you didn't know already, appropriate breathing practice is a great way to reduce anxiety, improve clairvoyance and regain composure. Research shows that taking as little as ten focused deep breaths can trigger our built-in stress relief system (said like Bill Nye "The Science Guy").
You have been able to follow your athletic passion that led to you competing in the 2008 Olympic Games in Beijing. Can you describe how you were able to take your passion and apply it to earning a living?
My passion is personified by action. I was once very passionate about sprinting and that took me to the Olympics. That reminds me that I can do anything as long as passion is my guide. Right now I have the impetus help as many people as possible, within the context of fitness, and nothing will stop me from leaving my imprint. I have no choice but to succeed.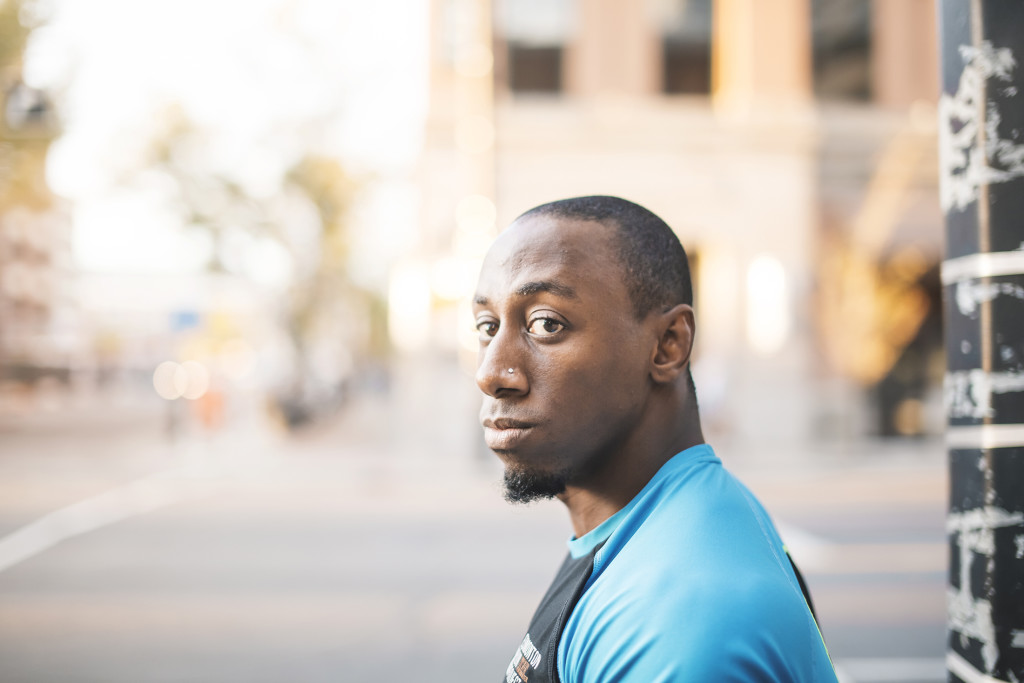 What does your training regime look like?
For about an hour a day (usually around lunch hour) you can find me in the gym; borrowing training methods from Powerlifting, Olympic lifting, Bodybuilding, Joint Integrity Training and other Functional Range Conditioning concepts. My program is pretty extreme and incorporative, which is why I am able still able to run a 4.3 40 yard dash; deadlift 640lbs,  perform a one-arm pull up as well as a human flag – [cough, cough] my genetic predispositions are also very accountable for these feats but "you gotta train it to maintain it". '
Every 4-6 weeks my training split changes but I will always spend a fair amount of time re-assessing movement and building and controlling new ranges of motion.
What type of goal setting do you employ to help you progress in your professional and personal life?
I use action. Simply writing down a goal does not assure you any success or inroads; yet, it is the aligned action that affords the desired end result or deserved outcome. I find it very useful to breakdown every goal into a skill and a skill into a practice(s). Every day I practice, as I did when I was a professional athlete – It's all the same. If you want to get better at something, "practice on purpose, you must; improve you will" (said like Yoda).
Don't let other people's subjective reality or judgement tell you WHAT to think or how to act. Create authentically!
It is evident that you are an extremely positive person. How do you maintain that positive outlook particularly if you are dealing with difficult or negative situation?
Being positive is an intimate choice that I make every day, kind of like getting up out of bed in the morning.  A negative situation always has a silver lining. So instead of seeing a negative situation I see an opportunity, an opportunity to learn and grow. That, is my final answer! (Who wants to be a Millionaire reference).
What was your toughest failure or obstacle you had to overcome to reach your goals?
I have had a few set-backs (injuries, poor performances and personal life crisis: lack of self-confidence) but nothing ever severely threatened my ability to perform. I have nothing to complain about. All my trials and tribulations are the reason why I am so strong today.  I gladly accept the bumpy roads.
What is the best piece of advice that has stuck with you?
Life is your most prominent professor. Discover but not like Columbus or DeGoma and the Spanish Inquisition [Snarl] don't imitate, don't plagiarize and don't pillage. Allow your creativity to guide your own thought and action. Don't let other people's subjective reality or judgement tell you WHAT to think or how to act. Create authentically!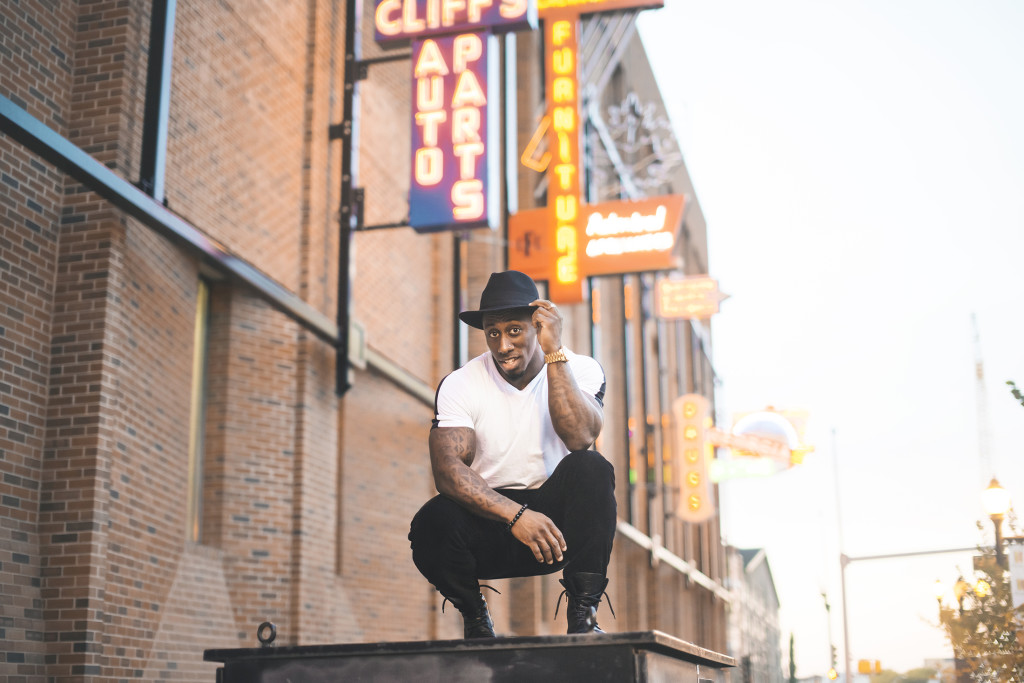 What advice can you give to a young, aspiring athlete who is trying to compete on the international scale?
You are your biggest investment. Make those informed business decisions and align your actions with your goals. "Fear" and "Failure" (the two most formidable opponents) will come knocking, accept them and overtake them. They provide the opportunity for you to become the best "you" possible.
Oh… I almost forgot – Be your biggest fan and never become a spectator unless you are studying with the intent of gaining knowledge.
Is there a book you have read that has inspired you in life?
I am inspired by the laws of nature and the missing pages of world history, African history as well as the significance of the Moors (I will read anything regarding the aforementioned subjects). I also enjoy such authors as Bruce Lee, and Jiddu Krishnamurti.
Reaching success as an athlete requires a commitment from more than just yourself. How do you choose good team members to surround yourself with?
Surround yourself with people who inspire you; support you and who most importantly, believe in themselves. These are confident people who can/will add more value to your team and will most likely do less harm than someone who doesn't even believe in themselves.   
Do you have any principles which you follow to help you stay focused?
"NOTHING EXISTS EXCEPT THE HERE AND NOW" – Bruce Lee (Striking Thoughts: Wisdom of Daily Living)
What is essential for you to keep energized for the day?
Optimal rest, a positive mindset, adequate stimulus and the right food at the right time, simply put.
Your vibe attracts your tribe.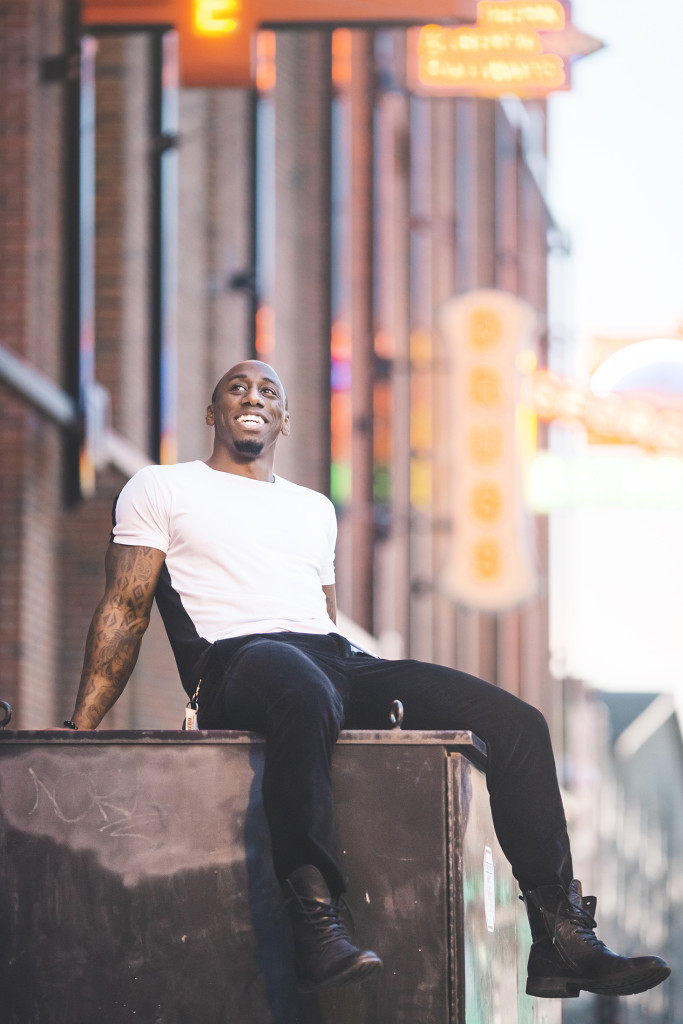 If you have to pick a favourite place in Edmonton to take a breather, let loose, or to soak up the city, where would it be?
I like to go for walks in the river valley or check out one of Edmonton's many dog parks. Watching dogs run around and play is very therapeutic. Shoutout to Adam at 780 Kennels or Pit Bulls for Life and other animal rescue agencies for saving so many fur-babies from rotten owners.
What are some of your favourite local restaurants (both on and off your training diet)?
Greenhouse, Vie Santé and Café Mosaic are my top choices for healthy eats and my 20% naughty comes from Tres Carnales, Underground or Rostizados.
Do you have any new projects in the works right now? Can you tell us about it?
I am preparing to build a legacy as a keynote speaker. I have already performed in front of a crowd of 1,500 and now I am hooked, I want more. I have found my way to reach out to more people and share my energy and vibrancy. "Your vibe attracts your tribe".
Also, a clothing line ` is in the works, I'm just looking to create a relationship with a graphic designer and print shop. I am looking for essentially a team who will share a vision and want to affect positive change in the world using progressive idioms with a splash of humour and awesome graphics. Call me!
Online @  www.ejp2.com