I had the pleasure of sitting down with Blake Loates, the artist behind the art installation, We All Believe in You (WABIY).  WABIY is a project that captures portraits of people with mental health issues, on display at the Art Gallery of Alberta, May 2nd, 2016, 6:30-9:00. Open to the public, at no cost.  The goal of the project is to celebrate the people who participated in the photos and celebrate the strength of the participants.
But that's about all I'm going to tell you about the installation; you are not about to read a summary of the project.  You are about to read about the WHY behind the project – the impetus that created the shift in conversation in YEG about mental health.  When I tell you about game changers, this girl re-defines what that notion means. The following is a re-telling of my encounter with her, which really can't be transcribed, because it was not an "interview."
The project is rooted in a dream that began fifteen years ago. Blake was diagnosed with depression at just 14years old. When she was 19, at the suggestion from her dad, Blake went on a trip to Nepal.  It was there she discovered the healing nature of photography.   She also discovered that she was pretty good at it (and if you have seen her work, you will know that I say this in jest and it is a gross understatement of her talent).  It was shortly thereafter that she had discovered that she had 'a thing' for taking pictures.  It was there that she found solace in photography.  But this was not the spark that ignited the flame that lit the fire, which quickly became the intense blue flame that is now known as the WABIY movement.  She still had more to tell…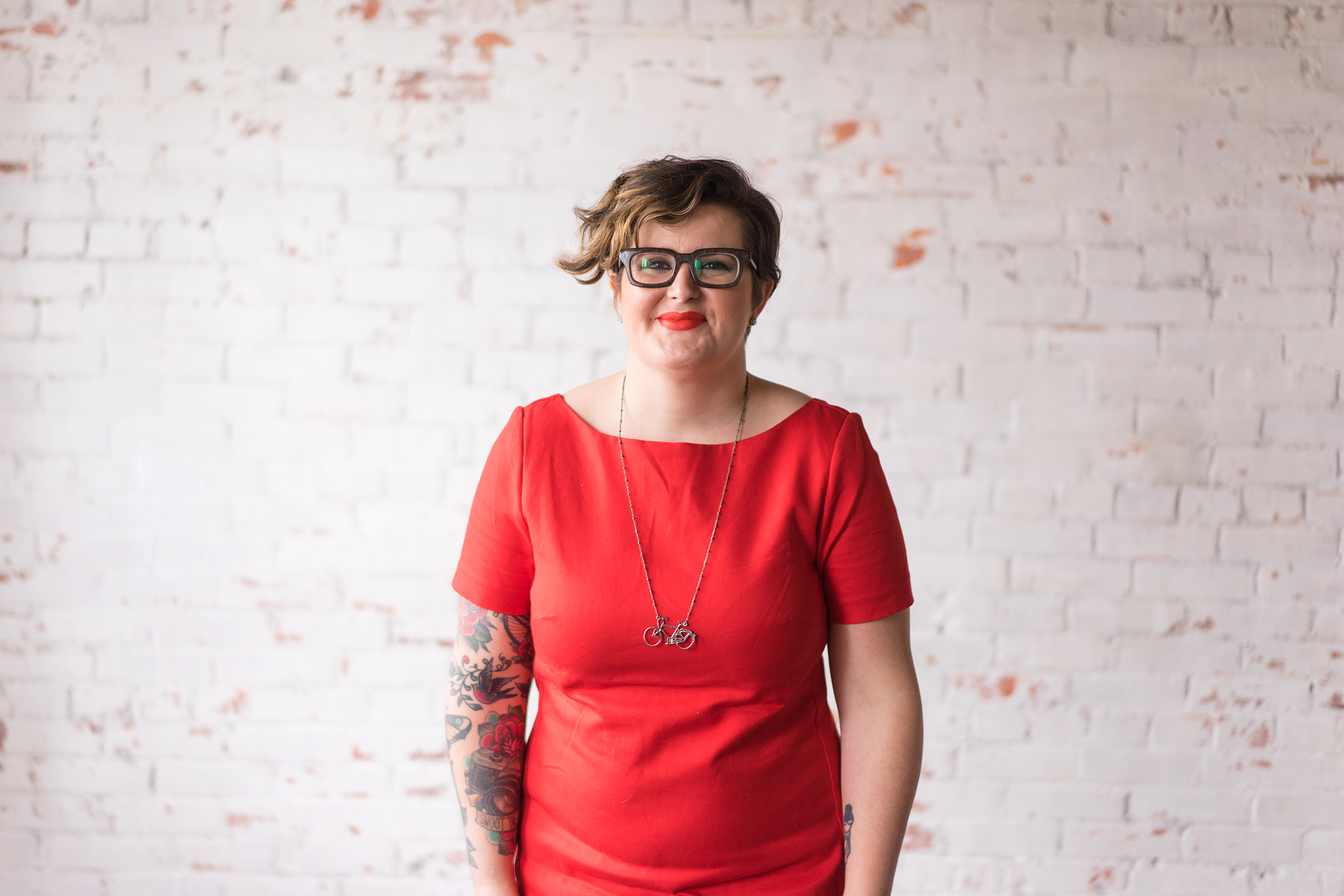 ENTER LIFE.
Blake kept that dream tucked close to her heart and entered the grown up world of work. She became a psychiatric nurse, because she had a deep desire to help those who could not help themselves. She discovered many flaws in the treatment system.  I ask her what she learned about the system and how it was flawed.   She told me things most of us wouldn't know.  She told me about what it is like to live with an illness and what it's like to seek care, or the fact that care is in fact, often a choice.  When someone gives up, they don't seek care.   Blake tells me how expensive treatment is and explains that more affordable care is needed and that we have a very clinical system in Edmonton.
"If you need medication, psychiatric care is free. If you are looking to go to the root of the problem, you see a psychologist, and it's expensive. The information is not out there. Now when I get sick, I go to emergency, and it sucks."
"When I get sick…"  That's how she describes her diagnosis. It's an illness; ebbs and flows; hurricanes and raindrops. As I listen to her speak, I find myself completely distracted at times by her eyes. She smiles with her eyes.  There is something about her eyes that touches my soul; it is the colour of life. Deep down I have no questions, only wonders. I wonder what it is like to be Blake. What did she struggle with day-to-day? How did she will herself to listen to the stories of others when at times, she herself was sick at times. "Blake, how did this all start? The project? What was the moment that put you in action?"
Last October, I had a plan to die.
She explains with such clarity, eyes fixed on mine, that the match that lit the spark was the death of Robin Williams, Aug 11, 2014.  She explains that there was a deep rupture in the paradigm associated with the stigma attached to mental health.
"The world shifted. It changed that day," she said.
"People were talking about it out loud- it was a whisper before. It was public. People were coming out of the closet with mental health.  Many people didn't understand or didn't know he had mental health issues, he was a beacon of light."
His story was all over social media. Ripped open.  Exposed. Raw. The world was talking about suicide and how it happened to someone like Robin Williams.  Seeing posts splashed in every corner of Facebook had such an impact on her; people wanted to talk about it.
"By then, I had a different relationship with mental health issues – I discovered that my perspective changed about what 'mental health looked like,' changed.  Before I envisioned dark gritty, grey, images that looked sad.   You know the image we all see of Robin Williams' black and white portrait.   He's my hero – he's a big reason WABIY exists."
So the spark was lit, and burned in her heart for years.   She explains to me that she would get sick, check herself into emergency, get treatment and go back to life.  Except for this past October. When she got sick, but didn't go to emergency this time.  I ask her if she was ok to continue, to allow me to take notes, so I could capture her every word. She smiles with her eyes and says that with all the interviews over the last few weeks, no one asked her for the story behind the story, why she was doing what she was doing. She was happy to share, and in fact, felt liberated to be able put into words, the why behind WABIY.  She continues,
"Last October, I had a plan to die. The only thing that kept me living was the fact that I had a wedding the next day. The fact that I had a commitment the next day saved my life.  I'm still here because I have a job to do. I have to help other people."
That was it.
She got up the next day and continued life.  The breath leaves my lungs; the ground falls from beneath my feet as I listen. Just like that. She decided to continue because she was committed to a wedding.  It was in that instant that I sit back and see exactly what she was describing: her why.  Her purpose in life is to listen to others, to be weighted down, physically, emotionally, spiritually, by their stories.  
"I grew up in an atheist household. My friend told me to go to church – I went to church right around the time I was going to kill myself. I was put on this earth to do this.  Everything I suffered in my life I had to go through to bring me to this realization – I was put on this earth for this very reason."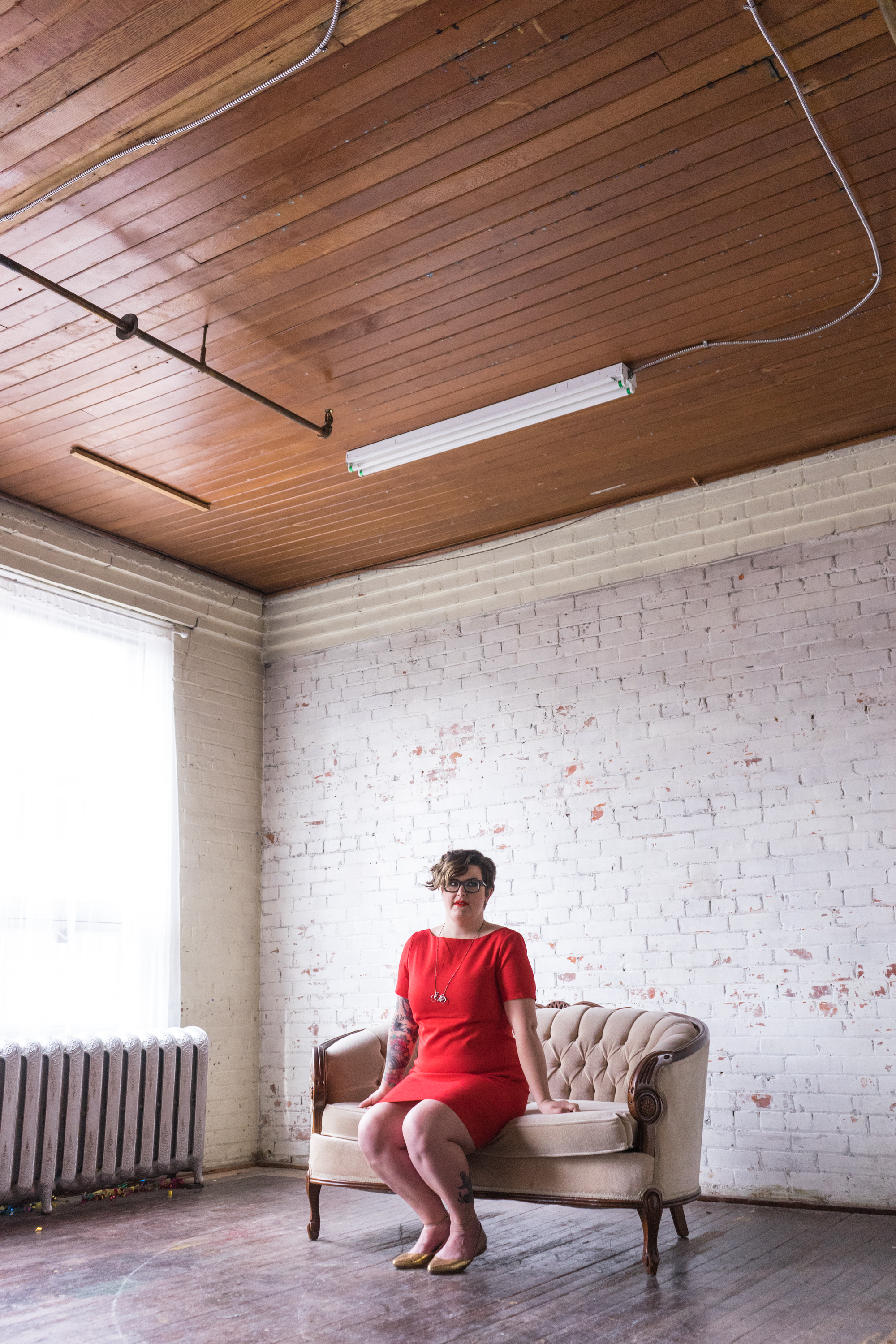 You can be beautiful, ugly, put together, a mom, a dad, a police officer, it doesn't matter; mental illness looks like anyone.  It can be anyone.
She takes a deep breath, and continues.
A former groom she had photographed was a nursing instructor at Grant MacEwan and had contacted her a little while later and asked her to come speak about her struggles with mental health.  
"I am a perfectionist to the 10th degree, I thought, I can't just talk about me. I had to make it a project.  So, I decided to interview 10 people about their struggles with mental health. The Canadian Mental Health Association found out about it and then asked me to further the project."
Just like that, the spark turned into a flame, which now burns with bright blue intensity.  She put the call out on Facebook (I remember the day I saw the post on my feed.) She got an overwhelming response.  She answers all of the messages personally.  The core values with the project are to allow the participants to be validated and to be heard and that takes time.
"I meet with everyone – I don't weed anyone out.  They can be struggling with PTSD or post-partum, or anxiety or depression. It doesn't matter."
A psych nurse for 6 years, Blake shares that she thought she had heard it all. "There is a certain amount of hardening that happens," she says. It has taken its toll on her.
"It has dug up a lot of issues I thought I had buried. Feeling other people's energy – when they are sad, I'm sad for them.  I'm most sensitive to their energy.  This project has forced me to face my own stigmas I didn't think I had."
She shares how one girl she interviewed was so beautiful and told her she was so beautiful.  It was in that moment that she realized, that's just it.  You can be beautiful, ugly, put together, a mom, a dad, a police officer, it doesn't matter; mental illness looks like anyone.  It can be anyone.  This is precisely what she took away from the project. That the images she originally captured in her mind for what the images may "look" like, grey, gritty, sad, were indeed very different from what the reality of mental illness is. Blake visits five to six people a day some days, and listens and captures their lives in a photograph.
There has been such an overwhelming response from the YEG community, the huge push to get a certain number of interviews completed every day is often exhausting and completely overwhelming.  Five to six stories a day? I was speechless.  How? How did she do it?
And then with so much courage, I wholeheartedly ask her, "How are you, really? How are you doing, Blake?"
Voice quivering a bit, she answers,
"I forgot that I have to take care of myself.  I'm going to go to a therapist. I had a difficult, unusual childhood.  I thought I had buried it very well. This project has brought up a lot of issues I thought I had put to rest.  I have a real need for helping people and letting them feel loved. I get as much out of the experience as they do, I love being able to help people through honesty. Empathy. Love."
Self-care is a concept that most of us struggle with. I wonder what self- care looked like to a woman like Blake. How do you take care of yourself, when you have the weight of so many stories?  So heavy.  I ask her to describe her perfect picture of self- care.
"Going to bed and getting up at a reasonable time, taking my medication, getting exercise, and I'm not saying that because you're here and going to therapy, which is expensive, and eating well."
She also shares that is was liberating to be truthful to be in her truth about where she's at in life, and not make up excuses about not doing well.
"No 'family emergencies.'  Just truth.  Speaking about mental health can be liberating."
Liberation.
I repeated those words in my head, 'speaking about mental health can be liberating.'  No band aids, no quick fixes.  Just hope.
"Hope means different things. It doesn't always mean happiness.  This isn't going to make people better the next day. It helps people get through minute-by-minute, day by day.  I don't want people to get the impression that everything is ok, that I'm this happy girl all the time."
What resonated so deeply with me was to hear her speak about her desire to help others through story; a deeply personal mission to share the magnanimous stories of others in an effort to bring some discourse around mental illness.   To be weighted down as an act of liberation.
So I ask.
I ask her about the day she decided to not seek out help and what specifically was the shift in her thinking.  She thinks for a bit. She takes a deep breath and said,
"Yeah. I guess so.  It was a sense of obligation… commitment, to the couple, really, to show up the next day."
Silence.  We sit in silence. I attempt to stand in her words and offer to her what lands with me in my gut.  The conclusion I drew from being in her words with her.  Blake's deep desire for connection and commitment to the other; empathy with and for the other, saved her life.  Whether you are religious or not, the universe walked in that day and said, Blake, you're not done, woman.  You need to show up. Tomorrow.    She smiles. She nods.  Light bulb moment for both of us.
Speaking about mental health can be liberating.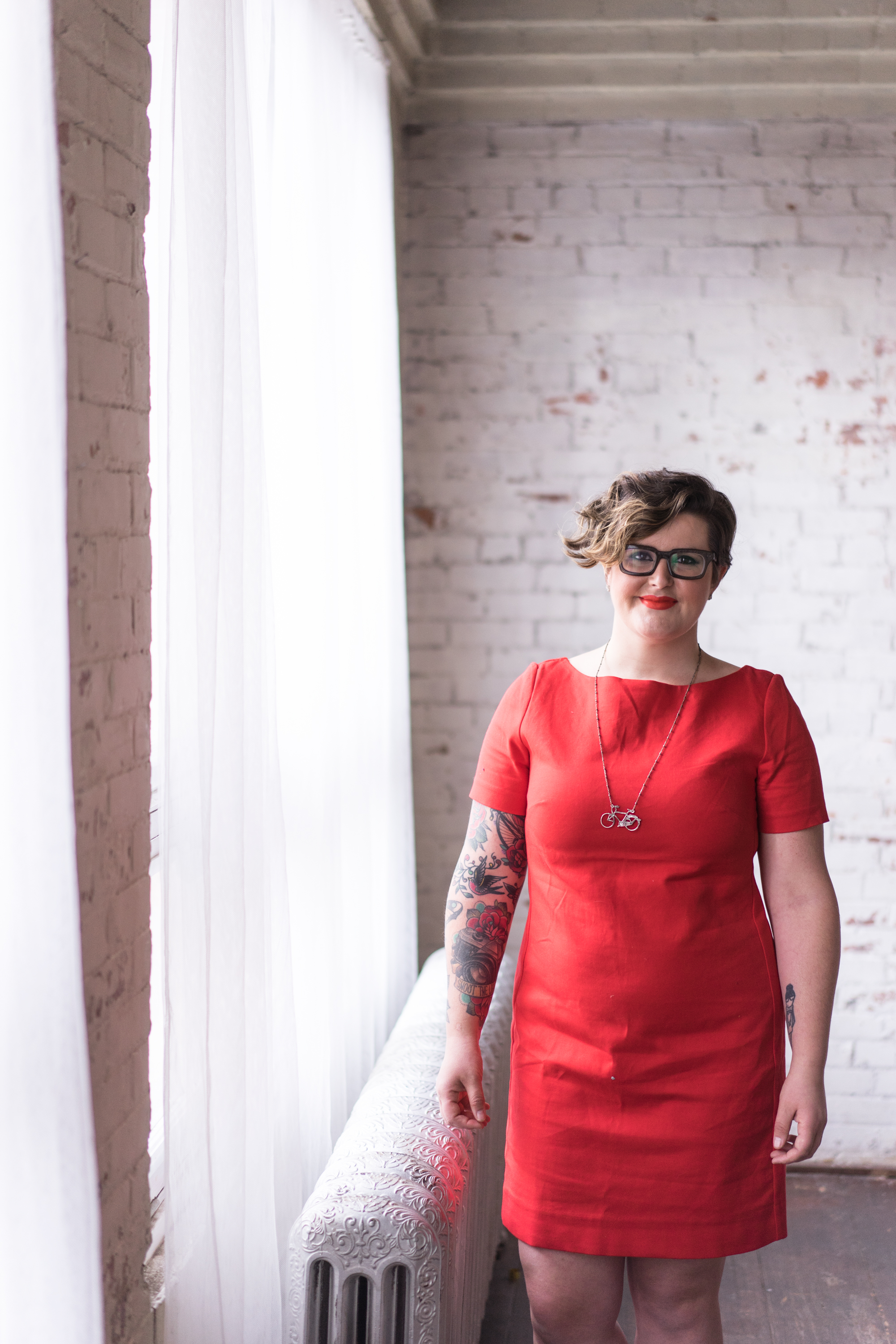 ENTER UNIVERSE.
"Depression will always be a part of my life. It's my truth. This project has given me a purpose. The universe is telling me to do this."
Yeah. Soak that in for a second.
As we sit in silence for a bit, we take a break to eat and she kept sharing.   I kept listening trying not to type, but the conversation was too rich.   She smiled, with her eyes and tells me about how she would like to do social justice work to advocate for those to get free services by the province and if she if could do this project over she would like to focus on men's issues.
"For every 10 women I interview 1 male. It's everyone's issue.  Cultural stigma, Suicide- we don't talk about it openly in society. Cultural stigma, men don't talk about their mental health issues."
"What is it time for now, Blake?" I ask.
Wait for it…
"I'm leaving wedding photography. Forty this year, twenty next year: a slow exit. I love shooting weddings but I never felt like I was doing what I was supposed to be doing. The pull is so strong and so real that it overpowers wedding photography.   When you are living in your truth and you are self- actualizing the potential that the universe has created for you – it's like a drug."
Learn More: 
We All Believe in You

We All Believe in You Event 
Monday May 2, 6:30 PM
Alberta Art Gallery
---
By: Farha Shariff
Farha.Shariff@yeg-cycle.com
Photography by: Kurt Bugasto