Opening up almost a year ago in 2016 ANNMS has made ambitious moves to bring Edmonton into the forefront of streetwear and fashion. A retail concept created by Ke Wang, Marshall Chen, Rex Wu, Cao Guangbin; four individuals who are no newcomers to the fashion scene. We caught up with them to find out their thoughts about curating a retail experience and the how Edmonton has shaped their identity and the story of ANNMS.
Tell me about yourselves. What is something unique that each member of ANNMS brings to the store? How have you shaped the story of ANNMS?
GB: I'm from mainland China. I was an Art and Design student at the U of A for two years, and then I switched my major to Clothing, Texture and Material Culture. I believe each individual is a unique human being because of their personality, experiences and background. At first, the things we had in common brought us together; later on, it was diversity that started to create more possibilities.
Rex: I have worked in the retail industry for nearly 10 years, from sneaker stores to outdoor wear to fast fashion to high fashion. A common interest in menswear and sneakers brought us together initially. Since then, each of us has found a niche and we compliment each other well.
Ke:  Just like GB and Marshall, I'm also from mainland China. I came about 7 years ago, studied in Hamilton for a year, then came to Edmonton and I've stayed here ever since. I'm still in university, doing an ECON major. After HAVEN left the city, we felt like there was a gap in Edmonton's fashion scene. It made sense for us to open ANNMS. We all have different duties and roles in the company right now. Rex has a lot of experience in operating the store. GB is in charge of visual design, since he has a design background. Marshall does accounting for the company, and modeling. I do the majority of the buying, some of the marketing/social media management, and operations and maintenance for the online store. We all contribute in different ways, but we discuss everything and make final decisions together.
Marshall: I'm from China, and I'm currently studying electrical engineering at the U of A. I'm comfortable with numbers and math, so I do the accounting work, along with buying store essentials such as bags, business cards, clothing racks, and other things from China. I have also modelled for some of our products in the store. The four of us have the same interests and philosophy when it comes to the menswear industry, which is a crucial part of why we work well together.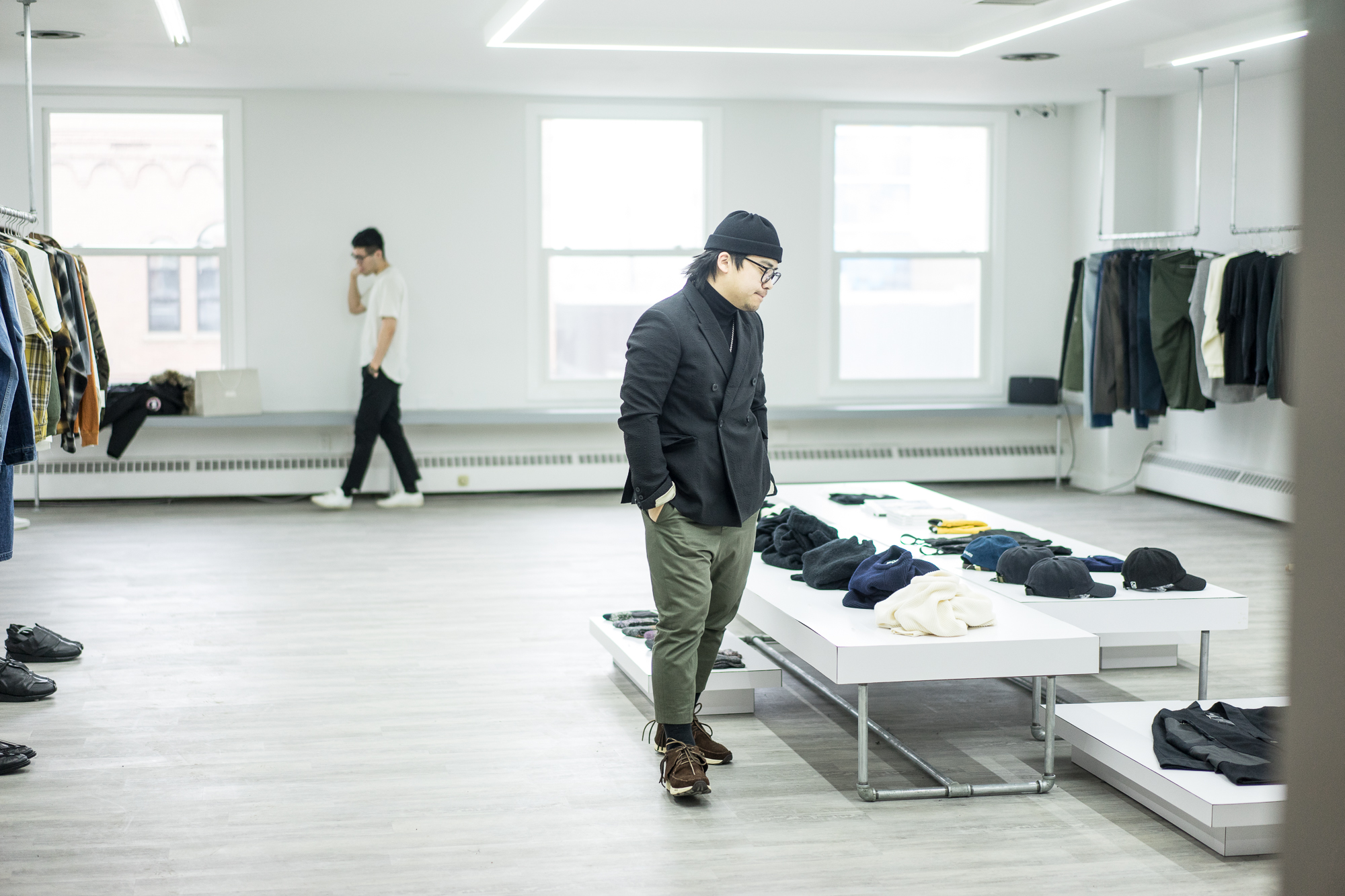 Each of you have backgrounds in both the sneaker and streetwear communities here in Edmonton. Tell me about your beginnings when you were first stepping into these communities, locally and elsewhere. (First purchases, stores you've worked at, stories from the fashion scene)
GB: I do remember my first purchase in Edmonton: it was a pair of 2010 Bred Jordan 6s that I bought at the WEM Footlocker. Not trying to brag, but they were my holy grail before Kanye started wearing them and they blew up! I worked at High Grade with Ke, and then I went to Louis Vuitton after that. I met Ke when he was planning the first SoleGood convention. We had a lot of good conversations about sneakers and clothing.
Rex: GB might have been my customer on multiple occasions. I worked at Footlocker back in the late 2000's, then later on at HAVEN. The streetwear and sneaker community in Edmonton is lively and ever-growing. In a smaller city like Edmonton, it's not hard to run into the same people either waiting in lines or at sneaker conventions, which helps to keep a community tight-knit. My first pair of sneakers were the Nike SB Band-Aids, which I bought at The Source when it was still on Whyte Ave. They were a full size too big, but it was worth it to get them at retail price.
Ke: I actually met the rest of the guys because of sneakers and Supreme. I was running my small business of selling sneakers and Supreme items locally and online and, because of that, I met a lot of amazing people. It's crazy to think that I ended up opening a shop with three of them! I think my passion about sneakers comes from basketball. I have been playing ball since I was 10 years old, and I always wanted to have the freshest sneakers on the court. Back in the day, my family could only afford to buy me one or two pairs of sneakers per year, so once I got to Canada, I started to buy like crazy lol. And later on, sneakers kinda got me into streetwear. Also, organizing SoleGood for the last 3 years gave me the opportunity to meet a lot of people who have the same passions as I do. Even now, we still talk sneakers all the time at the ANNMS office.
Marshall: Ever since junior high, I've been obsessed with basketball. One time I bought a basketball magazine that came with a free brochure about sneaker culture and it made me curious about limited sneaker and clothing releases. The first pair I bought was the Adidas x Neighborhood ObyO Kazuki KzK Campus 80s Blue. I used to work for Simons for a while, where I was able to connect with individuals who appreciate higher-end designers. I met Ke because of Supreme and Rex through HAVEN. Later on, Ke introduced me to GB.
What is ANNMS, and why was it created?
GB: ANNMS stands for anonymous, and it is a men's clothing store with a unique brand list. I remember Ke came up with this word for our store's name. The store was created because we felt there was a gap in Edmonton's men's clothing market and we saw it as an opportunity.
Rex: When HAVEN left Edmonton in summer 2015, I felt like there was still a market for curated, middle-to-high-end streetwear for men. Compared to the other major Canadian cities, Edmonton had very limited options for men's streetwear. After talking to Ke a few times when he was a customer of mine, I decided to approach him about the idea of opening a shop, only to find out that he'd already been planning to open one for months! After that, we sat down with GB over a couple of beers and, next thing you know, here we are.
Ke: I think each of us gives ANNMS different meanings. Personally, my goal is to have a store that carries brands that we truly like, and that we would wear ourselves rather than focus on trends or which celebrity has worn such-and-such brand. I think that's my understanding of ANNMS: a shop that focuses on high quality products with unique and timeless designs that we personally love. For me, opening a store like ANNMS is a dream come true.
Marshall: Couldn't have said it better myself!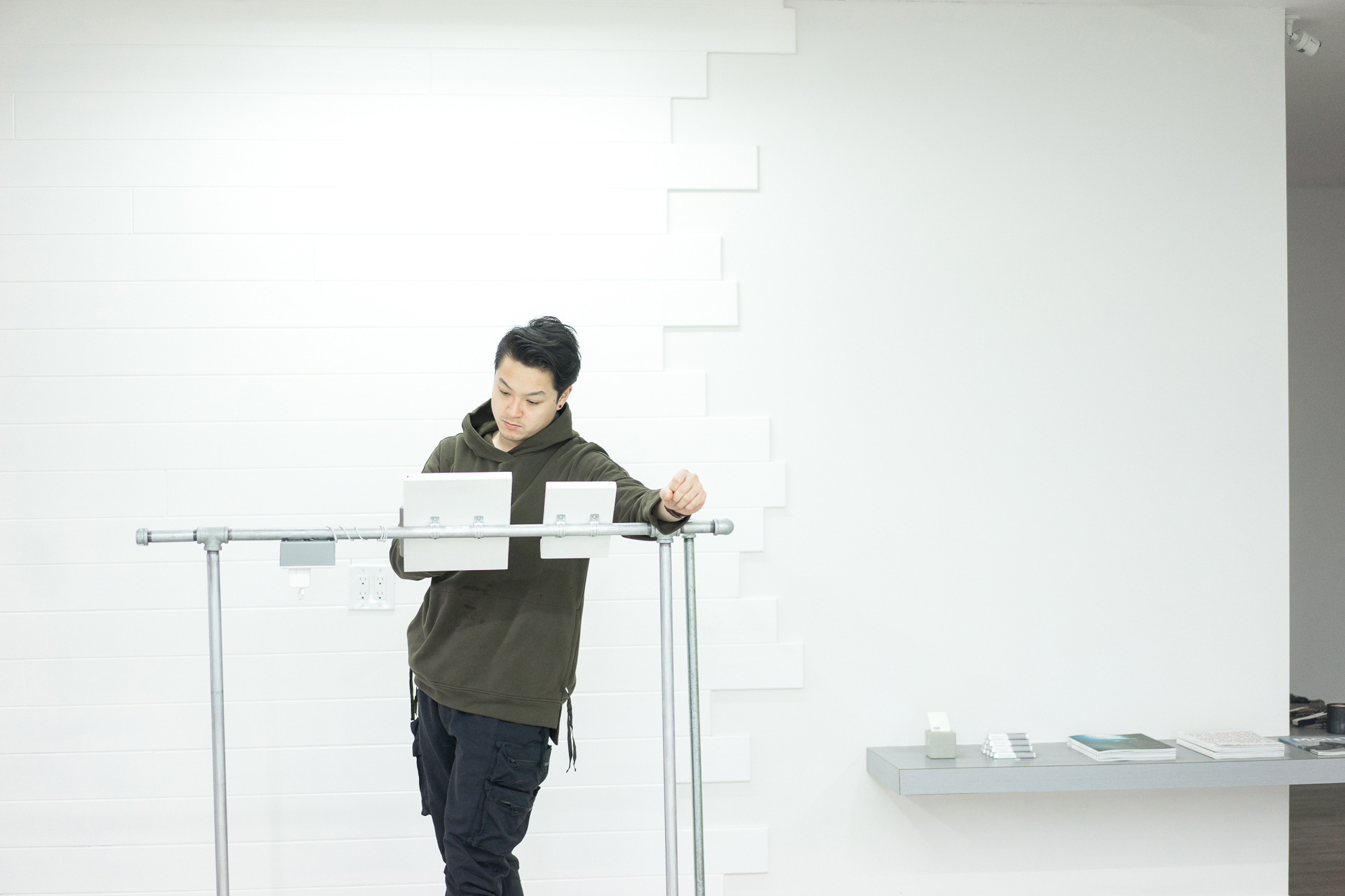 What inspired you when conceptualizing the ANNMS retail space? Do you have any tips for readers for creating a curated space, whether that be at home or a retail location?
GB: My inspiration for ANNMS's retail space came from art galleries. Personally, I really like spending time in galleries whenever I have the chance. I wanted the space to make customers feel comfortable and want to stay longer. Simple and clean interior settings can emphasize the products themselves. It would be even better if we had a higher ceiling.
Rex: We got a lot of inspiration from other interior spaces and we listed out what we liked about those designs. Our designers; Olivia Fung and Christy Gonis were able to conceptualize our ideas into physical designs within a very short timeframe. We wanted to make sure we stayed true to minimalism in both our merchandise and store design. The goal was to strip down everything to the essential elements and make it comfortable and easy for our customers when they shop. We went through a lot of meetings and challenges—A LOT—and we are very happy with the result. One tip for curating a space would be to always stay true to your main concept. It's easy to get lost with so many obstacles and challenges along the way. Don't compromise. Options, yes. Sacrifices, no.
Ke: Cut all the unnecessary stuff and focus on the products—that's what I wanted to do with the space. That idea's reflected in the hidden doors and the super simplified counter area and I'm really happy with how it turned out.
Marshall: We tried to put our finger on the essence of clothing stores, products, and interaction with customers. We created an open but secretive space where customers are able to connect with the products without interruption or pressure, and that can allow us to help customers more effectively.
ANNMS meticulously selects the brands it stocks, including a lot of brands that are relatively newer names in the market. What is your process in choosing brands to work with and stock? What is your process for approaching a brand and getting them to be in the store?
KE: We made sure that all of us understood the style and philosophy of the store from the get go. At the beginning, we all compiled a list of brands we would love to carry and then we discussed, argued, and picked our initial brands out of that list. Clothing retail business is a huge pot, and we know that we will face a lot of competition from all the established stores. Fashion changes every day. Every day there will be new brands coming up, so in order to separate ourselves from the other stores, we decided to bring more unique and small scale brands into the market. Going forward, we will focus more on tech-wear, cause I feel like a lot of smaller tech-wear brands deserve more shine, and no other other store is focusing on them right now.
Rex: Do your research. Sell it yourselves. Be confident and respectful and keep trying even when they don't respond.
Marshall: Because ANNMS is new to the menswear industry, we are focusing on the up and coming menswear brands, so we can grow with those brands together.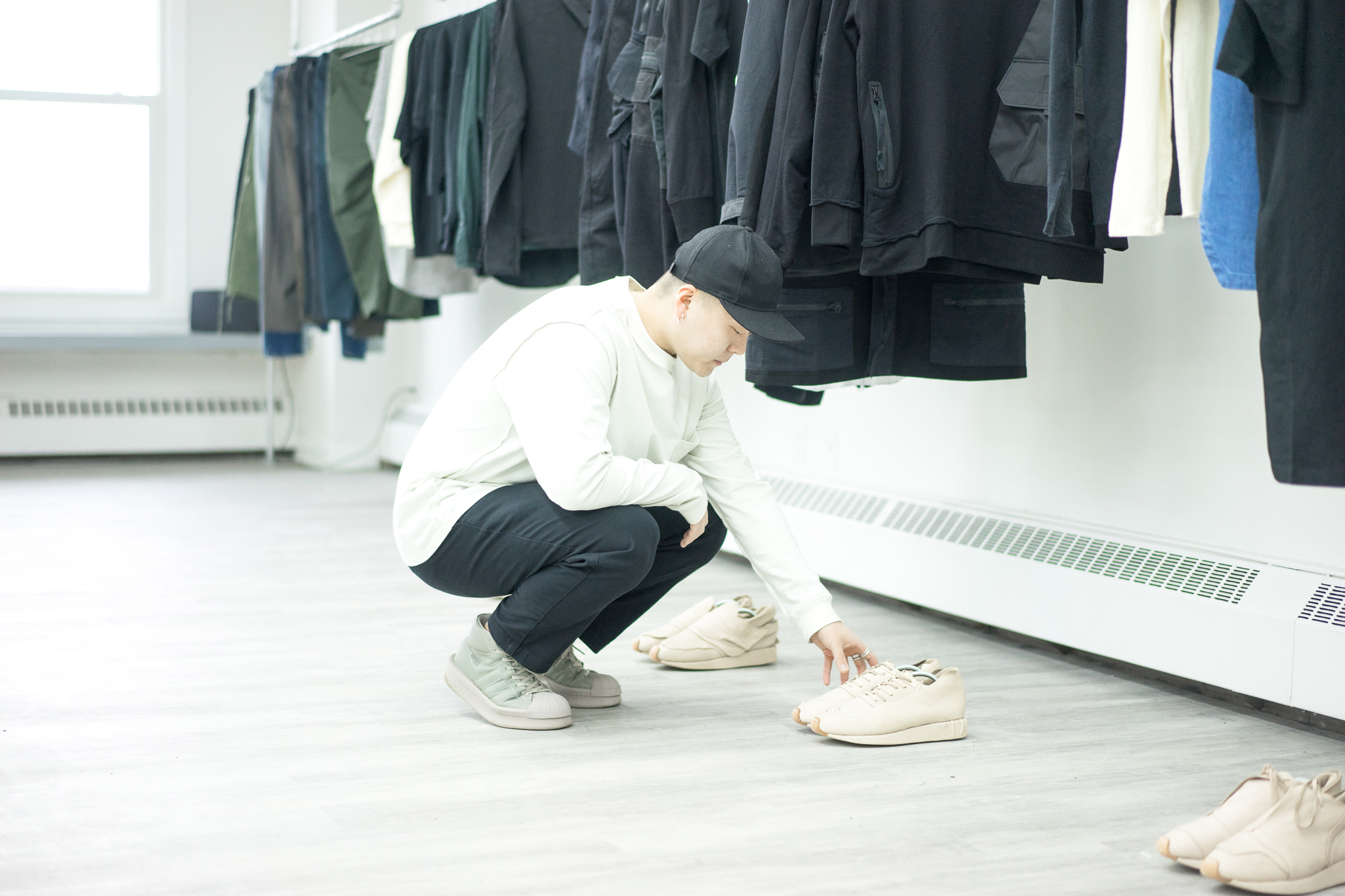 Edmonton in general has never been perceived as a fashion hub by any means. Where do you believe Edmonton's fashion scene will go in the near future with the new urban projects (such as the Ice District, The Quarters, Brewery District) going on and more and more eyes being on Edmonton? What are your thoughts on Edmonton's fashion/streetwear scene?
Rex: Education. Exposure. I am more than happy to sit down with a customer and explain why a T-shirt at ANNMS costs more than other stores. We know it's expensive. We know it's not a designer brand. But we bring them in for a reason. We spend time taking every photo to showcase the details and uniqueness of each piece of clothing we have. I am very excited with all the new developments in the city and I hope ANNMS can continue to grow and be a part of it.
GB: Each place has its own characteristic; just like every person. Fashion and style, in my opinion, is never about uniformity or consistency. The charm is in the variety and the uniqueness. To Edmonton, weather definitely plays an important role, and it affects styles. I expect to see some fascinating developments in natural and organic styles in the near future.
Ke: Edmonton is a magical place lol, on one hand, it has never been recognized as a fashion city, but on the other hand it is the birthplace of HAVEN, Gravitypope and designers like Errolson Hugh. I believe in the city—it's going in the right direction, and I love the people here more than anywhere else.
Marshall: When it comes to Edmonton, I think it's a great place to start a business due to the low tax rates and relatively small community. I believe there will be more fashion-related business in Edmonton coming soon.
How has living in Edmonton affected your choices in fashion? For example, how have the long winters and extreme cold affected the pieces you wear?
Rex: Layering. I don't like bulky jackets or heavy boots. A lot of times I wear the same hoodie and sneakers all year round, just with a few extra layers. Beanies are essential, so is cleaning your sneakers.
GB: Weather definitely affects clothing choice and the way I wear them. To face the extreme cold, I would keep an eye out for down jackets, boots and accessories such as gloves and beanies, as well as skin care products.
Ke: I think I'm still young enough to worry about style more than worrying about the weather lol. A nice down jacket is essential in Edmonton, but it doesn't have to be Canada Goose.
Marshall: A down and feather Jacket is the perfect option. The Supreme x TNF winter jacket can keep you warm for the whole winter. Other than that, I just wear whatever I like.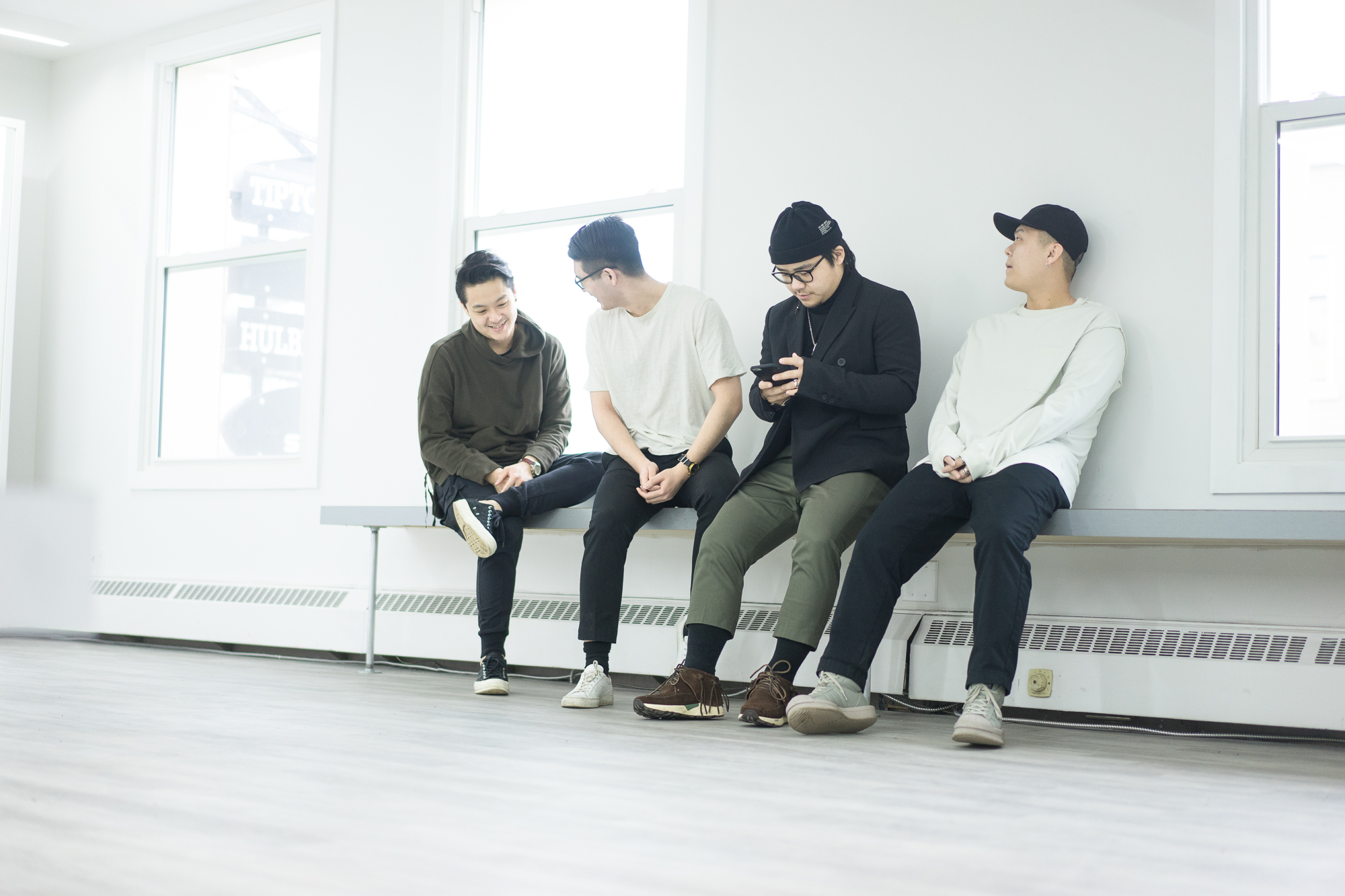 Why did you choose to open ANNMS in Edmonton?
Rex: Of all the major Canadian cities, Edmonton has the most limited options for men's streetwear. I like Foosh and Gravitypope a lot myself but ANNMS was created for a different market.
GB: Because I live here, and I saw that ANNMS would fit perfectly in the city's men's clothing market.
What are some of the things you love about Edmonton?
Rex: Independent shops. Coffee shops, restaurants, bike shops, summer festivities. I always compare Edmonton to Portland because the city is full of indie shops, and finding them is a fun activity in itself.
GB: Summer, definitely summer. And the people live here are really friendly, especially when they drive. Surprisingly friendly drivers.
Ke: The people. And there are just so many opportunities here. The size of the city is perfect, it has a decent population, which means there's not as much competition, and it's easier to find the right people to work with.
Marshall: Friends, U of A, and Whyte avenue.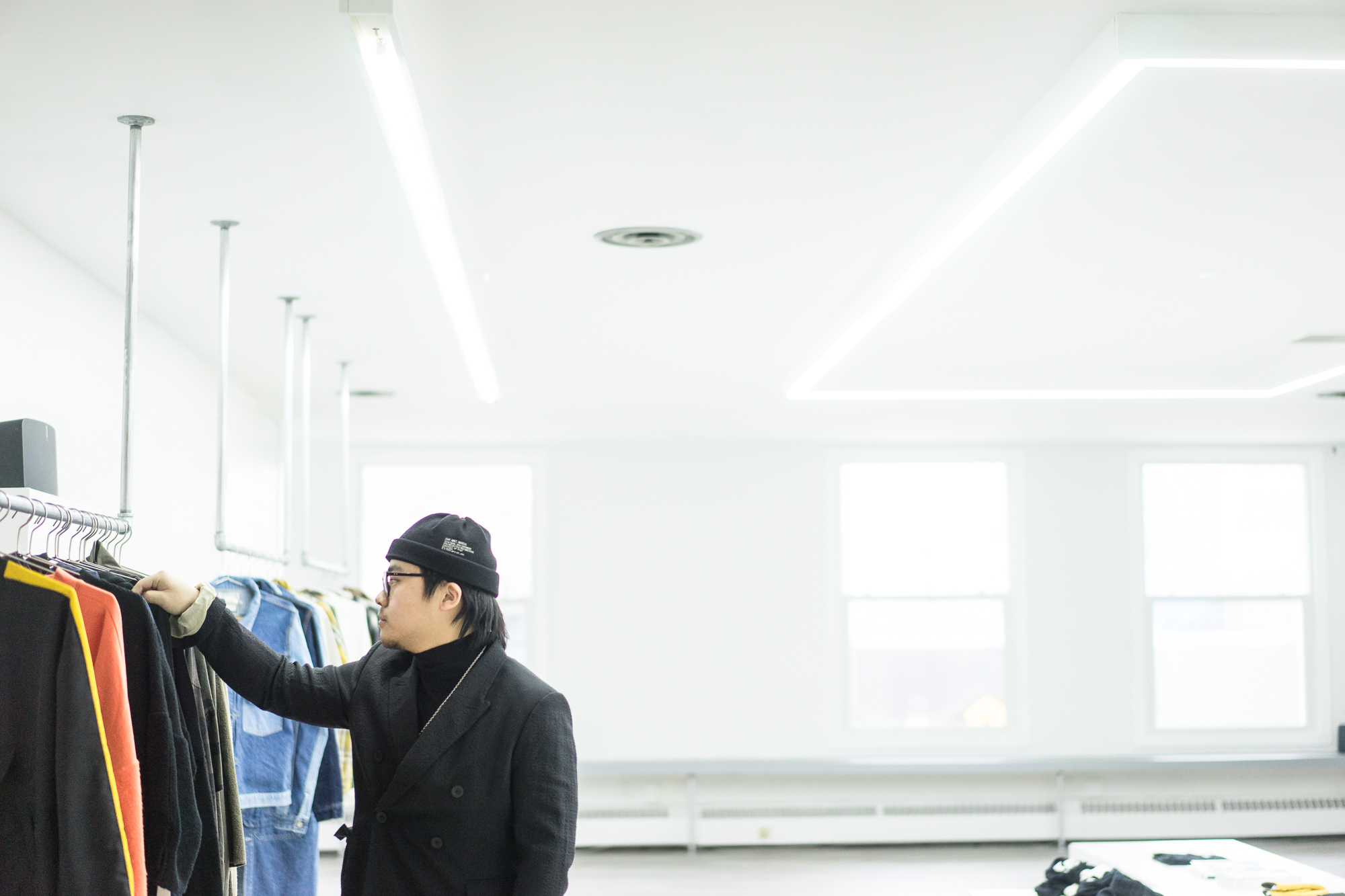 Which brands (clothing or otherwise) inspire you?
Rex: Aime Leon Dore and Arcteryx Veilance. When simplicity meets quality, it's long-lasting and quality always beats quantity. Also Nike, going from selling other brands' sneakers out of your parents' basement to being one of the most innovative brands that ever existed.
GB: Nike is definitely an innovative company. What they've done has changed the world. They solve problems and create better solutions, just like Acronym, and functionality is their priority. Some legendary clothing brands' creativity and attitudes inspire me as well, such as Yohji Yamamoto, Comme des Garçons, Issey Miyake and Maison Martin Margiela. Appearance comes first, and it's more like self expression. They provide unique perspectives on creating garments and also on the world in general, which really fascinates me. Visvim shows me the possibility of combining oriental and western garments, and the ability for a brand to show timelessness within a culture. Purlicue is an interesting Chinese brand. It's available in ANNMS, its designs are full of different meanings, stories and attitudes, sometimes with a touch of sarcasm. It's really interesting to see what can a brand to do with clothing.
Ke: As a buyer, I love wearing different brands and I'm always open to trying new things. My current favorite is Mr Completely. Their current season is really strong; their quality and unique take on classic items like bombers, t-shirts, flannels, and jeans separate them from any other american brand in my opinon. Everything is really wearable, but all the small design features make me appreciate the effort they put into the brand. A couple other brands to look out for are Terra Null, a denim brand from LA that doesn't care about any media exposure, just making fire products, and Cav Empt, which again combines quality with interesting designs. Both will be available at ANNMS next season. Other than that, my love for Supreme will always be there even though I don't buy much of them any more. I think most people don't understand the beauty of Supreme, and I don't blame them. With so much hype around the brand, people don't have the time to understand the design before clicking the buy button. Supreme has its own culture, and it is so strong that I don't think any streetwear brand can compare with it. The style of the brand has never changed, it's not the follower of the trend, but the creator of the trend. The business model was something we'd never seen before. Even with crazy demand, the brand is still selling in 10 flagship stores (6 of which are in Japan), still making crazy limited edition products, and still selling them at a relatively affordable price. Sometimes I feel like Supreme doesn't give a fuck about what people think. They just want to make cool stuff. I like that a lot.
Marshall: Undercover and The soloist, Jun Takahashi and Takahiro Miyashita are my favorite designers. They create their own philosophy and aesthetics.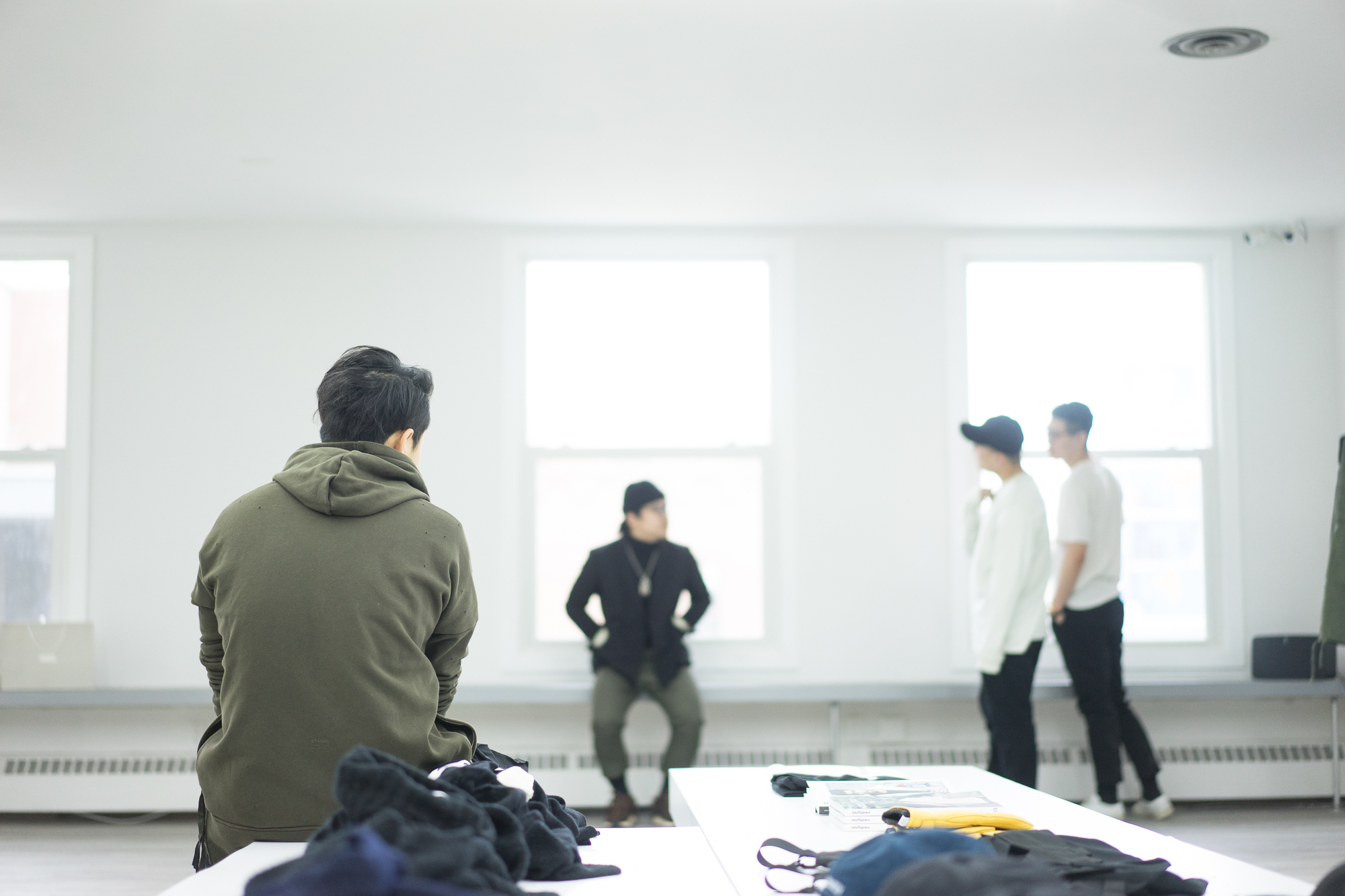 Who are some of the people and designers you draw inspiration from?
Rex: Tinker Hatfield. All sneakerheads know Tinker. He and Michael Jordan pretty much saved Nike from bankruptcy with the Air Jordans. They didn't make the Jordans to cater to the market. They made the Jordans to become the market and make people wait in line ups for them.
Ke: From people that are successful in the industry to the people around me. Inspiration can come from everywhere if you pay attention.
Marshall: Nujabes—his music can calm me and let me think effectively.
What are some of the spots you frequent in Edmonton?
Rex: Red Star is my go to spot for beers. Block 1912 for coffee, and Saville Centre for basketball.
GB: ANNMS and Save on Foods, every weekday. Main gym, every Friday for basketball.
Ke: A lot of Asian restaurants lol. Current favourite is Dorinku.
Marshall: U of A, Dorinko, gravitypope, ninja noodles, chatime.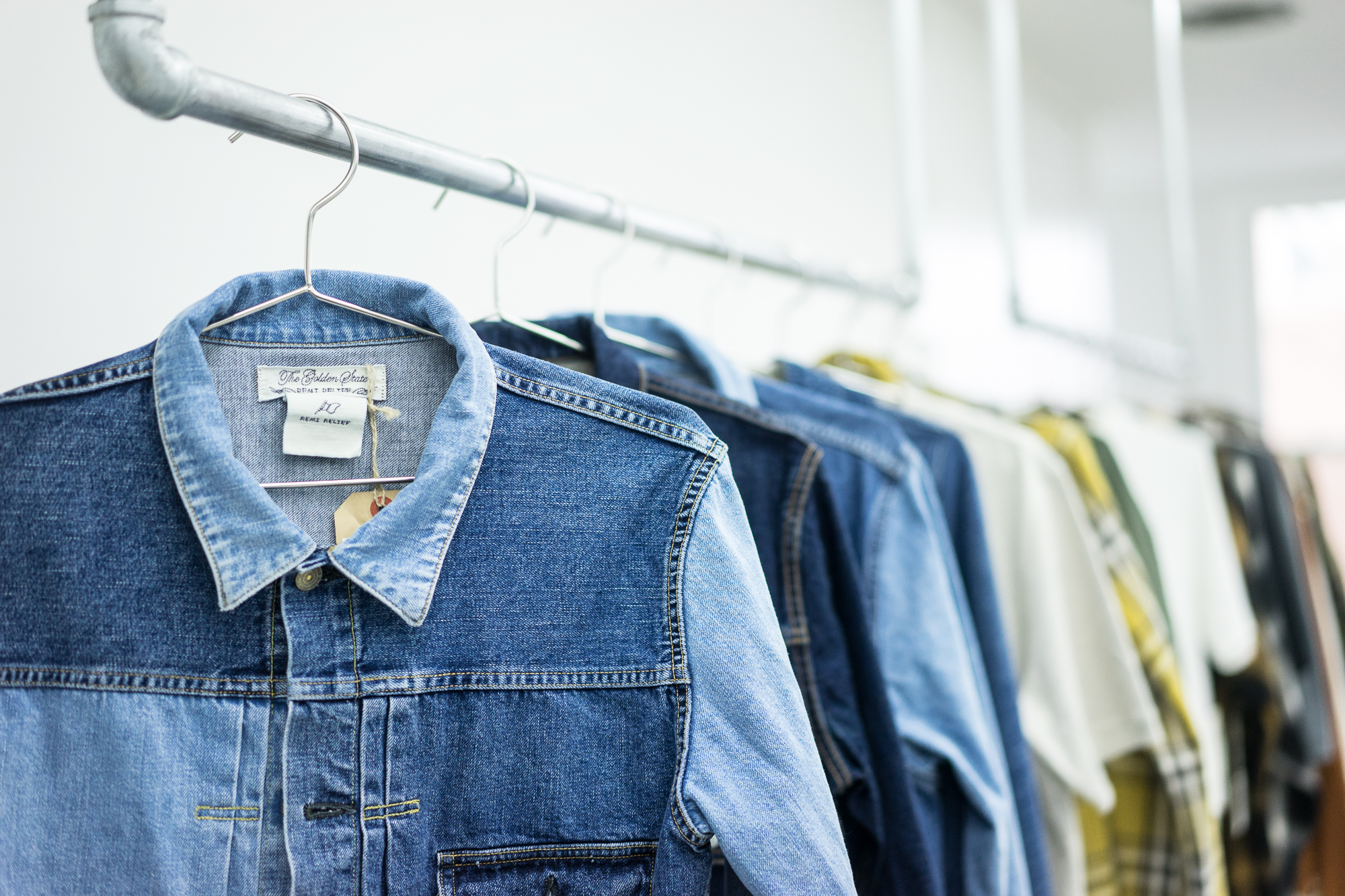 There is a rise of pop up brands, clothing stores, etc. here in Edmonton. What is some advice you would give to people who want to start their own business?
Rex: I am not really in a position to give advice since I am still learning about this business thing, but one piece of advice I got from my mentor was to be ready to live with debts for years and know when to stop pouring in money. Pick one thing and keep working on it until you get a hang of it. Then keep working on it to make it better. Don't become content and stagnant.
Ke: Do your thing, and keep doing it. Know your market, have a detailed plan, do your research, be as prepared as possible, and just roll with it.

What are your hopes and plans for 2017?
Rex: Continue making ANNMS known beyond Edmonton.
GB: Having a SS17 launch party in mid April, a week-long pop-up store in Vancouver in late May, and a local basketball tournament in summer. Hoping everything turns out even better than expected.  
Ke: Like GB and Rex said, the next few months will be busy for us, but we are ready for the challenge.
Marshall: On top of what the other guys have said, I also wanna bring some unique men's grooming products to the store.
What is something you've learned in the past few years that you would like to give as advice to our readers?
Rex: Not everyone you meet wants you to succeed. Everyone is looking after themselves, but be confident and respectful and you can surround yourself with great people and friends and things will get easier.
GB: Try different things. Try harder.
Ke: Make a wild assumption, and go try it out yourself. There is a difference between just having a creative mind and actually trying to make it happen. BUT, don't do it bland, set yourself apart from your competition.
Marshall: Be humble, and open to any kind of advice. Think independently, focus on the details.
ROUND-UP
Ke

Favourite Brands – Supreme, Nike, Mr Completely, Rick Owens, (also Cav Empt, and Craig Green, but I don't have any items from them yet)
Favourite Pair of Sneakers – AF1, Reebok Question 1
Last Purchase – Nike Air Max 97 Silver Bullet
Favourite Store – UNION LA, RSVP Gallery, Antisocial Skateboard Shop, HAVEN and Value Village.
One Essential Item You Own – Since everyone already said their phone, I will say my necklace and MAPLE ring.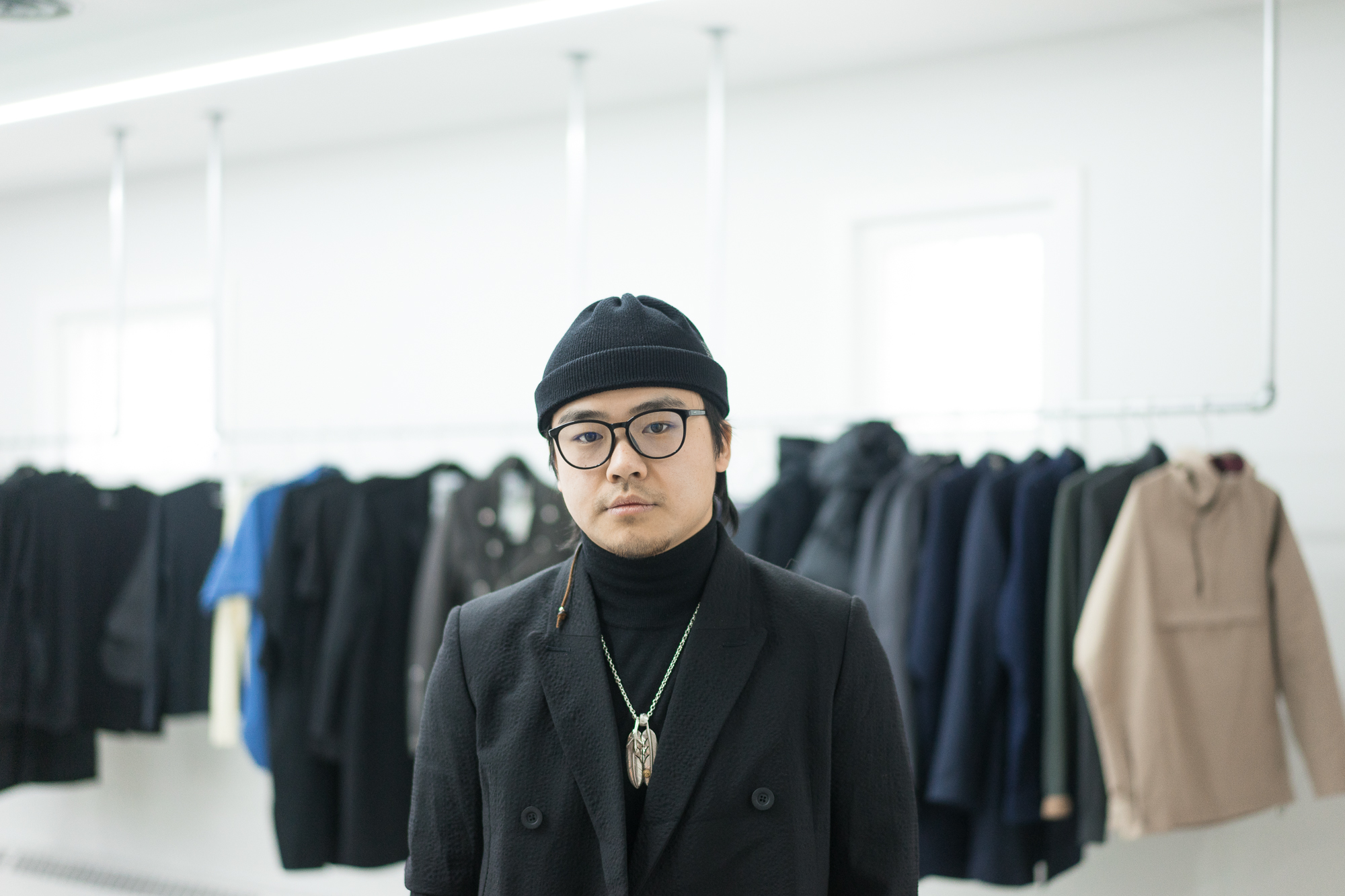 Marshall
Favourite Brands – Cav empt, Mr.completely, Salomon, Nike, Acronym, Second layer, the soloist, undercover, Aesop
Favourite Pair of Sneakers – common projects White Original Achilles Low Sneakers
Last Purchase – Mr.Completely oversized jean jacket 10 yr selvedge
Favourite Store – Haven, union LA, DOE, Dover street market
One Essential Item You Own – Earphones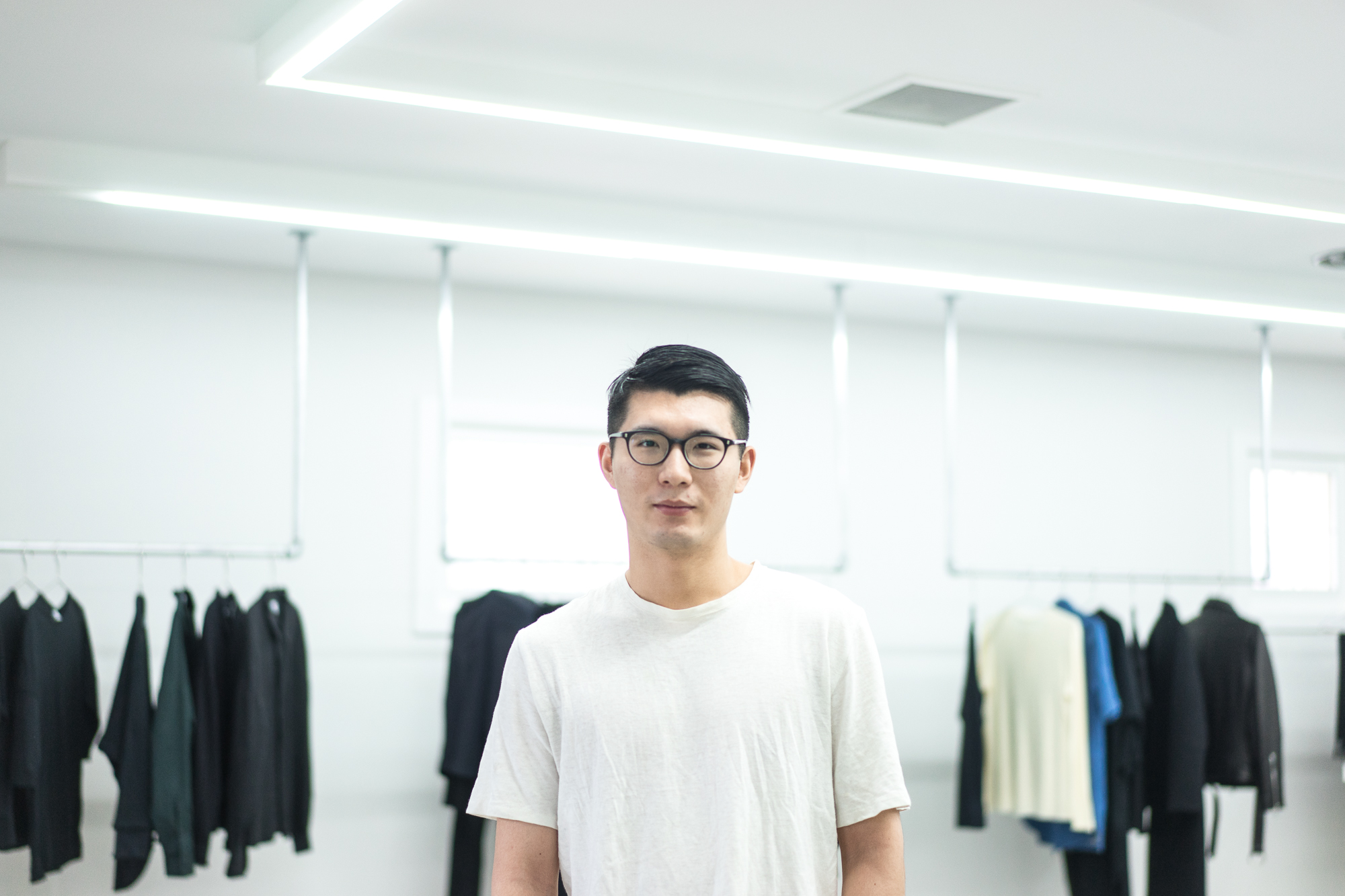 Rex
Favourite Brands – Aime Leon Dore, Nike, Arcteryx Veilance, Norse Projects, Reigning Champ
Favourite Pair of Sneakers – Air Max 1 and Converse Chuck Taylor 1970
Last Purchase – Air Max 1 "Atmos"
Favourite Store – Besides ANNMS? HAVEN, for the products and the people.
One Essential Item You Own – My iPhone. I do everything on my phone.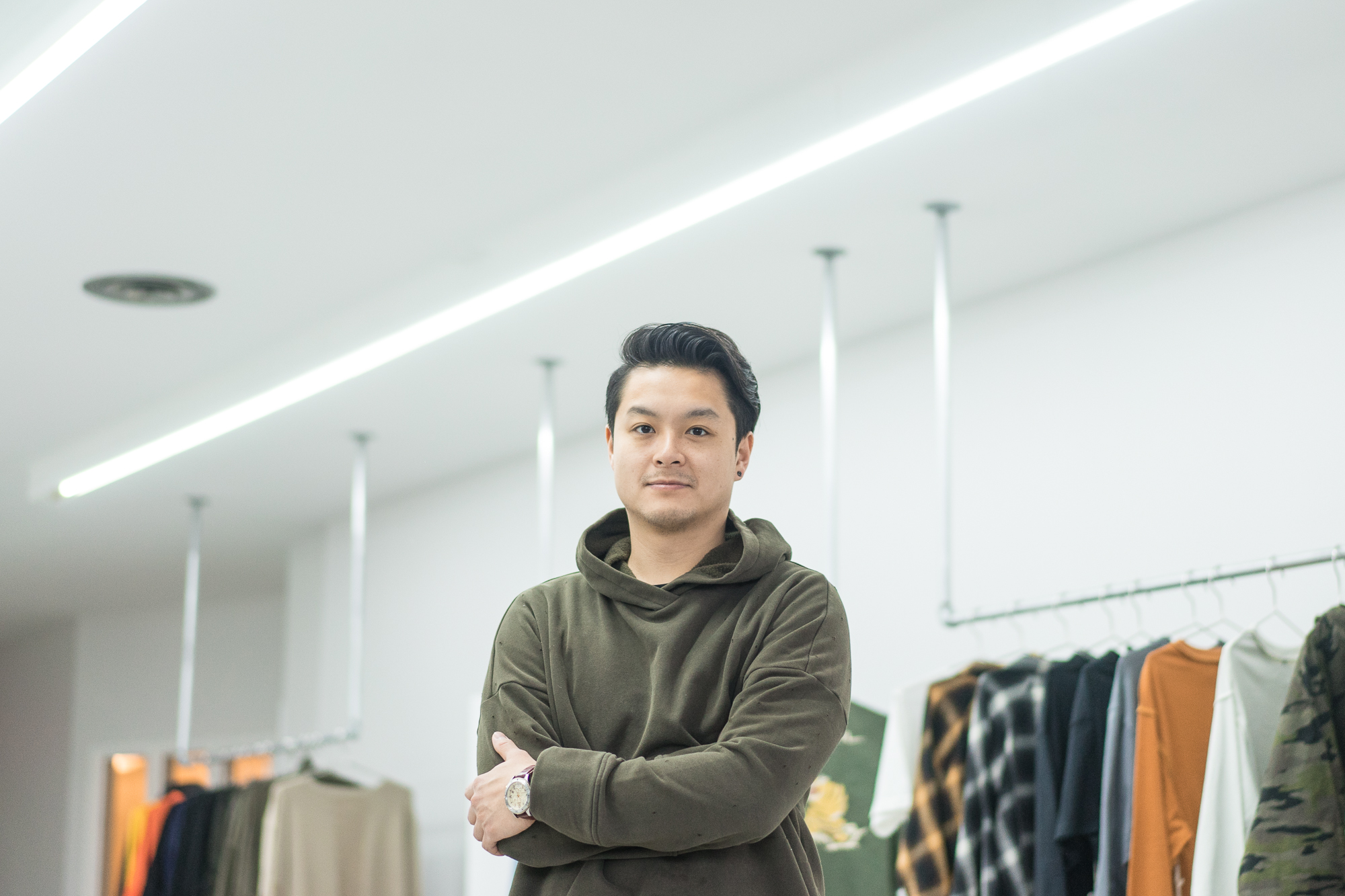 GB
Favourite Brands – Visvim, Purlicue, Rick Owens, Arc'teryx Veilance
Favourite Pair of Sneakers – Chuck Taylor 1970s
Last Purchase – Stephan Schneider shirt jacket and CDG boy tee
Favourite Store – Eth0s, Haven, Neighbors, Unionmade, Union
One Essential Item You Own – Phone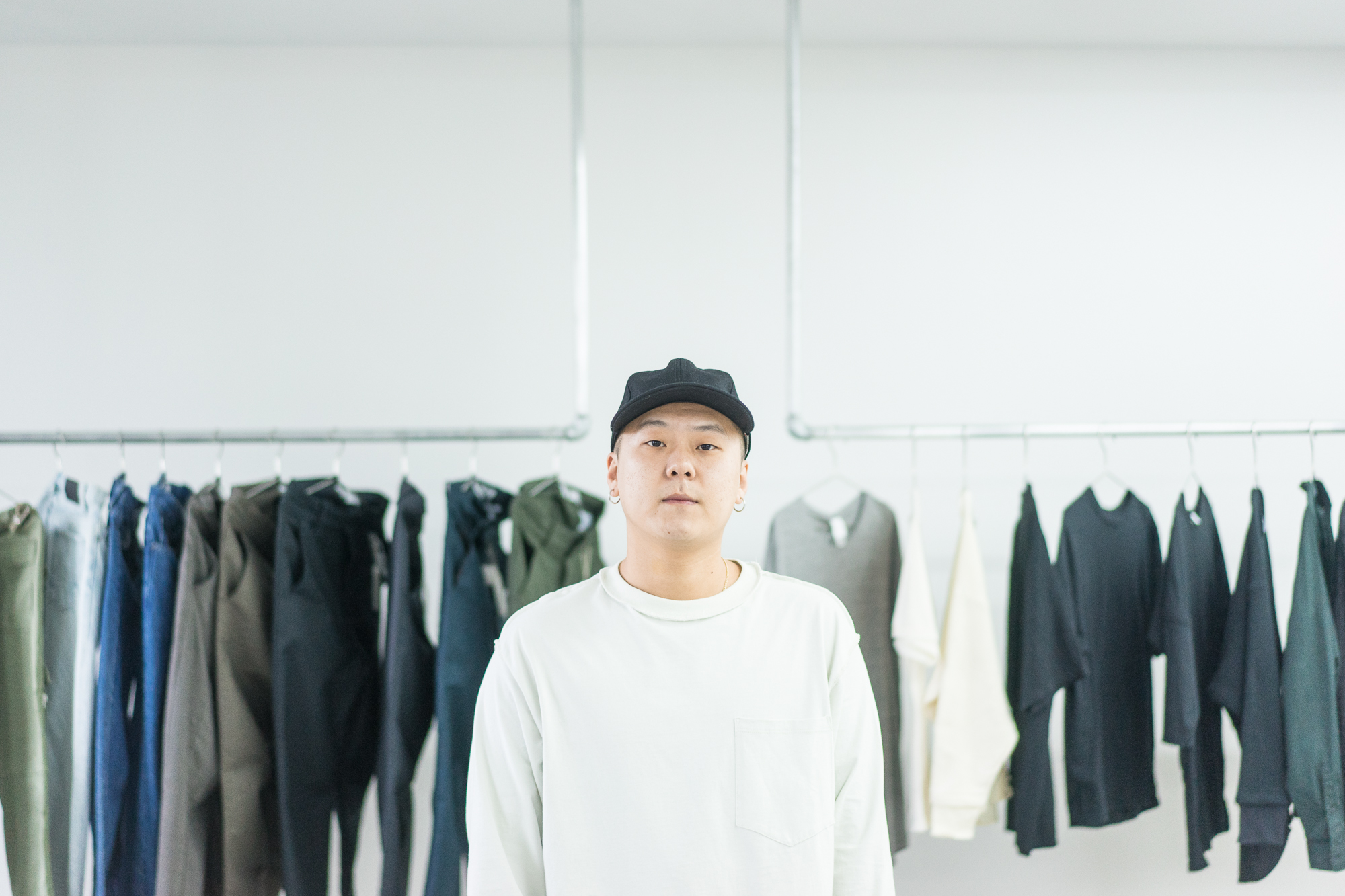 Online: www.annmsshop.ca
Facebook: ANNMS
Instagram:  @annmsshop
By: Kurt Bugasto