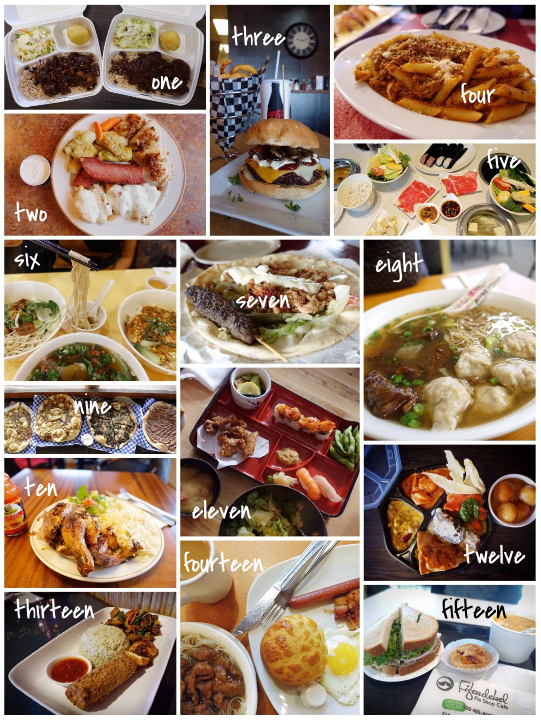 Happy New Year, fellow YEG People!
As we welcome 2016, most of us can agree that our stomachs are a little fuller and our wallets a lot emptier. Before 2015 came to an end, the #YEGFood team went on a mission to find Edmonton's best 'bang-for-your-buck' meal options. If you're planning a night out, or need something on-the-go, our list of 15 meals for under $15 will help your money-saving resolutions for 2016.

From the #YEGFood Team, we wish you a happy and delicious New Year!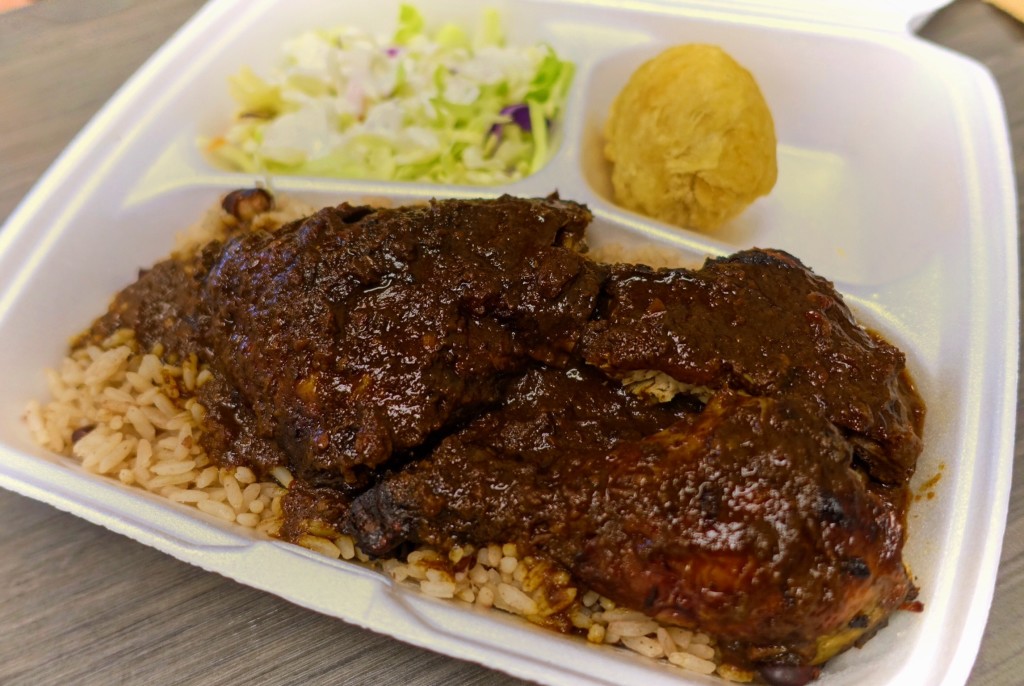 1. Irie Foods | Jerk Chicken | $14.00
Irie Foods, in the heart of Millwoods, offers tender pieces of Jerk Chicken served with your choice of white rice, rice & beans, coleslaw and a fried dumpling. If you want to be super savvy with your spending, check out Irie Foods every Wednesday for their Jerk Chicken special going for $8.99 (and grab a Jamaican Beef Pattie while you're there).
2807 Mill Woods Rd | (780) 414-1341 | www.iriefoodsedmonton.com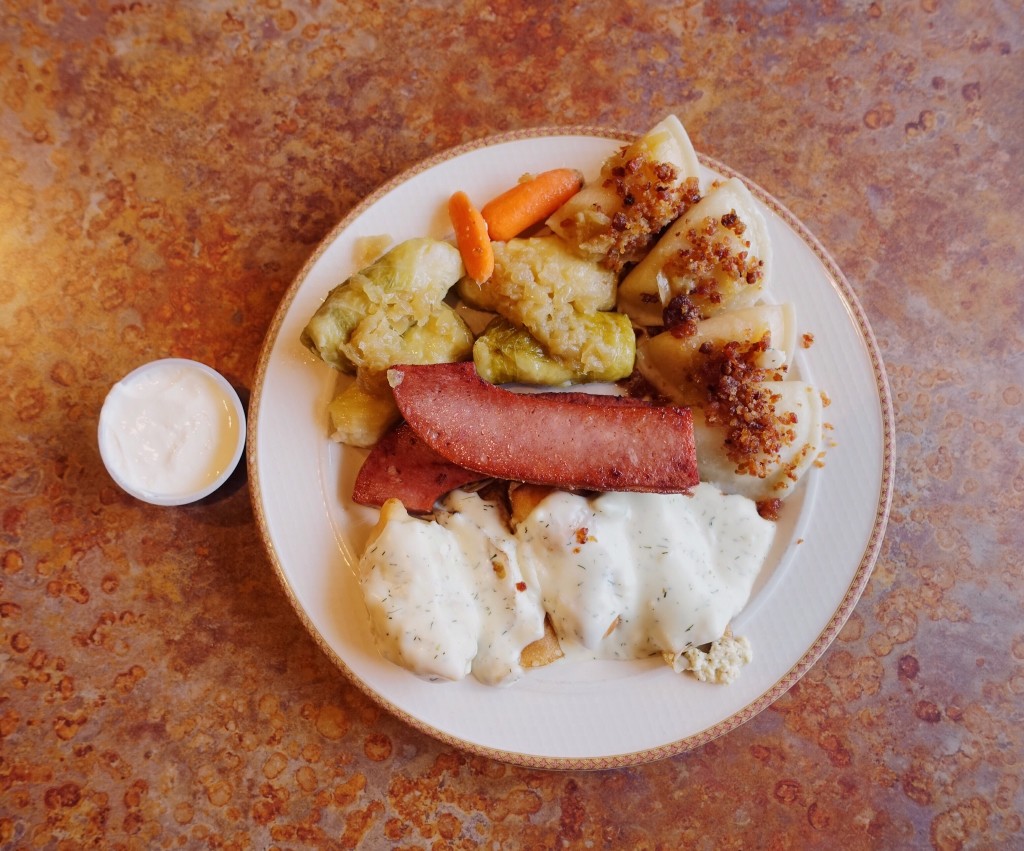 2. Uncle Ed's Ukrainian Restaurant | Mundare Sausage Plate | $12.50
One Mundare sausage, four perogies of your choice, four cabbage rolls (sweet or sour), two baked cheese buns & two cheese crepes topped with dill sauce served with sour cream on the side. Be sure to check out the deli & store selection to bring home a sausage link (or two) and made-from-scratch perogies.
4824 118 Avenue | (780) 471-1010 | www.stawnichys.com/uncle-eds-restaurant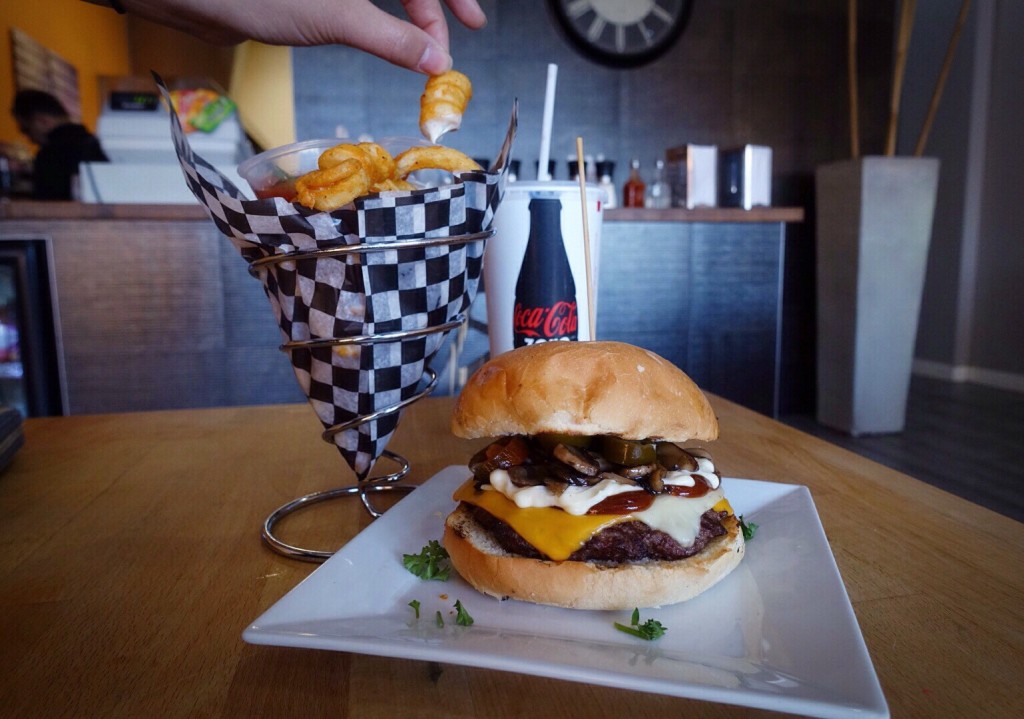 3. The Burger Joint | Double Cheese Double Mushroom Combo | $12.49
At the Burger Joint, all your create-your-own burger dreams come true! Starting at $8.50, you can build your own special burger with a variety of fresh choices to choose from. All of their beef patties are made fresh in house! Pictured here is a 7 oz handmade beef patty, cheddar cheese, swiss cheese, white mushrooms, portabello mushrooms, jalapenos, mayo, bbq dijon sauce. We paired our burger with curly fries served with homemade tartar sauce & ketchup, and a cold root beer to wash it all down.
9132 23 Avenue | (780) 435-0008 | www.theburgerjointedmonton.com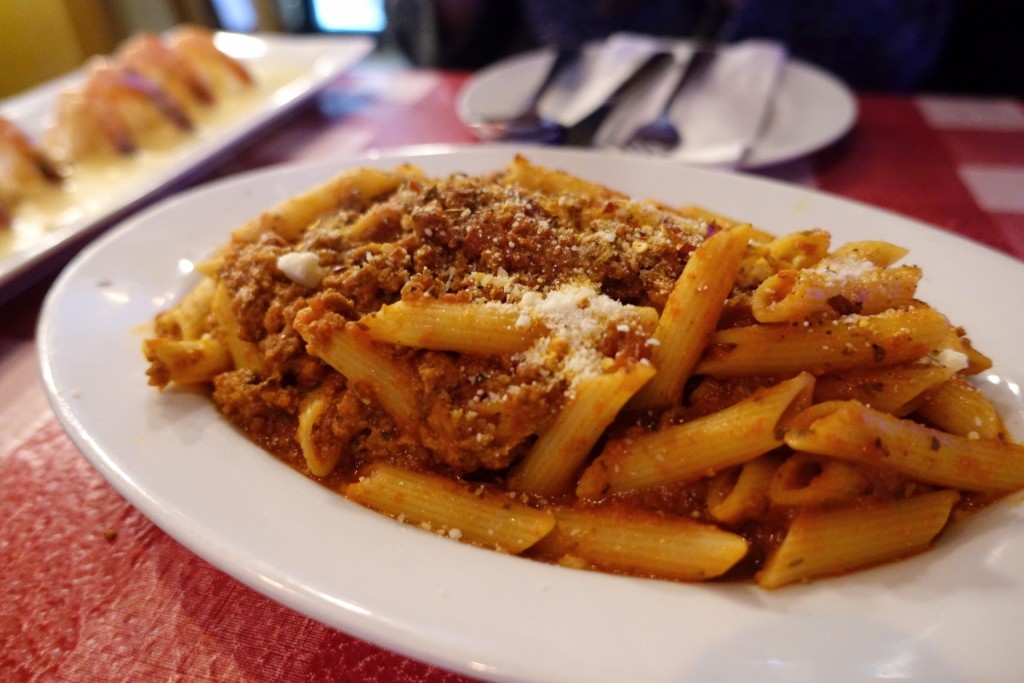 4. Cafe Amore | Daily Pasta Special (Bolognese) | $10.00
Whether you're in to meat sauces or cream sauces, Cafe Amore offers a different pasta for each day of the week at this featured price. Pictured here was the homemade tomato meat sauce served with penne noodles on a Tuesday evening.
10807 – 106 Avenue | (780) 477-7896 | www.cafeamorebistro.ca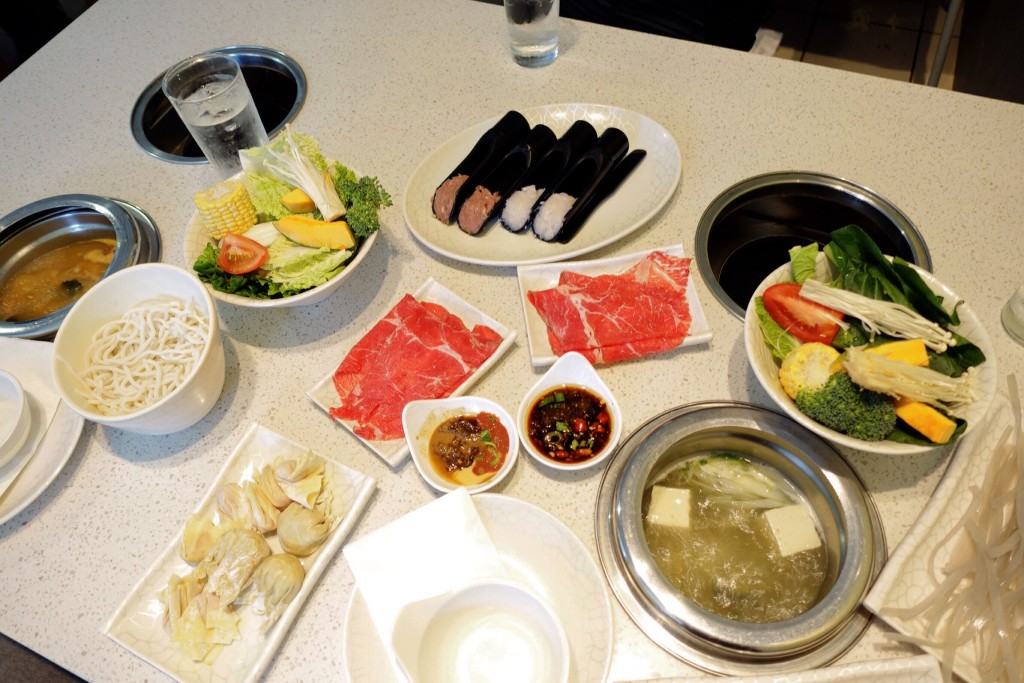 5. Hot Pot 97 | Hot Pot Lunch Meal | $12.95
At lunch, you can warm up with this asian style fondue for $12.95. With the lunch deal, you choose five menu items from an assortment of raw items, with your choice of five different broth flavors and vegetables on the side. For dinner, the menu is divided by cooked items, vegetables and desserts.
10602 – 97 Street | (587) 521 – 1888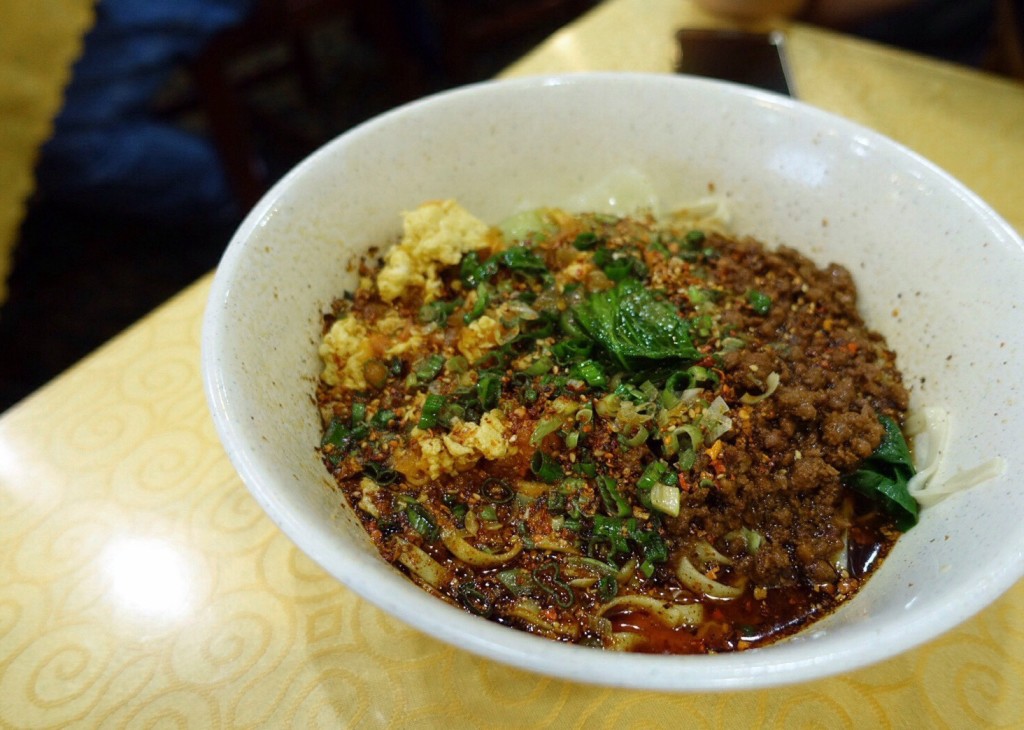 6. Noodle Feast | Rolling Noodle Bowl #213 | $12.99
At this Northern Chinese Restaurant, all the noodles are handmade in house by their noodle master. They serve rolling noodles, hand sliced noodles, and hand-pulled noodles. No matter your choice, we can guarantee that you will be stuffed and have leftovers for a snack! Pictured here are the handmade Rolling noodles with egg & tomato sauce, minced pork sauce & hot chili oil. We also tried their hand pulled noodle, sliced noodle bowls and the chive dumplings which were all delicious and perfect for sharing.
3440 – 99 Street | (780) 439 – 8088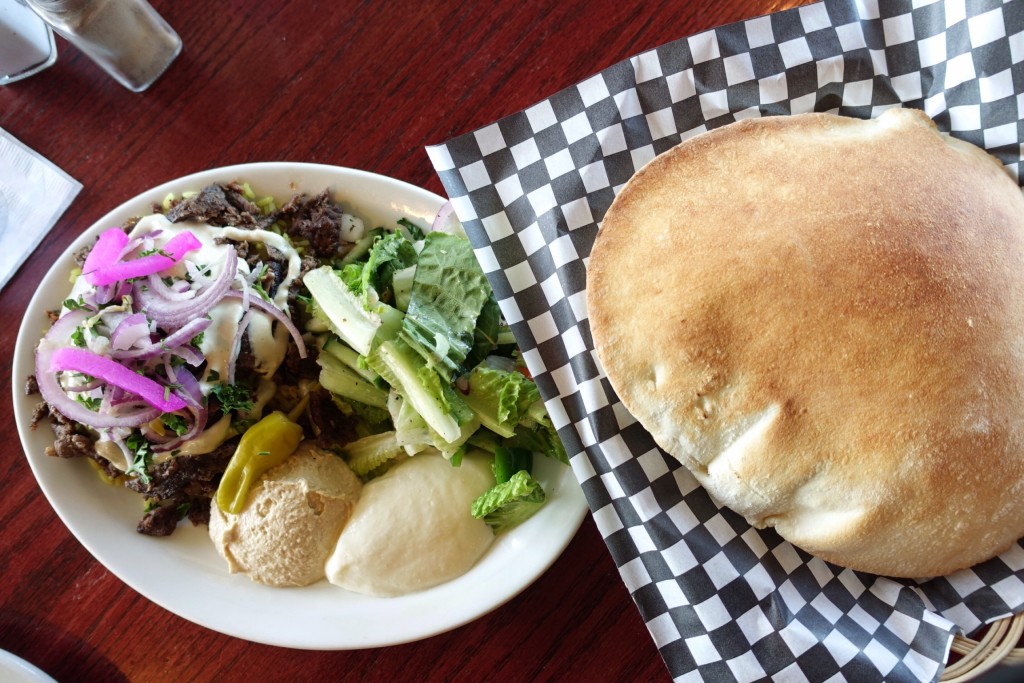 7. Al Salam | Beef Shawarma Platter | $13.95
Marinated Beef, served with rice, hummus, garlic dip, fattoush salad, and fresh baked pita. At Al Salam, hidden by the busy traffic of 34th avenue, Lebanese dishes are available for dine-in and takeout, but we recommend eating the pita while it's fresh, hot and steaming! While you wait, shop around for some Lebanese delights or watch as your Pita bread is baked fresh in their hot stone oven.
10141 – 34 Avenue | (780) 944 – 0000 | www.alsalamedmonton.com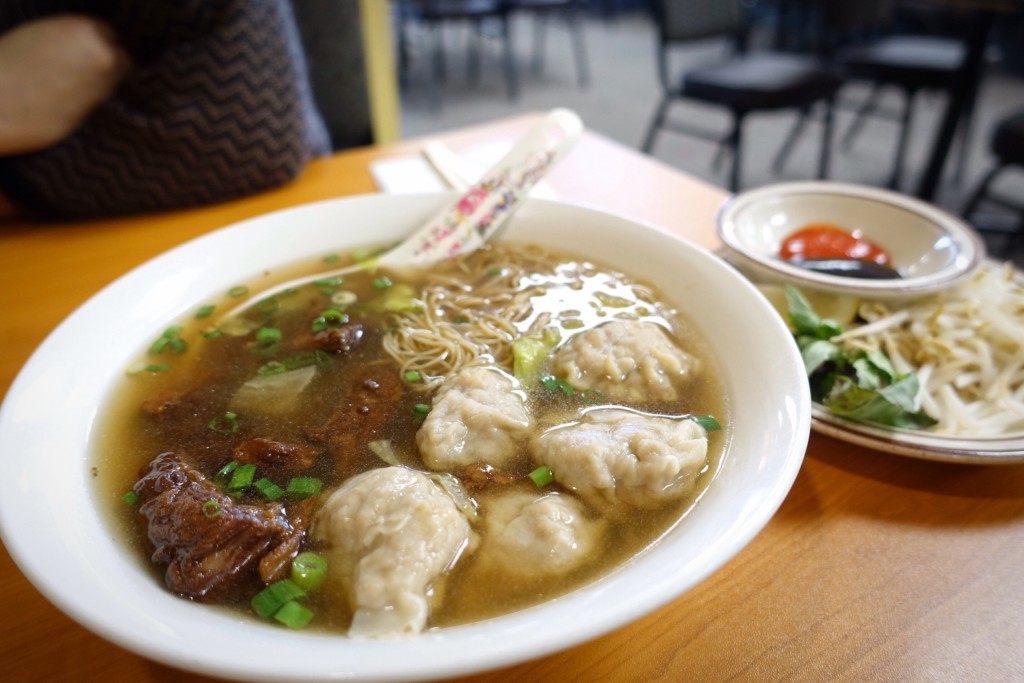 8. Dan Shing | Wonton Beef Brisket Noodle Soup | $9.50
For a quick and filling meal, try any of the noodle soups at Dan Shing. Located on Stony Plain Road, you can find a traditional Chinese diner favourite: Wonton Beef Brisket noodle soup. Five plump house made wontons with tender beef brisket swimming in a sea of egg noodles. Remember to bring cash as the restaurant does not accept debit or credit.
15912 Stony Plain Road | (780) 483 – 1143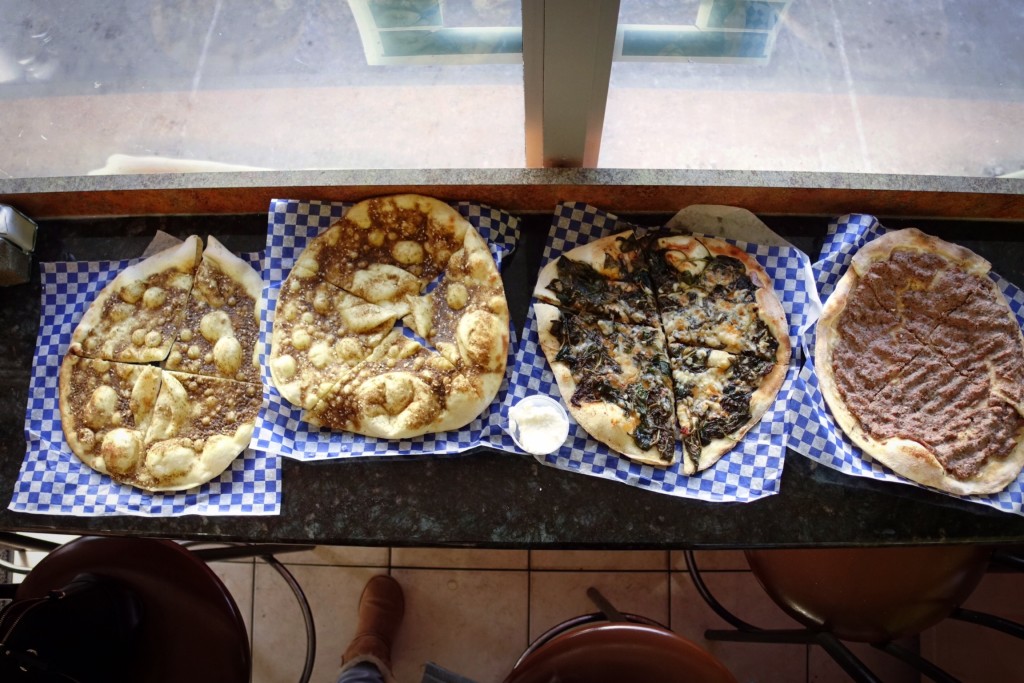 9. Sunbake Pita Bakery | Pita Pizza | $14.00
Sunbake Bakery is a local bakery that distributes their house made pita bread all over Edmonton bakeries. They use their soft pita as the base on all of their pies in store. With prices so good, you can fill two or more people under $15! Pictured here is one Kafta pie ($4.50), one Spinach Cheese pie ($4.50), and two Zatar Pies ($5.00). We made the trek from South to North, mark our words when we say it was way worth the trip.
10728 – 134 Avenue | (780) 472 – 8405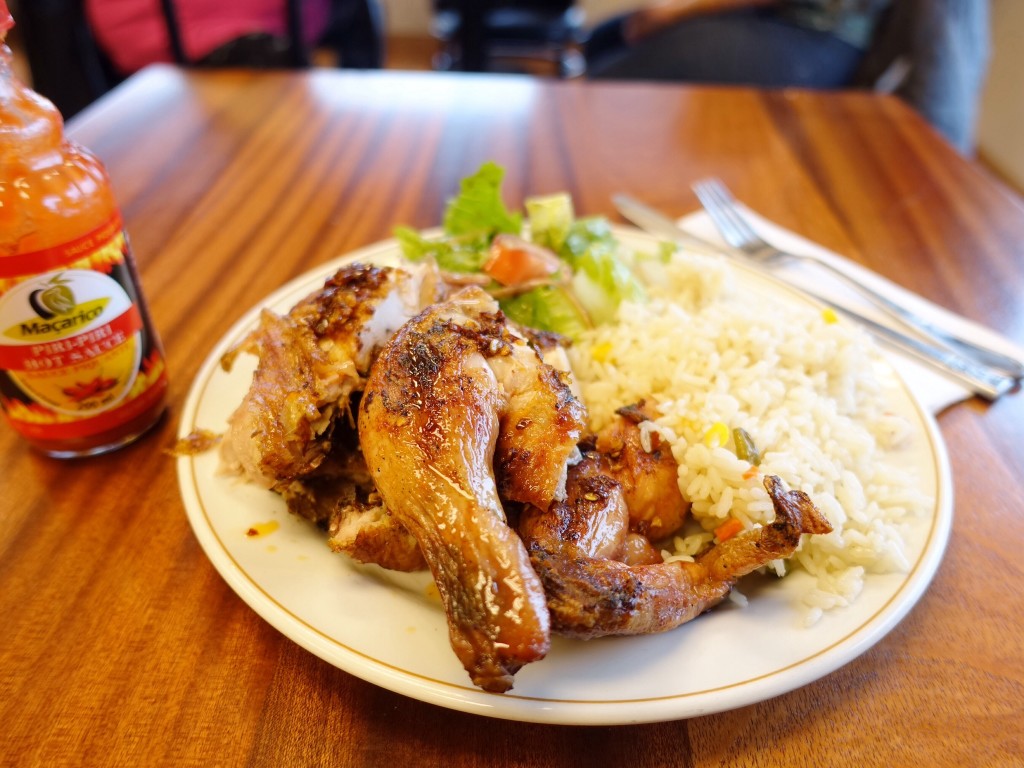 10. Popular Bakery | Piri-piri Chicken meal | $12.50
Piri-piri chicken is a spicy Portuguese style barbeque chicken that has been marinated for hours in chillies, vinegar, and spices before hitting the hot grill. At Popular Bakery, it is as authentic as it gets: 1/2 piri-piri style barbeque chicken served with rice and a salad. Save room for dessert and choose from a selection of Portuguese baked goods to take home or grab a table, espresso, and enjoy the view of 118th Avenue.
9307 – 118 Avenue | (780) 471-1770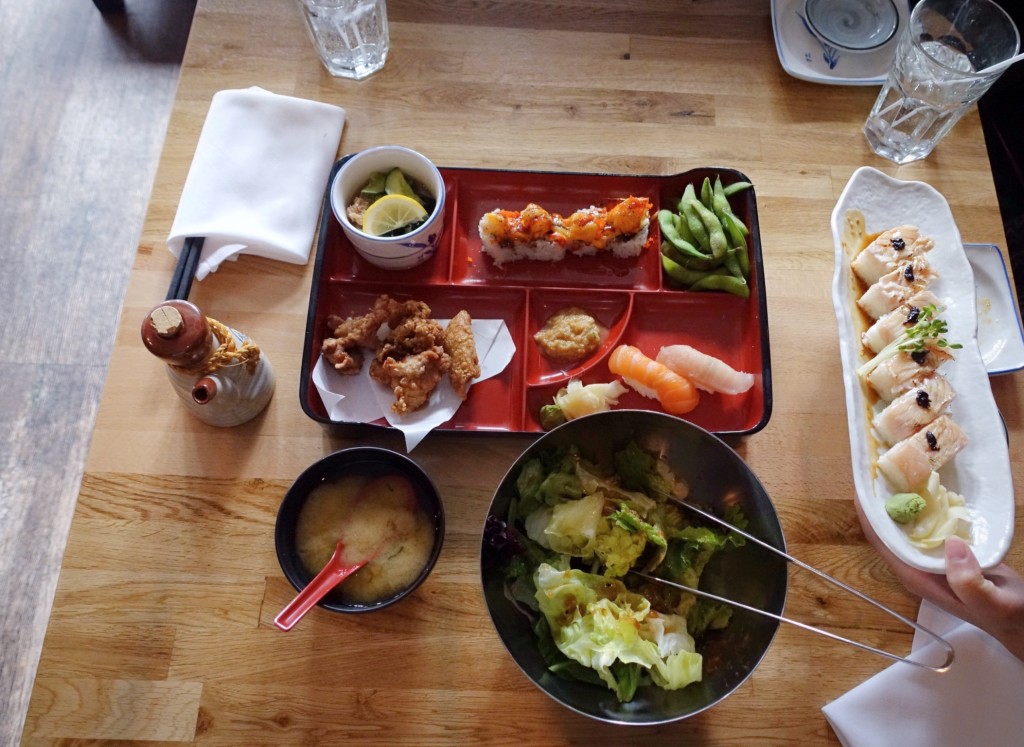 11. Japonais Bistro | Build your own Bento | $14.95
Salad + Cooked Item + Rice or Beans + Roll + Sushi = Lunch Bento
Located on Jasper Avenue, you can build your own bento box at Japonais from a variety of cooked and raw choices. Pictured here is the Sunomono salad, Chicken Karaage, Edamame, 1 piece Salmon nigiri, 1 piece Tuna nigiri, 1/2 TNT roll, a bowl of miso soup and house salad.
11806 Jasper Avenue | (780) 760 – 1616 | www.japonaisbistro.ca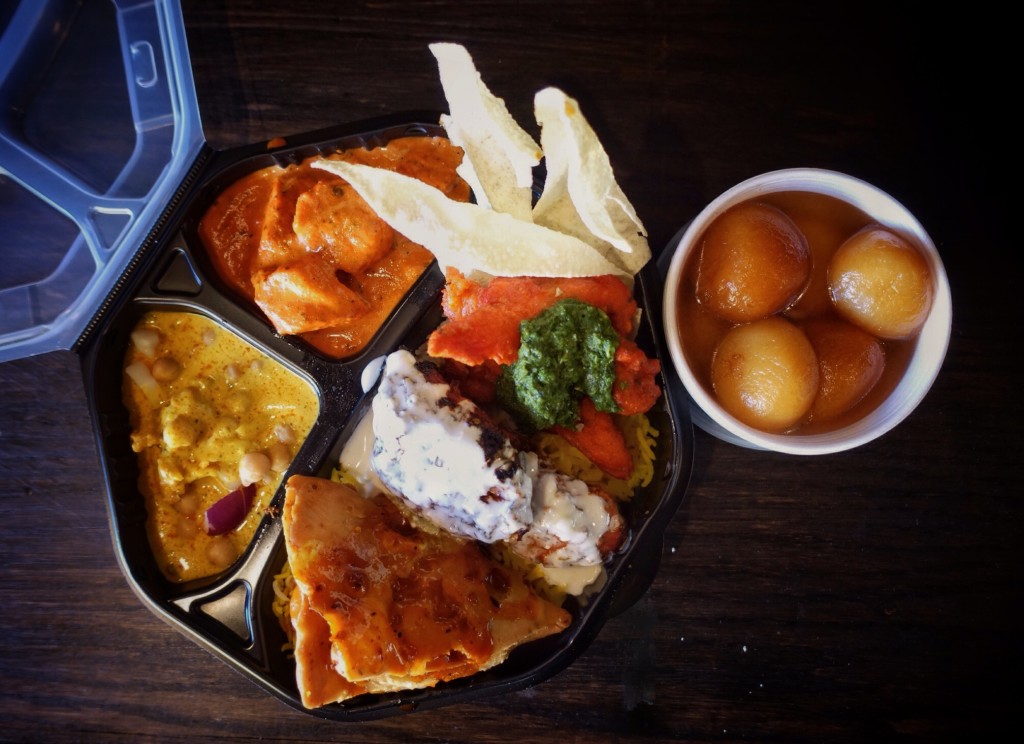 12. Little India | Lunch Buffet Take-out | $14.99
If you are looking for a fix to the case of the hangries, then Little India is the place for you. You are given one container to fill with a selection of daily buffet items, one dessert container and a piece of fresh naan. Each container can be stuffed with as much as you can hold/eat. Whether you go out of your way or happen to be near 34th Ave, this special lunch deal is the same price for both take-out or dine-in.
Plaza 34, 9240 – 34 Avenue | (780) 437 – 1118 | www.littleindiacuisine.ca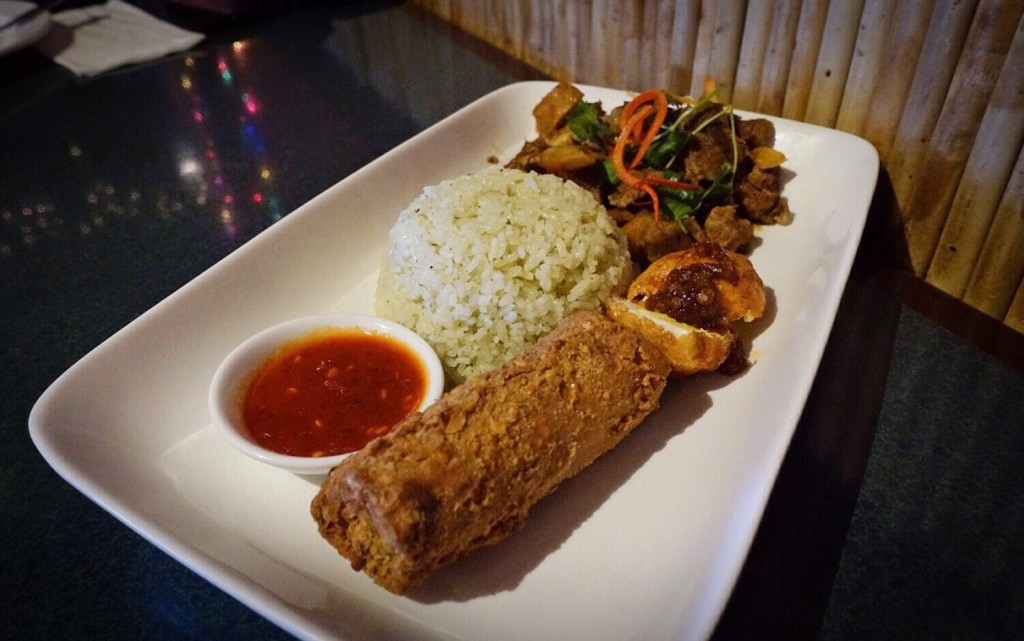 13. Tropika | Lunch Combo C | $13.00
Tropika is well known for their Malaysian cuisine. If you have never ventured here before you are in for a flavour treat. Beef Brisket braised in a curry sauce with vegetables, a fried Sambal egg, and an Indonesian Spring Roll with your choice of white, Hainanese or coconut rice. The Hainanese rice pictured here was worth the extra $1. Lunch available at both South and West locations.
6004 – 104 Street | (780) 439-6699 | www.tropikagroup.com
14. Garden Bakery | Breakfast Special C | $7.00
In Hong Kong, around every corner you can find a Hong Kong diner. Every morning the streets are filled with the smell of fresh pineapple buns and an aromatic brew of orange pekoe dances in the air. At Garden Bakery, you can get this breakfast experience right here in Downtown Edmonton located in Chinatown. The best bang for our buck at only $7.00, is a fresh baked Hong Kong style pineapple bun served with satay beef vermicelli soup, bacon, sausage, and two eggs. Combos include a hot beverage; we recommend trying the Hong Kong style milk tea.
10019 – 106 Avenue | (780) 421 – 1228 | www.gardenbakeryexpress.com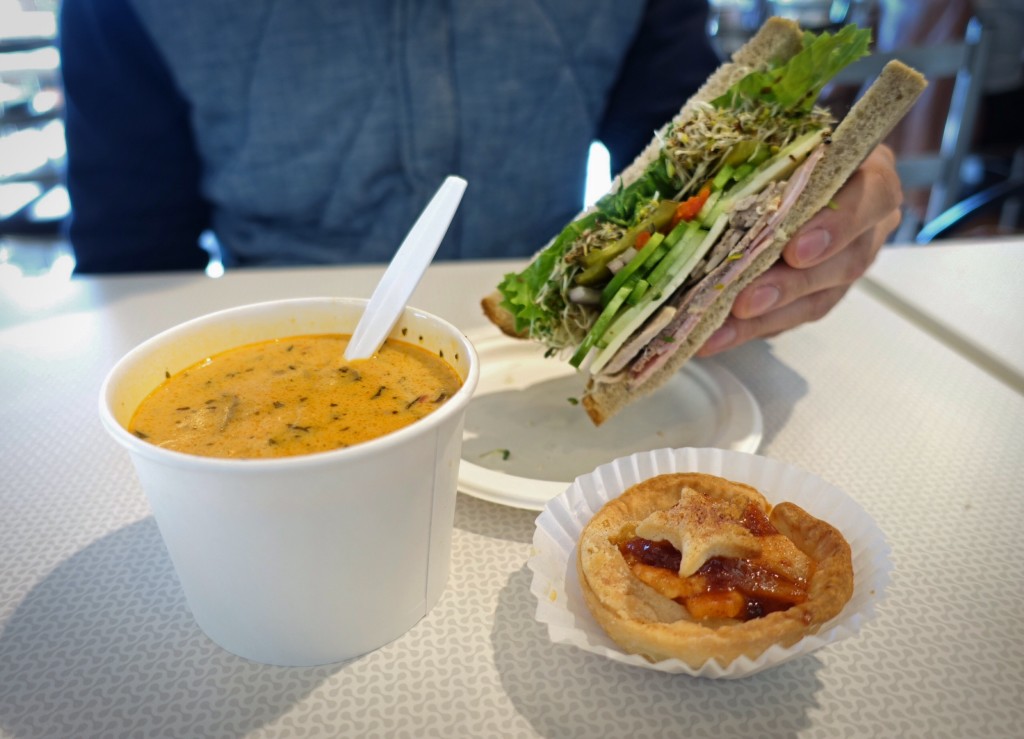 15. Fifendekel | Soup & Sandwich meal | $12.54
Custom made Auto Banh sandwich with your choice of cheese, fresh veggies and rye bread ($7.65). We paired our sandwich with a cup of Wicked Thai soup (daily soup special, $2.89) and an apple tart ($2.00). We recommend the in-store baked and hand sliced sunflower bread for the ultimate sandwich fix (we tried, but sadly they were fully sold that day). Offered at multiple locations to satisfy all you sandwich foodies!
3434 99 Street | (780) 468 – 3900 | www.fifendekel.ca
GST excluded on prices listed.
Photography: Sam Sush
By Stephanie Mejia and Sam Sush